Of course gelato is Italian, but one of its most popular varieties, the ice cream cone – or cono gelato – is the brainchild of an Italian, too, and that the US had part in its creation.
There is very little out there that speaks of summer as much as an ice cream cone, especially in Italy, but have you ever wondered where the ubiquitous wafer comes from? Well, the answer is, a bit from Italy, a bit from the US, and its origin is steeped in drama.
According to the New York Times, the ice cream cone was born out of necessity during the St. Louis World Fair of 1904. The fair had been organized to celebrate the 100th anniversary of the city's liberation from the French and its annexing by the US. That year, St Louis had the Olympics and the World Fair, a perfect showcase for recent inventions like the radio, the telephone and the airplane, but also for gargantuan quantities of food, presented in the most creative ways, including buildings and towers made of cereals and sculptures made of butter.
It was in this over-the-top, fun, creative atmosphere that, according to some, the ice cream cone was invented, but Italy, in this version, had nothing to do with it. Apparently, Ernst Hamwi, a Syrian baker, had befriended ice cream maker Charles Menches, who had a stand just beside his. One day, Menches was so busy he ran out of cups so Hamwi rolled some zalabia, a Middle Eastern treat, into cones, which were then used to serve ice cream.
Voilà: an icon was born, you say! Not so fast.
First of all, there aren't written sources attesting this version, except a letter written by Hamwi himself in 1928 to the Ice Cream Trade Journal. Menches, however, refuted Hamwi's version, saying he was the one who had the idea to roll the zalabia  into cones. Things, in fact, may be even more complicated than that: according to historian Anne Cooper Funderburg, author of Chocolate, Strawberry and Vanilla, a History of American Ice Cream, the wafer ice cream cone became so popular and ubiquitous at the fair, it is virtually impossible to say who used it first.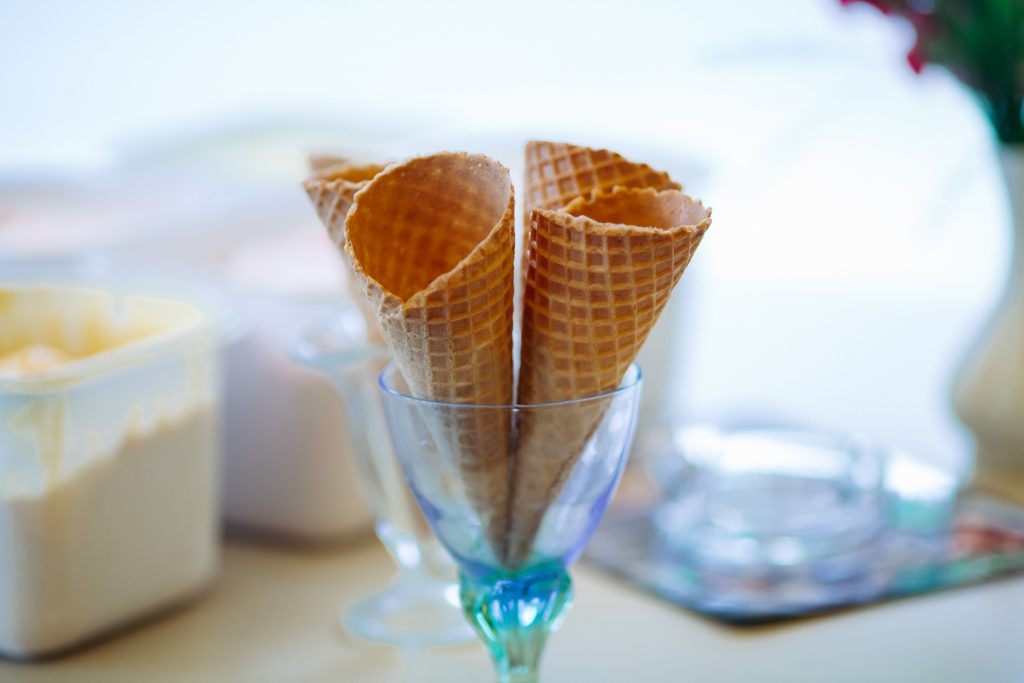 Beside Menches and Hamwi, others claimed the invention for themselves, including Abe Doumar, who opened an ice cream parlor in Coney Island in 1905, a Turkish immigrant and two brothers from Ohio.
While all the people at the fair in 1904 and other ice cream makers bickered, Italian Italo Marchioni, born in the Cadore area of Veneto but a resident of New York, had apparently already registered a patent for an ice cream cone-making machine in 1903. But why would Marchioni have created a portable and edible ice cream container? It all comes down to handiness. Marchioni, who ran an ice cream parlor, was tired of using glass cups for his gelato: they could break easily and they needed to be washed. Disposable paper cups weren't much better, because they were expensive and produced tons of garbage. And so, a whole year before the St Louis World Fair, Marchioni created his machine and had it registered (patent number 746971) in Washington DC. The machine was able to shape wafer dough in curious shapes and prevented the delicate cones to crumble or being damaged during production.
Now, you'd think there was enough drama around our wafer cones already but there was more to come. In a twist worthy of a modern soap opera, Italo's first cousin, Frank Marchioni, became business partner of Antonio Valvona, another Italian-American who, in 1902 – a full two years before the World Fair and one year before Italo's patent – had also registered a machine to "bake ice cream wafers" (patent number 701776). Frank accused his cousin of patent infringement, sued him and won: apparently, Italo didn't add anything new to Frank and Antonio's machine.
Italo's popularity and fame, however, remained strong, if it's true that when he died in 1954, his own obituary stated he "had prepared the first ice cream cone in 1896 and, according to his family, he patented the idea a few years later."