The Italian American Museum of Los Angeles (IAMLA) presents a new exhibition: A Real Boy: The Many Lives of Pinocchio, which explores the cultural origins, adaptations, and enduring appeal of one of the most popular characters in children's literature. Written in 1883 by Italian author Carlo Collodi, The Adventures of Pinocchio delighted generations and occupies a revered place in the canon of children's literature.
This original exhibition explores Collodi's work as well as its literary, and historic influences. A Real Boy: The Many Lives of Pinocchio also examines Pinocchio's ascent to the status of cultural icon and his enduring appeal in the postmodern era.
Pinocchio's impact is everlasting and Hollywood productions still remain fascinated with the marionette to this day; his growing nose is a symbol of political deception in the Washington Post Fact Checker Pinocchio Test and on smartphones. Pinocchio inspires musicians, from hip-hop and jazz to boy bands. He is constantly reinterpreted in an array of merchandise and advertisements.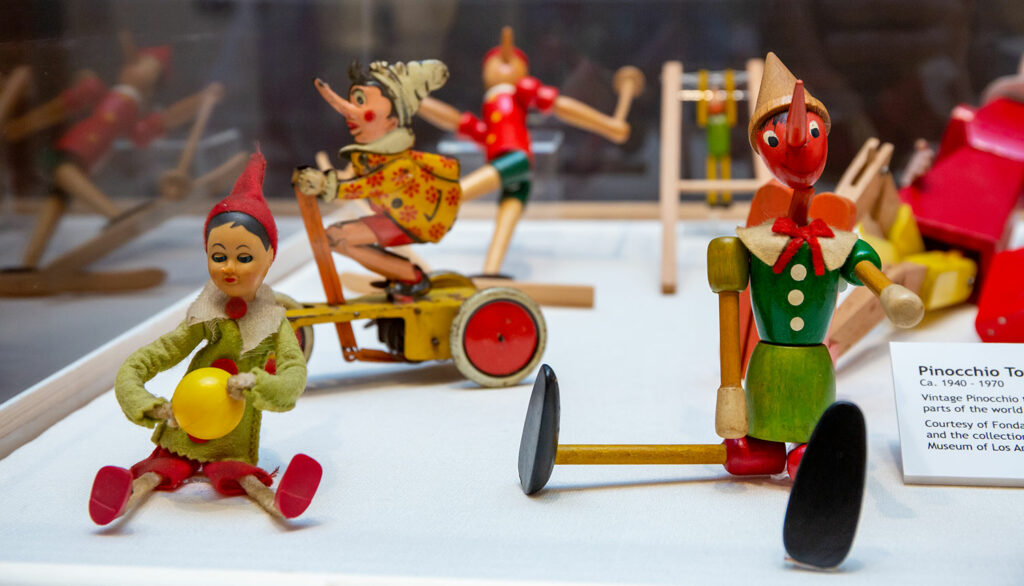 "The exhibition is a wonderful opportunity to discover and rediscover Pinocchio's humanity," Pier Francesco Bernacchi, president of the Fondazione Nazionale Carlo Collodi said. "Pinocchio has been inspiring and touching readers around the world for 140 years."
Among the exhibited items at the Italian Hall is a first-edition Italian-language version of Le Avventure di Pinocchio, one of only six copies of the book that remain in the world. Artwork from Walt Disney's animated feature film, vintage toys, costumes by Oscar-nominated designer Massimo Cantini Parrini, Pinocchio ephemera, and publications of the book in languages ranging from Polish to Vietnamese are also showcased. The exhibition, designed to engage visitors of all ages, is a journey into the many incarnations of a beloved character who left an indisputable mark on our collective imagination.
L'Italo-Americano had the pleasure to speak with Marianna Gatto, IAMLA director and cofounder, about the exhibition, but also about Pinocchio and its meaning: "Pinocchio is a story for all people, all places, and all times," she tells us, "It is a story about love, moral identity, redemption, and submitting to the fire of transformation in order to self-actualize."
The idea to have an exhibition about Pinocchio goes back to 2020 and it had to be postponed for the pandemic. What was the main goal behind the project?
The exhibition was first conceived in 2018, and we were planning to open in 2020, but the universe had other plans! Pinocchio is one of the most iconic characters in children's literature: the story is timeless. The Adventures of Pinocchio has been translated into 260 languages, more than any other book besides the Bible. We wanted people to consider why, and what lies behind Pinocchio's enduring fame.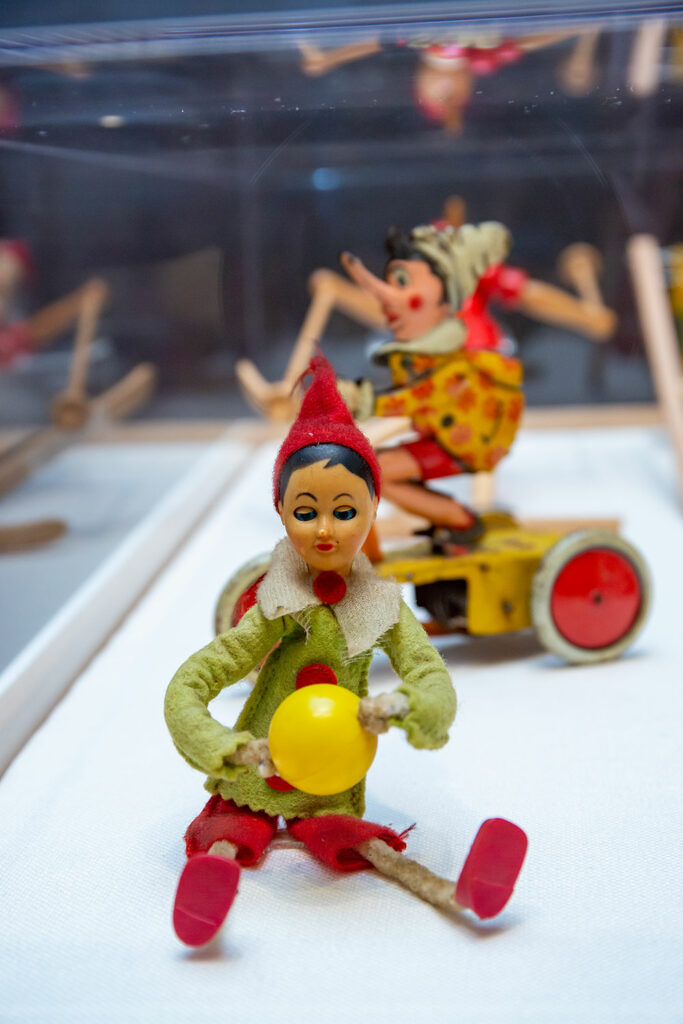 While many people believe he was created by Walt Disney or the Grimm Brothers, it was in fact a Tuscan author, Carlo Collodi, who conceived him. We also hoped to encourage appreciation for literature and reading among youth and set out to produce an exhibition that would engage the general public, as our visitors are incredibly diverse.
Not many know about Pinocchio's author and, in the museum, there's a section about him. What are the highlights of his life?
Carlo Collodi was born Carlo Lorenzini in Collodi, Italy. He assumed the name of his town as his pseudonym. Collodi was writing at the time of Italy's unification. He felt that it was of utmost importance to shape the minds and hearts of the newly created Republic as he recognized that youth were the future. Pinocchio was intended to be a morality tale, to teach children the consequences of bad behavior. It was incredibly popular after its publication, but Collodi did not live long enough to witness the book's immense success.
Among the beautiful puppets, there's one that was made by famous LA puppeteer Bob Baker. Can you tell us something about it?
In 1963 Bob Baker, a legendary marionette maker, opened a theater near downtown Los Angeles. In the years that followed, the theater would welcome over one million children. The marionette showcased in the exhibition at IAMLA was commissioned by Walt Disney. It has both the studio's stamp and Baker's signature. It stands approximately four feet tall and you can't help but smile when you see it. I brought my son Damian, who is now 28, to see shows at Bob Baker Marionettes when he was young, and it makes me so happy to see children, who now receive a steady diet of technology and screens since the time of their birth, delighted by this centuries-old tradition of marionettes. Bob Baker padded away at the age of 90, but he continued to make marionettes well into his advanced age. The theater is one of our region's cultural treasures and we are honored to highlight their work at the IAMLA.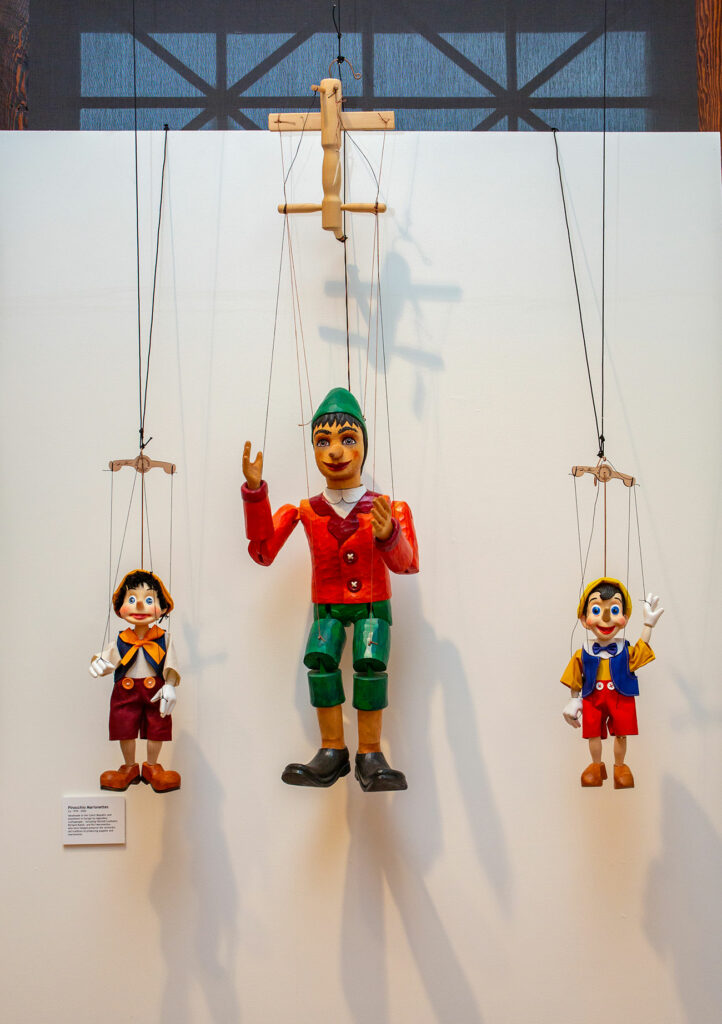 There's a video that gathers all the movies, ads and so on dedicated to Pinocchio. What made Pinocchio so likable and, therefore, worldwide famous?
The story of Pinocchio, in my opinion, is a metaphor for life, for our journey toward spiritual growth and self-actualization. Pinocchio symbolizes our dual nature, our material self and real self. He lives selfishly and indulgently, before developing discipline, morality, and compassion. It's not an easy journey, and it's one that many of us would rather avoid. Sometimes we go to great lengths to do just that. But Pinocchio submits to the fire of transformation and he is forever changed. He becomes closer to the divine. I think this is a story we can all relate to. The video demonstrates Pinocchio's enduring appeal, and how he has been personalized and adapted in endless ways.
What is, in your opinion, the most representing and important piece in the exhibition?
This is a challenging question, as I have so many favorites. The most obvious is the first edition of Pinocchio that we are exhibiting. It is one of only six copies known to exist in the world. I'm very fond of the Pinocchio faucet by Italian designer Emmevi, the Pinocchio cuckoo clock from Germany, and the Pinocchio nesting dolls (Matryoshka), which were made by a Ukrainian artist. We purchased them right as the war was beginning, and I think about the artist who made them quite a bit. The Academy Award-nominated costumes by Massimo Cantini Parrini are also a big hit. I could go on.
A Real Boy: The Many Lives of Pinocchio is presented in collaboration and with the support of California Arts Council; Fondazione Nazionale Carlo Collodi; Walt Disney Archives; University of California Los Angeles; Costumi Tirelli S.p.A.; Italian Cultural Institute Los Angeles; Italian Consulate General Los Angeles; Los Angeles County Department of Arts and Culture and City of Los Angeles Department of Cultural Affairs.
Programs and Events 2023
All events are free and take place at the IAMLA
January 23 – Bob Baker Theater marionette show: Enjoy the greatest show on strings from the city's oldest children's theater company. A treat for the entire family!
February 4 – Zine-Making Workshop: Join artist and author Darrell Fusaro to create a personal self-published version of the most famous marionette story. A fun activity for children ages 7-12.
March 2 – Lecture: The Image of the Puppet in Italian Theater, Literature and Film by Dr. Federico Pacchioni, Chapman University.
April 4 – Pinocchio Interactive play: Artist Silvia Bottini leads children in music and movement as they explore the roles of puppeteers and puppets.
May 6 – Puppet-making workshop: Build your very own puppet with artist Ylenia Mino! Designed for children 4 to 8 years old.
May 20 – Build a marionette: Create a magical world using only paper, colors, and imagination. For children 8-10 years old.