Spiaggia libera o stabilimento? This is the eternal question of Italy's sea vacanzieri. Spiaggia libera, which means, literally, "free beach," is open to everyone, but has no services, besides an outdoor shower and public toilets. Stabilimenti, on the other hand, offer full services including deckchairs, tables, beach umbrellas, changing rooms, toilets, cafès, and restaurants. Of course, all that comes to a price, which can change depending on the time of the year, the location, and how far your chair is from the water.
Stabilimenti balnerari are not only an essential part of our economy and of our tourist industry, but also an icon of our summers: rows and rows of deckchairs and beach umbrellas, each stabilimento with different colors; queueing at the café for a cornetto Algida (the quintessential beach ice cream in Italy!), lunch with mozzarella e pomodoro and prosciutto e melone… every Italian has memories of that. If it's true that stabilimenti as a popular phenomenon are a thing of the 1950s and 1960s, that is, of the years of the nation's economic boom, when more and more people could afford summer holidays by the sea, their history is much longer than that.
According to Massimo Manzo, who wrote an article on the subject for Focus Storia, the first stabilimento opened in Viareggio (Tuscany) in 1827. It was called, quite simply, Stabilimento de' Bagni, and had been created to allow paying customers to enjoy the sea in relax and, especially, while maintaining their privacy: there, people could get changed into their bathing suits and frolic in the water away from the eyes of the curious.
A year later, there were already other stabilimenti in town: the Stabilimento Balnerare Femminile Dori, for instance, and nearby, the Bagno Maschile Nereo, because of course, men and women would bathe separately, back then. There, we could see ladies of all ages sporting the trendiest swimsuits of the time: incredibly modest and made in wool, a fabric that wouldn't cling to the body when wet.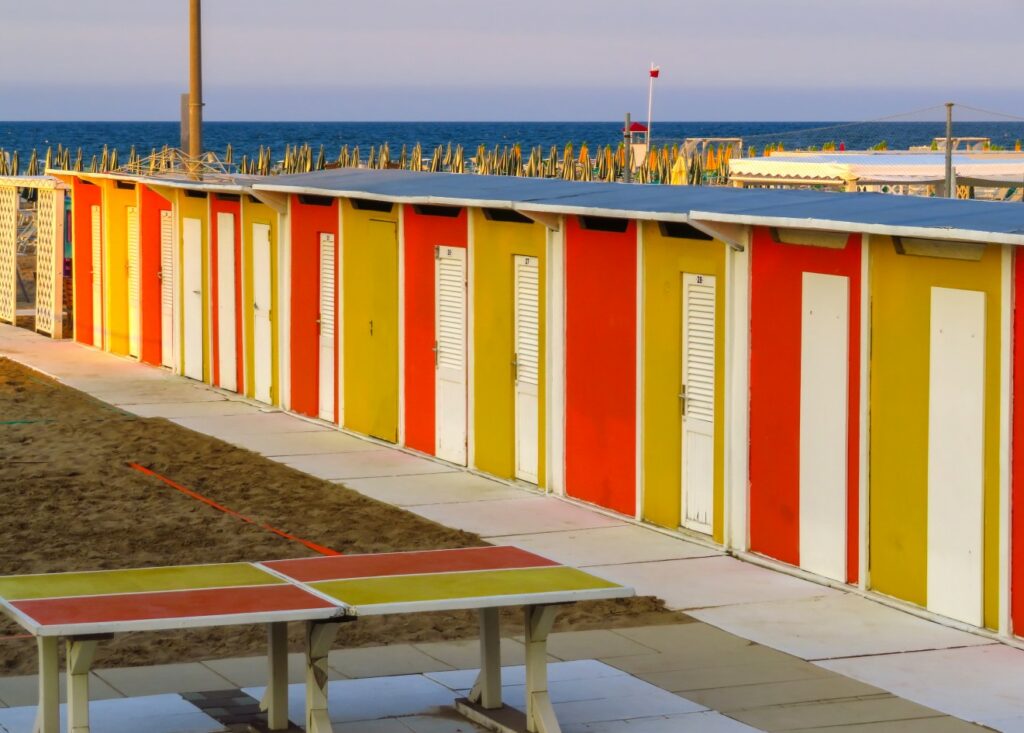 But if you think that the first stabilimenti were created only and exclusively for leisure, you're on the wrong path… of course, taking a dip in the sea had always been customary along the coast, but there was a very specific rationale behind the creation of dedicated structures, a rationale that went beyond the need for people to change into their swimming suits in privacy: in the 19th century, medicine had been growing aware, especially thanks to British research, of the many benefits sea air and water could have on the body, so the idea was to recreate by the sea a model that had been very successful across the world since Roman times, that of spas and baths. In other words, the earliest stabilimenti were conceived like terme. Indeed, approval for the construction of the above-mentioned Bagni Dori and Bagni Nereo was obtained leveraging on this very reason. That summer – it was 1828 – was a true success for Tuscany's newly born stabilimenti, with over 1,000 people using them.
Some years later, the trend caught up in the rest of Italy. Rimini, probably the Italian capital of beach vacations, followed suit in 1843, with its Stabilimento Privilegiato dei Bagni Marittimi, which inspired many other similar structures along the Riviera Romagnola. Just three years later, it
was Livorno's turn, then the Lido di Venezia's in 1857, followed by many towns along the Italian Riviera (Liguria) and larger seaside cities like Palermo and Naples.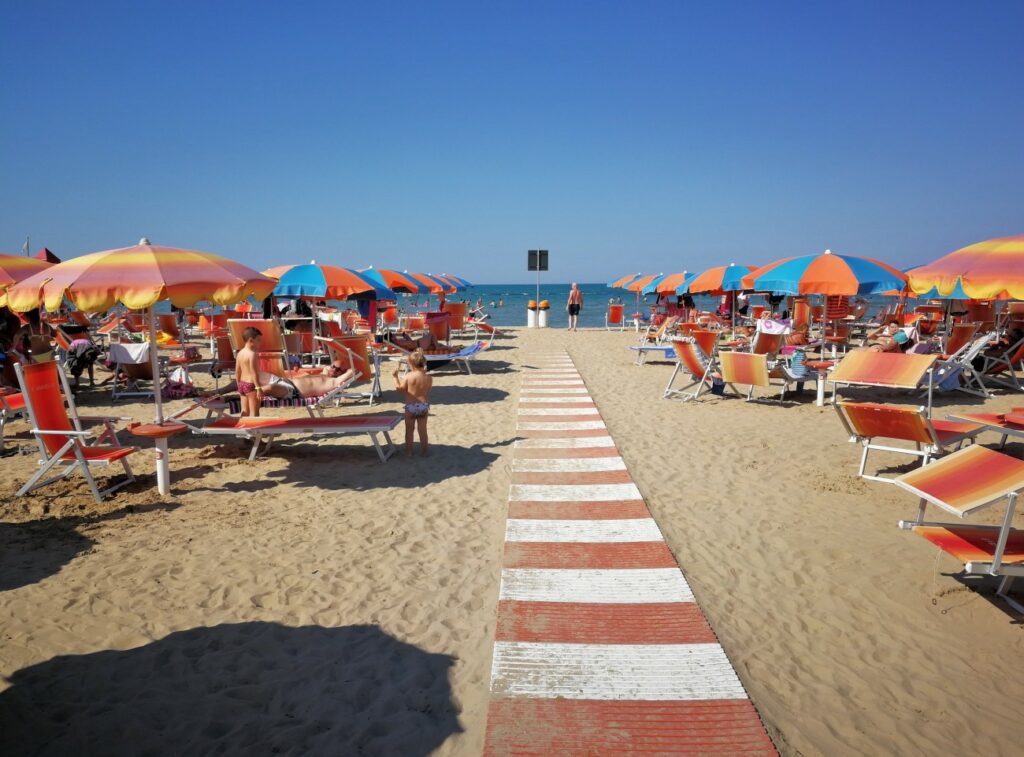 But if we have to be faithful to history, the first example of stabilimento opened much earlier, in Livorno in 1781 and was called Bagni Baretti, better known as Bagni Cavalleggeri, because they were located just beside a fortress guarded by the cavalry. The official name, however, came from Consul Paolo Baretti who represented, in those years, the Savoia's Kingdom of Sardinia in Livorno. Baretti liked that stretch of sea and had the intuition of turning an old wooden building into five single rooms where people could take a bath in the sea in full privacy. Sea water was "brought" inside the rooms thanks to an ingenious mechanical system.
The 20th century brought about considerable changes in the nature of stabilimenti balneari, because they slowly but steadily lost their healthcare structure allure, getting closer and closer to what they are today: a place of leisure and relaxation. As you would expect, the change was mirrored also in fashion trends: men began wearing shorts and t-shirts to the beach, while in 1925 Coco Chanel created the first modern-looking swimsuit for women: tight-fitting blouse and pants. Of course, there wasn't an inch of flesh in sight, really, not only to protect women's "decency," but also their white, diaphanous skin. Back then, being tanned wasn't trendy, as only farmers and outdoor laborers, in general, had sun-kissed skin. However, things were to change in the 1930s, when people came to the conclusion that getting tanned wasn't all that bad, so men ditched the t-shirt and women would show some more cleavage.
Surely, these early examples of stabilimenti were quite different from what we know and love today: their aim was, mostly, that of offering protection from prying eyes – especially for the ladies, one may add – and making the benefit and seawater and air available in a more – let us say – elegant fashion. But their modern iteration is a different thing. While they did enjoy their golden era – a golden era that, to be truthful, hasn't quite ended, yet – particularly in the 1950s and 1960s, their popularity began to rise during the years of Fascism, with the Duce being a fan of seaside holidays himself. In those decades, another traditional Italian summer icon was created, the colonia, which we could compare to a seaside summer camp, where children could spend time by the sea in groups, under the supervision of adults employed, in that case, by the Opera Nazionale Maternità e Infanzia, a branch of the Fascist state. After the end of the régime, colonie remained and, just like stabilimenti, they became popular in the 1950s and especially 1960s, when they were organized by both parishes and towns.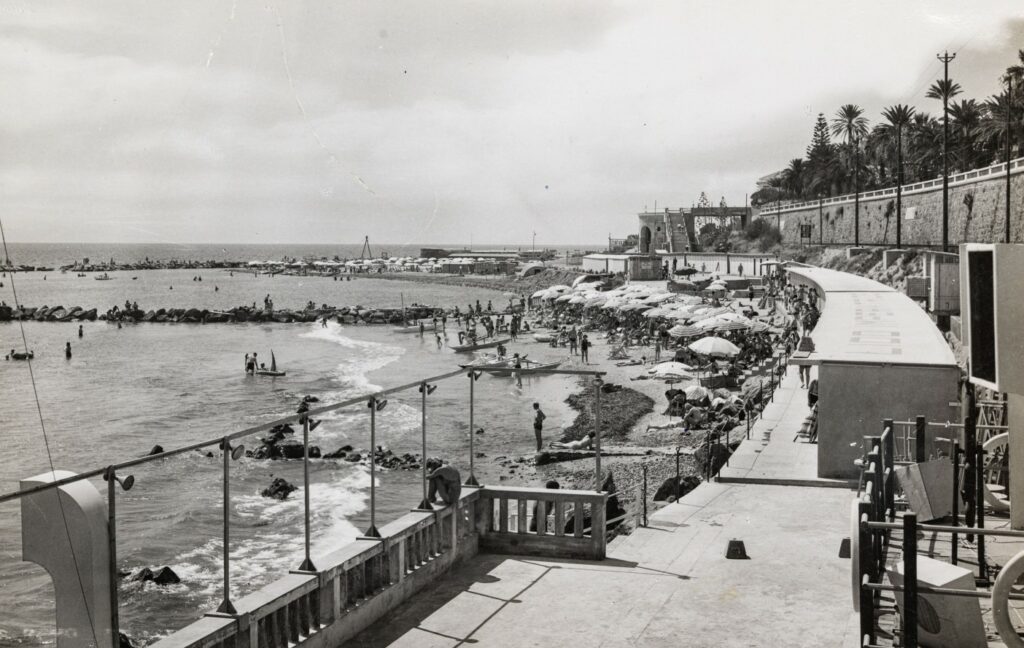 We said it, though, the apogee of stabilimenti balneari were the years of the economic boom, the 1950s and 1960s: you'd travel to the sea on your Cinquecento, and those afternoons spent lying lazily on a deckchair would become memories to cherish. Those years were quite important also from a cultural and social point of view, with women finally becoming more and more emancipated and stepping closer to equality with their male counterparts: this could be seen also on Italian beaches, where the explosive bikini, created in 1946, became common. Quite a huge step, if you think that, in the early years of its existence, wearing it in Italy was against the law.
Stabilimenti balnerari were, and still are today, also a place where friendships were born: families would befriend one another and often returned, summer after summer, to the same stabilimento, booking adjacent seats for the length of their holidays. But perhaps, the most tender of all stabilimento-related memories are those seaside teenage love stories that lasted the time of a holiday: we all had one, and we all thought it was going to last well beyond the summer. But then, September would come and, with it, school and the regular routine of our lives. Soon, those promises of eternal love would fade from the mind and the heart, and focus would return to old flames or shift to new ones, closer to home.
Our beloved seaside vacations wouldn't be quite the same without stabilimenti balneari, and not only because with their services they help us relax even more when we are on holiday. You see, those stripy deckchairs and beach umbrellas, those tiki-style cafés just a stone's throw from the water, the opportunity of meeting every year, often for many years, the same people, make them a bit of a home away from home. They are also usually run by families for generations, which adds to that particular feel.
Truth is that, yes, they have become a bit of a luxury for many families in these years of economic restrictions, but we still love them, and the fact they bring most of us back to our youth, to times when everything seemed beautiful, bright and possible.