If we were to find a good Cinderella story in the world of spirits (of the liquid sort), grappa might just be the one the slipper fits. Thought of for centuries as the poor man's drink, the 20th century has seen grappa elevated to connoisseur worthy heights as a distinguished distillate…and the fairy tale continues.
If Italian digestives, those after meal drinks said to aid in one's gastric performance, are not something you've paid much attention to other than an occasional tipple of an overly sugared limoncello, you may be wondering what, exactly, is grappa. In short, the potent drink is the result of salvaging the remains – the stems, pulp, stalks, seeds – of grapes pressed for wine and distilling the lot into a vigorous spirit possessing 35 to 60 percent alcohol. The story behind the product is a worthy one from its humble beginnings to its lofty status today.
Once considered the elixir of downtrodden farmers and peasants, grappa was certainly not esteemed enough to be memorialized in painting or song. But like a good detective story, adequate evidence exists to illustrate a fairly reliable accounting of grappa's origins. As any spirit must undergo a distillation process, grappa and any other distillate could not exist prior to the ability to distill. An old legend says that a Roman soldier first distilled grappa sometime during the 2nd century near the northern Italian town of Bassano Del Grappa. Using a device he'd slipped out of Egypt with, the soldier executed the process he'd observed: gather the pomace (mashed seeds, skin, etc.), boil, then distill to a liquid powerful enough to mummify ones insides. While it's a good story, it's also unlikely; instrumentation didn't exist at that time that could distill properly. Oh well.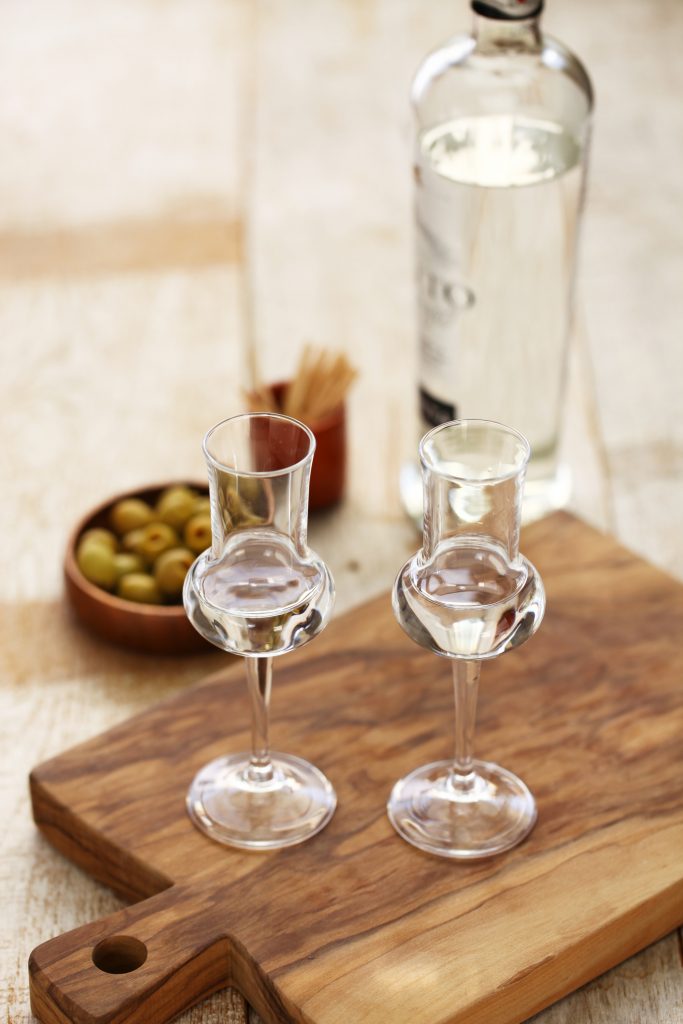 Reliable evidence does exist, however, validating that the distillation process was fully developed in the Middle East by the 8th century. Moorish crusades and those to follow spread not only mayhem, but distillation know-how, as well. Written evidence details the production of "acquavite" (water of life), the antiquated term used for distilled pomace, underway in Solerno by the 1300s. Its purpose, however, had nothing to do with pleasure; it was the perfect vehicle for preserving medicinal herbs procured and sold by the Benedictine Monks.
It's easy to imagine someone on a bone-chilling Italian night making note of the warm, fuzzy feeling that came with imbibing on the monks' tonic. Written evidence from the 14th century verifies that other folks caught on, as well — grappa production in the northern regions of Trentino-Alto Adige and Val d'Aosta had taken off. The poor man's drink was now a valuable commodity for chasing away the toils of a hard life and the winter's chill. Eventually, the popularity of the drink caught the eye of the officials and production became licensed…and taxed, of course.
The claim that grappa is uniquely Italian can be credited to the efforts of one man. Bartolo Nardini made his way from Trentino to Veneto in 1779 in search of a viable location to build a distillery. His choice of a spot adjacent the town of Bassano del Grappa was a good one – Italy's first grapperia was established. In short order, the Nardini name became synonymous with fine grappa…and it remains that way today. It remains uncertain whether grappa was eventually christened with its name as a result of Bartolo's choice of location, or if in actuality it's a throwback to the Latin grappapolis, a term meaning "bunch of grapes." Nardini only knew his product as "aquavite di vinaccia," literally translated as "water of life from grape pomace" – a term still included on the Nardini label today. What is certain, though, is that the term grappa wasn't in widespread use until 1951 when the spirit was awarded recognized denomination.
Grappa's undeniably humble beginnings have certainly evolved. Italy's post-World War II economic boom catapulted Italian style and goods onto the world stage, including this peculiarly strong digestive. Once crudely distilled into something akin to a euphoria-inducing turpentine, sophistication developed along with grappa's popularity.
In 1973, Giannola Nonino opened a new chapter for grappa. Seeking to modernize her family's distillery, Giannola championed the concept of single varietal grappas. Her perseverance paid off. Single varietals, known as monovitigno, have become the elite of the grappa world. Another aspect of Giannola's quest included her efforts to preserve production of ancient varietals. What was good for the grapes was good for the farmers; these varietals received recognition as protected heritage products, while farmers became incentivized to cultivate the ancient vines.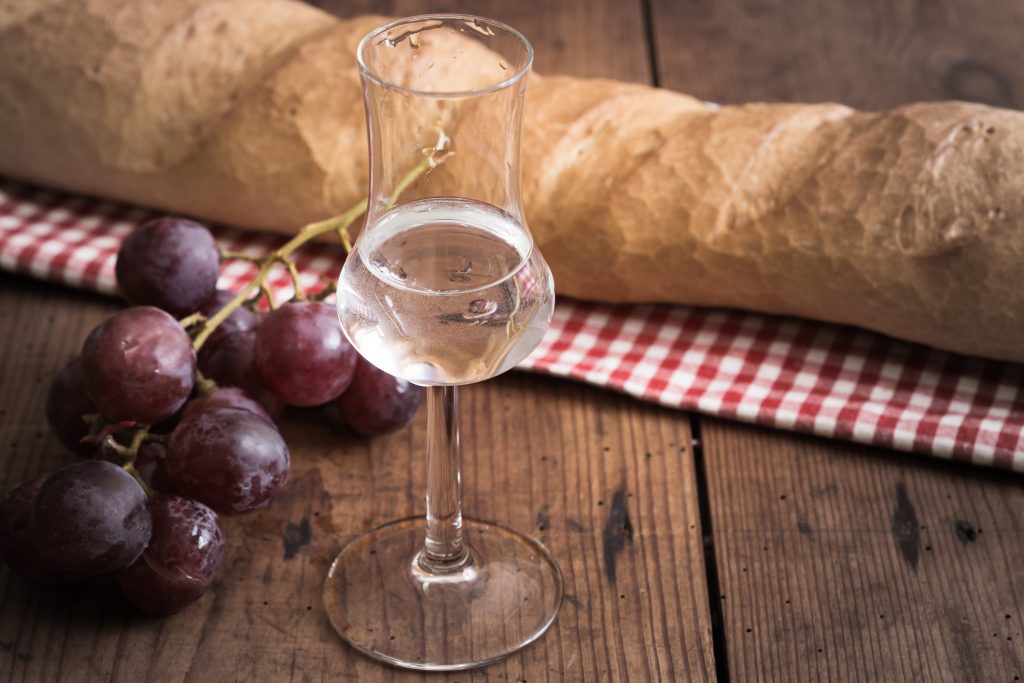 Much more than fiery Italian moonshine, today's grappa offerings come in a tasty array of classifications. Varieties such as Aromatica distilled from highly aromatic grapes, Stravecchia's barrel-aged "old grappa," or Aromatizzata with its infused natural essence, afford something to please individual palates. Not sure what you might prefer? No problem…just as with wine, grappa tastings have become quite popular. One method, if you prefer to skip actually partaking, involves taking a fingertip dip, brushing it across the back of the hand, and inhaling the aroma. Not only will a reliable sense of the flavor be gained, but what is creatively known as the "pet shop" smell will be detected, indicative of a bad grappa, before your tongue makes the unpleasant discovery!
While most novices are introduced to grappa after a fine Italian dinner and a few glasses of wine, there are other options for enjoying this uniquely Italian distillate. An after-dinner espresso is almost a requirement in Italy, yet how to deal with that late night caffeine? Correct it with a caffè corretto, of course! Simply splash a dose of grappa in with your caffè…correction accomplished. If you think you need a bit more, shall we say, correction, request ammazza caffè – a coffee killer. Toss back one cup of espresso, immediately follow with a shot of grappa… sweet dreams are guaranteed to ensue! But if you're not feeling quite that daring, a resentin (small rinse) might be in order. Simply put, once the espresso is downed, a few drops of grappa are swirled about the cup to collect the last clinging remnants of coffee…and down it goes.
If your initial experience with grappa was not so wonderful, perhaps it's time to give it a proper try. Allow someone in the know to suggest a label, then sniff – swirl – sip. This beautiful Italian tradition may warm not only your stomach, but your heart, as well.