The day commenced like any other in the coastal Roman towns that hugged the Bay of Naples. Another hot August morning was underway as townspeople in Pompeii, Herculaneum, and other smaller communities began to gather in public places as they ate, bathed, and discussed current events. No one could have ever imagined how violently their lives were about to change as the nearby sleeping giant known as Mt. Vesuvius readied for a cataclysmic end to its slumber.
Life came to a grinding halt at approximately 1:00 pm that fateful day in 79 AD when Mt. Vesuvius awakened with a terrifying eruption. Seismic pressure had reached a critical point; molten rock and magma had nowhere to go. Citizens gasped in unbelieving horror as they witnessed a sinister spiral of ash, pumice, and hot gasses spew skyward at the rate of one and a half tons every two seconds. Within minutes, a billowing column of debris had risen 10 miles and Pompeii was in its direct downwind path. Panic ensued as people bolted for safety, some trying to flee, others seeking shelter inside.
Darkness overtook Pompeii as if the sun had been swallowed whole by the billowing plume of pumice, ash, and molten rocks that now rained down upon the town. Those who took refuge inside soon perished as roofs collapsed upon them, while others outside succumbed to the storm of falling objects. As is well known of the tragedy here, ash soon buried the town. Since its discovery in the 18th century, the legacy, artifacts, and preserved life-as-it-was of that fateful day in Pompeii have evolved to become one of the world's most visited archeological sites.
Herculaneum, even though three miles closer to Vesuvius, had the good fortune to be upwind of the pyroclastic blast that day. Like an ancient Martha's Vineyard, this small city was the exclusive seaside getaway for the wealthiest of Romans. Opulent waterfront villas crowned the small port, gloriously decorated and showy; it was the place to see and be seen for the upper class. But Vesuvius considered all within her shadow as equals. Herculaneum's citizens felt the earth heave and shutter beneath them as the apocalyptic scene played out. Unable to comprehend, they watched as the volcanic cloud raced upward powered by thermal energy 100,000 times that of the atomic bombs detonated in World War II. Surreal disbelief soon turned to terror; many were convinced to immediately flee the area.
Approximately 12 hours after the initial blast, Vesuvius erupted again with an even greater fury. Massive amounts of debris spewed towards the heavens, melding with the now 20-mile-high column. Weakening under its own weight, the pyroclastic column began to collapse. Its hellish contents spilled towards the earth and down the sides of Vesuvius at speeds of 50 to 100 miles per hour on a direct path for Herculaneum. The pyroclastic flow of seething gas and molten rock was preceded by a horrific blast of deadly heat. For those who had remained, their fate was sealed.
It was long thought that most of Herculaneum's 5,000 citizens were able to escape. However, discoveries in 1982 of almost 300 skeletons huddled pitifully within what were once boat houses yielded a tragic and contrary scene. It's now believed that more victims likely rest within the vast unexcavated remains of the ancient town.
A final eruption sealed Pompeii's fate, encasing the city under 17 feet of fallen ash and rock that obliterated roofs and second levels, as well as destroyed most organic materials. While much was preserved, including the haunting molds of poor souls in their last moments, much was also lost. Herculaneum, however, suffered a markedly different burial. As the pyroclastic flow of mud engulfed the city and settled, a humid environment allowed for the dense sediment to harden into a tufa rock layer 65 feet deep. Sealed in a tomb devoid of light and moisture, Herculaneum lay preserved in a freeze-frame of time. Carbonized wood remained intact including priceless finds such as structural beams, balconies, furniture items, and shop fittings. Food, cloth, and even paper lay trapped and untouched in this dark tomb, as well, awaiting their discovery almost two millennia later.
Before the pandemic curtailed travel, roughly 3.5 million tourists visited Pompeii each year. And Herculaneum? Not even a close second at approximately 500,000 a year. Many assume Herculaneum is just a smaller Pompeii; why not go to the more famous and well-known of the two? One can't argue with the wonders found in Pompeii, of course, but time spent in Herculaneum offers a deepened sense of completeness and awe, of life as it was at the very moment it all ended.
Once past the unremarkable ticket office and small museum, a winding walkway leads to the wonders of this lost city. Like a magic portal, a tunneled staircase opens onto what was once the shorefront, leading further to a raised walkway across what had been the water's edge. A series of arches come into view, framing boat houses that reveal, upon closer scrutiny, the skeletal remains of those who tried to escape. It's eerily quiet as viewers reflect on those moments of sheer terror, seeking to comprehend the tragedy that unfolded here.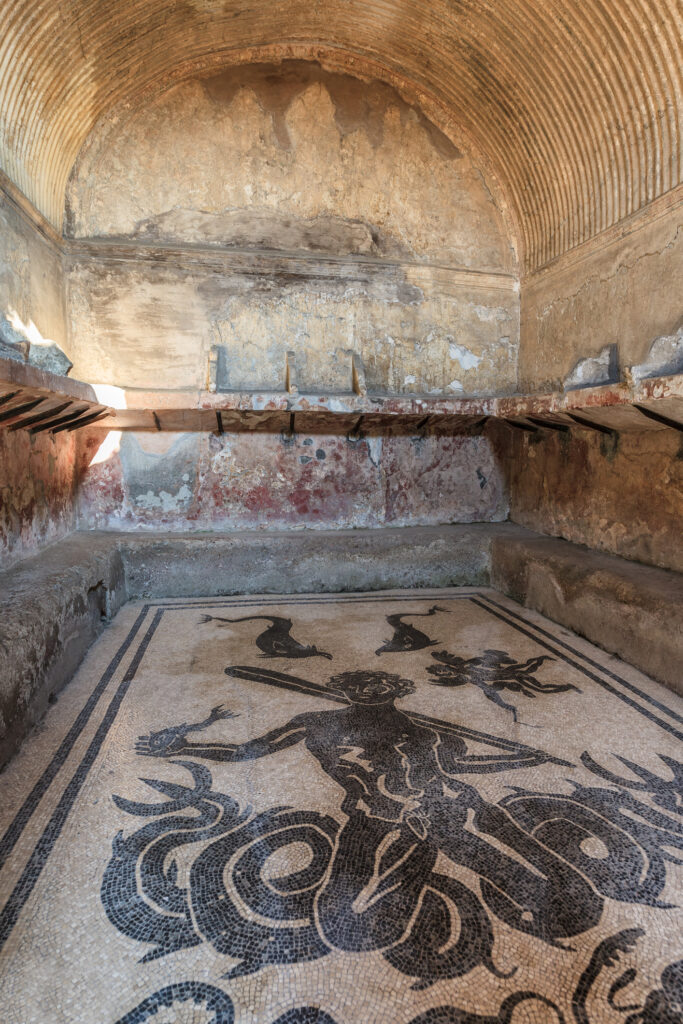 The luxurious lifestyle of Herculaneum becomes apparent quickly. Gloriously intact villas show off frescoes and tile mosaics with colors just a bit less vibrant than when Vesuvius roared. It seems wrong, somehow, to walk over the multitude of impressive varieties of mosaic and tiled floors that cover so much of the one-third of the city that has been exposed thus far. Yet visitors are permitted practically everywhere under the watch of scattered guards.
Shops and even their fittings remain easy to identify. Bread ovens, beautifully tiled "fast food" markets, even wooden casings and shelves to hold amphorae remain. Many of the dwellings sport roofs –some still reflecting the sun with terracotta tiles and wooden beams. One's imagination isn't nearly as taxed; many second floors and room divisions are intact making it easy to appreciate the impressive floorplans. Furniture remains are apparent in some locations such as beds and tables, and even wooden room dividers survive. The presence of the past is palpable here.
At present, only about one-quarter to one-third of Herculaneum has been excavated. Experts believe much more of the city, including a theatre, forum, and other public buildings, rest beneath the bustling modern town of Ercolano. Perhaps the rest of her secrets will never be revealed. Those that have been are certainly worth experiencing – it's a deeply moving and unforgettable few hours walking in the footsteps of the unfortunate ancients of 79 AD.