The mere mention of pistachios evokes a variety of visions. Cooks use them in almost anything and everything. Sports fans consider them a perfect snack while watching a ballgame on TV. Nutritionists say they are abundant in vitamins.
In the kitchen, the broad appeal of these tasty nuts offers infinite possibilities. They are common ingredients in terrines, pilafs and baked goods. Chopped pistachios show up as crusts for fish, fowl and in salads. They also enhance panna cotta, creme brulée and gelato, and add crunch to pastas and a finishing touch to fruit tarts and puddings.
History traces pistachios as far back as 7,000 BC, crediting Roman Emperor Vitellius with introducing them to Europe in 50 AD. The ancient Greeks used them for medicinal reasons. In modern times, the cosmetic industry has discovered pistachio oil as a natural skin moisturizer.
After experimental plantings in California in the 1920s, the US has become the world's largest consumer and second-biggest producer of pistachios. Most of them come from the Middle East, Turkey and Italy.
Related to cashews, pistachios grow on rugged trees that require little care, tolerate poor soil, high temperatures and scant rainfall. Moisture and humidity are their detractors. The nuts bloom in clusters and when ripe, the shells split open as if they were smiling. The green color is derived from chlorophyll: the deeper the hue, the more intense the flavor and the higher the cost.
The shell's natural cream color slowly turns light pink. With most of the crops imported from the Middle East, some shells are dyed red to provide a brighter look.
In Italy, pistachios are a product of Sicily, specifically from Bronte and Adrano in the Catania region, where the terrain is arid and covered with lava rocks containing mineral salt.
The unique microclimate and soil characteristics combine to produce the vibrant pistachio for which Sicily is noted. Harvesting occurs in late summer when the nuts are rich in nourishing oil and vitamin E, and the taste is sweet. Italian cooks often use them as an alternative to walnuts and almonds.
Over the years, the popularity of roasted, salted pistachios soared and some Sicilian growers turned to specialized cultivation and mechanical harvesting similar to that used in California. Those grown in the Bronte area have become a rarity — very delectable, expensive and painstakingly harvested by shaking the trees by hand until the nuts drop to the ground.
One mature tree is capable of producing only 11 to 22 pounds of pistachios every two years. Harvesting includes hulling, drying and sorting, followed by blanching to remove the parchment-like skin.
A common sight on Sicilian streets during late summer and early winter is vendors hawking bags of watermelon seeds, roasted chickpeas, salted peanuts and, of course, pistachios either salted or unsalted, in or out of the shell.
Pistachio oil, usually sold in 8.8-ounce bottles, is mildly sweet and contributes balance to salad dressings and color to seared or smoked salmon or scallops.
To store them, refrigerate unshelled nuts in sealed containers for up to three months. Avoid storing them in a freezer.
As for flavor, the silky Sicilian variety is vibrant and herbal. In
comparison, those from California are tasty in their own right, but rate second to the Italian brand, in the opinion of many cooks.
Each February, the town of Catania celebrates La Festa di Sant' Agata in honor of its patron saint. Its culinary highlight is a feast featuring pastries made with pistachio paste.
With seafood on the menu for many holiday meals, pistachios can add a special flavor to fish dishes. Here, for example, is the recipe for a pistachio sauce that endows salmon with an appealing accent. If wine is paired with the main course, Regaleali Nozzi D'Oro comes highly recommended.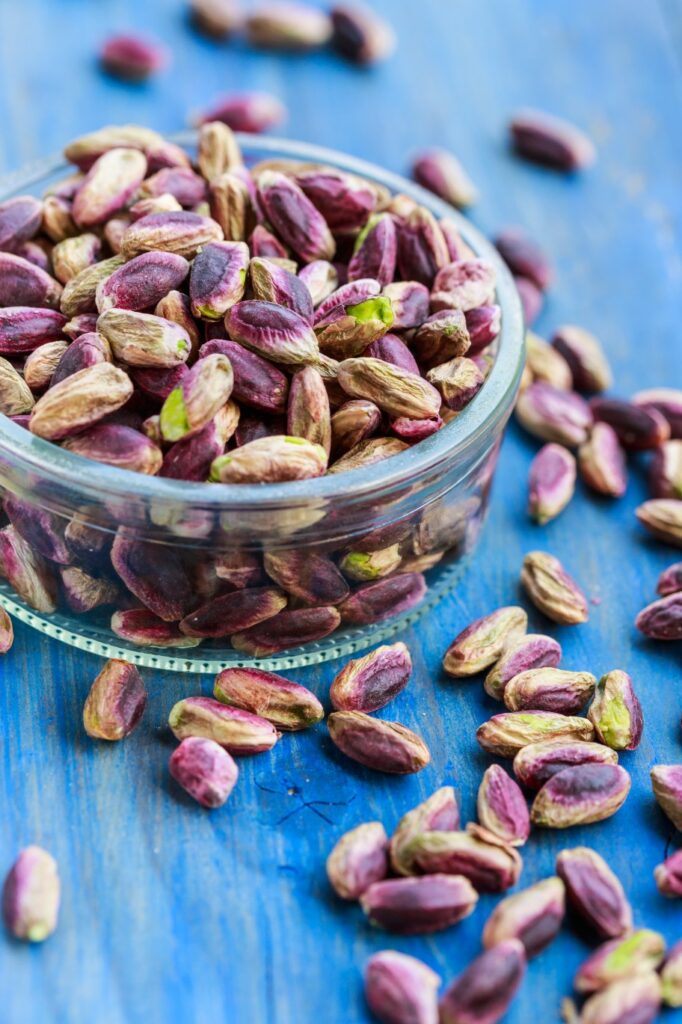 Salmon in pistachio sauce
Ingredients (serve 4)
2 tablespoons extra-virgin olive oil
2 tablespoons white wine vinegar
1 teaspoon freshly grated nutmeg
2 slices bread, crusts removed
1/2 cup shelled, unroasted, unsalted pistachios
2 tablespoons heavy cream
4 8-ounce salmon filets or 1 2-pound salmon filet
2 tablespoons unsalted butter
1/3 cup hot chicken broth
Directions
Preheat oven to 450. Break the egg into a bowl, discarding the egg white. Add olive oil and vinegar, then the nutmeg and a pinch of salt and pepper.
Place the bread in bowl, pour in the milk and 2 tablespoons of water; let it soak for 10 minutes, then squeeze the bread, discarding the excess liquid.
Chop and lightly toast at 400F pistachios for 3 to 5 minutes.
Add the soaked bread to the egg yolk, then stir in the cream, sugar, pistachios and garlic.
Sprinkle salmon filets with lemon juice, salt and pepper, then finely mince onions and cook for 5 minutes over medium heat, until they are soft and golden.
Place the salmon atop the onions, then pour in the chicken broth, and add the bay leaf.
Cook for 15 minutes. Once ready, remove the bay leaf and pour the sauce over the fish.
Bake the salmon uncovered for 10 minutes
Serve hot, garnished with sprigs of parsley.
With all the history and flavor in these toothsome little kernels, it's simple and painless to see why it's so easy to go nuts over pistachios.