Twenty-four hours: that's how long it took to Mount Vesuvius to obliterate Pompeii, Herculaneum, Stabiae, and Oplontis from the face of the Earth. Twenty-four hours and two devastating phases: the first buried Pompeii under meters of ashes; the second, some twelve hours later, destroyed Herculaneum and other villages northwest to the volcano.
It is through stratigraphy, the science studying how the soil stratifies, that we discovered it: truly, what would history be without science? And it's science again – although a different variety of it, archaeology – that we found out, after centuries, that the end of Pompeii did not come in August, but this very month, on the 24th of October, 79 AD.
Back then, the area hit by the tragedy was densely populated, with Pompeii counting some 20.000 citizens and Herculaneum around 5.000. 2.000 of them died, in a catastrophe so far from us in time, but incredibly vivid and clear in our minds.
There are many reasons this is the case. It's known that Man is naturally interested in disastrous, or dangerous events because learning about them is almost a way to exorcise them, to keep them at bay. Then, there is the fascination many of us have with Antiquity and with imperial Rome in particular: whether you consider them ancestors – as many in Italy do – fathers of civilization, without forgetting the Greeks, or mythical citizens of a mythical city, the Romans, their culture and their aesthetics found quite a relevant place in the life of many people of today.
Then, there are the grief and anguish, and the way we, today, can still see them. The tragedy of Pompeii is incredibly alive and incredibly raw, even after 2.000 years, because its victims are here, with us, and we can still see their faces:
I'm just back from Pompeii, my soul filled with sorrow because of what I've seen. Looking at those (…) deformed figures without being moved to tears is impossible. They've been dead for 18 centuries, yet, they still are human beings, and we can see them agonizing. It's not art, it's not imitation. It's their bones, their flesh, and their clothes mixed with plaster we see, it's the pain of death, taking shape and form. We unearthed temples, homes, and other objects, all of great interest to intellectuals, artists, and archaeologists. But now you, my dear Fiorelli… you unearthed human pain, and every human being can feel and understand that.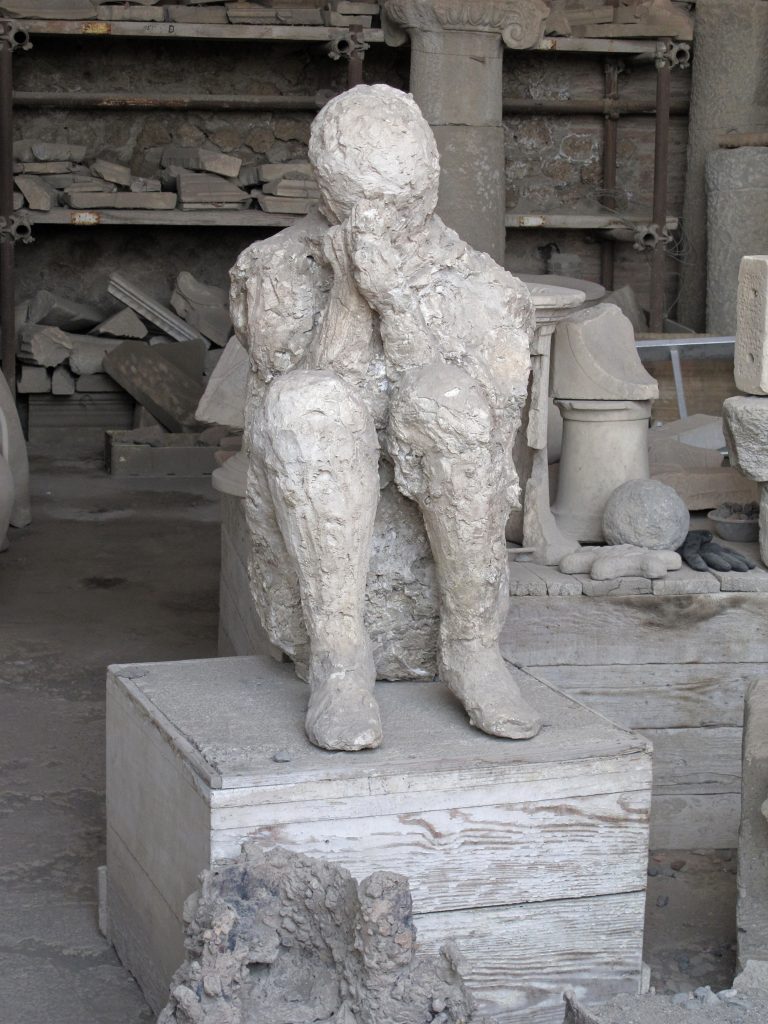 The heartfelt words Luigi Settembrini, Italian man of letter and patriot, wrote in 1863 vividly describe a feeling, I am sure, we all somehow experienced when standing in front of the victims of Pompeii: silent, fixed in time, yet speaking loudly, in their plasticity and tragic, sculptural movement, about the very second in which they left this world. Pompeii's casts are more than archaeology and history, they are life and death, they are love, friendship, and daily events: when looking at them, we see ourselves, in our routines and normality. This is why we all fell close to them.
Undoubtedly, the way they came to us, the fact we can still discern their faces, expressions, and movements, makes it easier to connect, and this is possible thanks to the ingenuity and work of Giuseppe Fiorelli, archeologist and coin expert from Naples.
If we want to understand how and why he was able to create these famous plaster casts of the people of Pompeii, we need to step back in time, all the way to that faithful night of 79 AD. As we know, Pompeii was then entirely buried under thick layers of lapilli, pumice, and ashes, which caused the collapsing of roofs and homes, and the death of hundreds and hundreds of its people and animals. With the passing of time, these materials compacted around bodies, encasing them as if in concrete; but nature took its course, as she always does, and decomposition reduced people and animals to bone, leaving behind, however, hollow "body prints" into the compacted ashes.
At the beginning of the 19th century, archaeologists understood what these "empty spaces" were, realizing their importance: bodies disappeared, but their shadow was there, imprinted in ashes in tridimensional details. In 1823, the director of Pompeii's main excavation, Antonio Bonucci, revealed that the shape of a door was impressed in the ashes, but it was only in 1856 that the idea of making a cast of it pouring plaster of Paris into the hollow form was applied.
A handful of years later, in 1863 Fiorelli, who had become director of the Pompeii site, decided to use the same technique for human remains, and it worked. Thanks to this extraordinary method, a full, incredibly detailed cast of the person – or animal, or object – could reveal their last moments of life; it was an immense archaeological discovery because it helped understand more about the way the ancient people of Pompeii lived, about the way they dressed, what they kept with them while desperately fleeing their homes.
Fiorelli's first attempt brought back to life four people: a man, a woman lying on her side, a young girl and a woman with a swollen belly, and an arm covering her face. In the very first years, Fiorelli's casts included also the bones and teeth of the victims, or pieces of their clothing and personal objects; today, on the other hand, bones are usually removed before plaster is used.
Since then, more than 100 casts have been made, bringing back to light and life more than 100 people who walked the streets of Pompeii two millennia ago.
Fiorelli's technique is very much in use today. At the end of 2020, two victims were identified in the thickened ashes of the Roman villa at Civita Giuliana, where "empty space" and bones were found. The casts of two men were made: a younger one, aged between 18 and 25, and a second, of about 30. They were probably a slave and his master, killed by the second part of the deadly eruption, on the morning of the 25th of October 79 AD. They were trying, after a night of horror, to escape what was once their home in Pompeii.