The Italian animated feature film Gatta Cenerentola – Cinderella the Cat was screened at the TLC Chinese Theatre in Hollywood on November 27th. The movie was chosen by the Academy for the category of Best Animated Feature (a first, for Italy, notwithstanding her long and successful tradition in the production of animated movies) and, therefore, it could be selected for  the shortlist and run for an Oscar. The shortlist will be announced on January 23rd 2018. 
Gatta Cenerentola – Cinderella the Cat is a post-modern and noir version of a famous fairytale from Lo Cunto de li Cunti written by Giambattista Basile, later performed on stage by Roberto De Simone in 1976, and now brought to the big screen by directors Alessandro Rak (director of The Art of Happiness), Ivan Cappiello, Marino Guarnieri and Dario Sansone in a new retro-futuristic version..
"Cinema is an extremely important tool to spread the values of the "Italian Style" commented Italian Consul Antonio Verde during the movie's first screening in the United States, which was actively promoted by the Consulate General and took place in Hollywood. At the same event L'Italo-Americano interviewed Maria Carolina Terzi, producer of the movie, and Luca Riemma, Neapolitan actor living  in Los Angeles for the past five years, who organized the screenings in Los Angeles along with Pascal Vicedomi. 
Gatta Cenerentola – Cinderella the Cat was screened at the Italian Institute of Culture on December 2nd and will be at the Laemmle Theater in Beverly Hills on December 9-16 (12.10pm, 4.50pm and 9.55pm).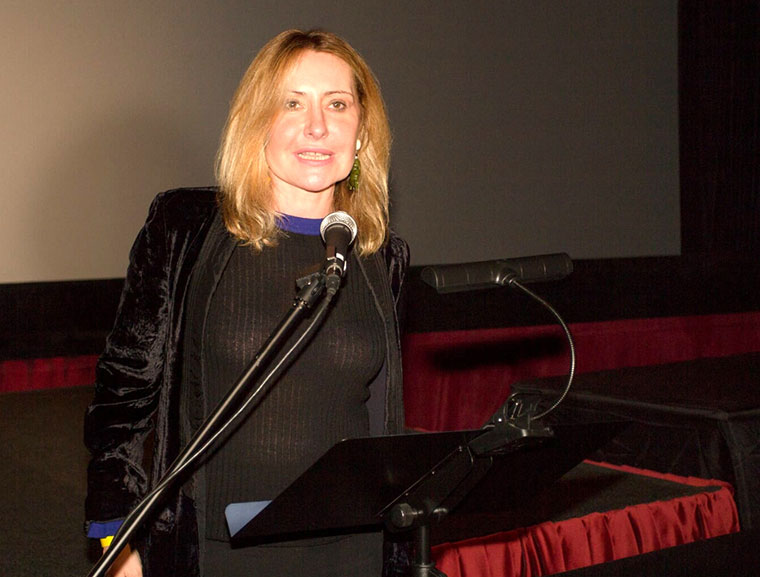 Maria Carolina, why did you decide to produce Cinderella the Cat? 
Maria Carolina Terzi: When I was working for Istituto Luce, I had the chance to work on Luciano Stella and Alessandro Rak's first movie, The Art of Happiness. When I left that job I decided to keep working with them as I truly believed in their projects. 
What appealed you the most in their work?
Maria Carolina Terzi: I think Rak and the other directors of the movie have the skill to speak right to the heart of people. We really do get emotional when we work on our project, we put our hearts and our souls into them.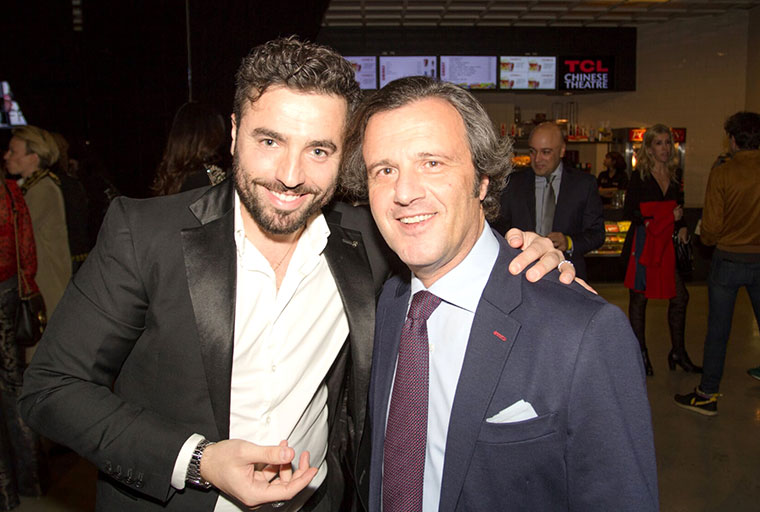 Tell us something about the production company, Mad Entertainment.
Maria Carolina Terzi: It was founded by Luciano Stella as a studio-factory in Naples.  It's just twenty employees,  Luciano, Mauro Luchetti and I, the producers, and the animators. Reading the credits at the end of a movie makes me smile,  it's a only a few names, over and over again! I think that those who will watch Cinderella the Cat  will understand that making such a work in three years and with a 1.2 million budget is a bit of a miracle. 
How did you come up with the idea of turning a story that was handed down orally into an animated feature film?
Maria Carolina Terzi: Luciano Stella's always been an advocate of animation. Initially, we opted to make a documentary on The Art of Happiness, an exhibition on philosophy, Buddhism spiritual investigation that Luciano has been organizing in Naples for 15 years. 
When Persepolis and Waltz with Bashir were released, he decided to make an animated movie out of the idea and started looking for people to hire for the project. He eventually met Alessandro Rak. Naples turned out to be a place full of talented artists.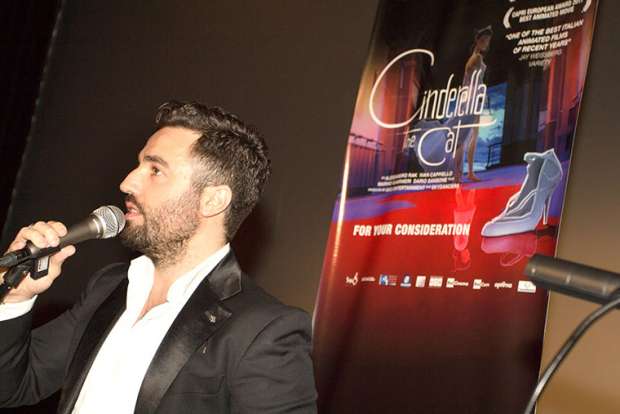 Cinderella the Cat will screen in Los Angeles and has been chosen by the Academy. What does it mean for you?
Maria Carolina Terzi: It means that our production company opened the way for those who want to work in the animated cinema sector in Italy. We are here in LA, trying to get a nomination also because the "Sistema Italia" wants it. All of our partners like Cartoon Italia fought very hard for the movie to be screened in the States. 
What's the movie's path in the States at the moment? 
Maria Carolina Terzi:  Academy members will vote to choose five movies out of the 26 that have been nominated.  These five movies will go to the Oscars. We'd love to be in the shortlist. We organized the promotion campaign in only twenty days with the support of Cartoon Italia, our distributor Raicom and the Italian Ministry. The movie wrapped up on August 5th, on September 5th it was at the Venice Film Festival, on September 15th it was in theaters in Italy and it got nominated for the Oscars on November 1st.  A beautiful but tiring ride: we were definitely not ready for an Oscar campaign. I guess we need Saint Januarius' help to make this dream come true!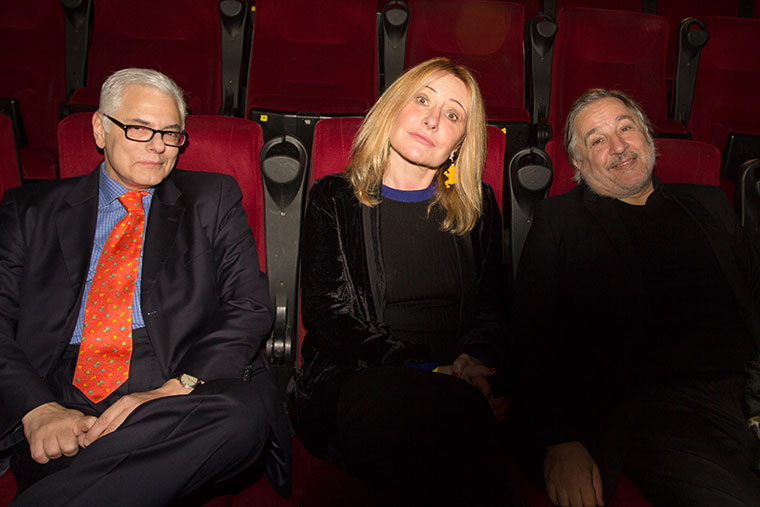 Can you tell us something about the four directors? 
Maria Carolina Terzi: Alessandro Rak is an animation director and animator. Dario Sansone is an animator and musician, frontman of well known Neapolitan band Froya. He wrote the soundtrack for The Art of Happiness as well. Marino Guarneri is drawing artist and an animator, and Ivan Cappiello is a 3D specialist and a Blender specialist,  an open source program for animators. 
Why did you decide to picture Naples in such an unusual way, rainy in The Art of Happiness and dark and impoverished in Cinderella the Cat? 
Maria Carolina Terzi: In the first movie, Naples was rainy because we didn't have the budget to have a sunny scenario in which it's necessary to draw shadows, details which means more work. This technical limitation eventually turned out to be an ingenious idea because it showed a gloomier, sad side of  Naples, a city under the rain, depressed, that no one had ever seen before. Sergio, the main character, became a taxi driver for the same reason: to have him walk was going to be way more expensive.In both cases, these ideas paid back.  In Cinderella The Cat we decided to have just one location, the ship, in order to let the animators focus only on a small amount of backgrounds. 
What are you working on at the moment? 
Maria Carolina Terzi:  On a wonderful project, a movie called Deaddy, like a dead-daddy, it will be a Tim Burton kind of story. But I won't say anything more because I don't want to jinx it! 
Luca, why was it important to bring this movie here in Los Angeles? 
Luca Riemma: Before accepting to organize this screening I asked to watch the movie and when I did I literally fell in love with it. It shows an authentic Naples,  a city often only associated with stereotypes like pizza or criminality. This movie, on the other hand, shows the city's  passion and genius, as well as its negative aspects like criminality, but in a balanced fashion, without over-emphasizing them. It's a fairytale that conveys  Neapolitan emotions, I felt home when I watched it. 
What did you like the most about it?
Luca Riemma: What got me really emotional was knowing that the producers are not from Naples, but yet they love the city very deeply. And the fact that behind the movie there's art, youth, passion… talents that blend together in the colors and in the soundtrack. The movie is profoundly deep.
It's a different Naples compared to what we are used to, isn't it?
Luca Riemma: It's a futuristic Naples,  with an old fashioned spirit in its language. The dialogues sound like they are from the '30, a bit liberty-ish and a bit baroque. There's a mix between modern and old in the music score as well. 
A quote from the movie says: "You have to be worthy to be Neapolitan." What does it mean for you? 
Luca Riemma: People from Naples have a responsibility, as everything we do spread all over the world, so we need to be doing things respectfully and ethically. Being folkloristic, passionate, loud, doesn't mean we are rude or arrogant: bad manners are everywhere, in every city in the world. We have to bet on future generations and this movie can teach Neapolitan youth to experience and recount the city not only through criminality but also as a form of art.