The second stop of our resilience series takes us to the social media world and how technology has been connecting people, as well as allowing them to explore new things and kick off some fun activities. Together with technology, what sets the Italian community apart from others, especially in difficult times, is food. La cucina italiana is a symbol of community, quality food, unique ingredients, and of course family traditions. From Instagram to Facebook, all social media have become the virtual place where Italians meet and – why not? – talk cooking, grocery shopping, local recipes, and much more.
We discussed the topic with two Italians who have represented the social – food combo. They are gathering people online and allowing them to feel less lonely, while cooking their mamma's recipe or by simply sharing photos of their meal of the day.
Starting on April 1st, every Wednesday at 11:30 AM until the end of April, Viola Buitoni hosted a 30 minutes virtual class on the everyday art of Italian cooking. Viola is a renowned Bay Area cooking instructor, with a legendary ability to teach cooking as a full body sensorial experience, while engaging her community of passionate home cooks with stories from six generations of family food tradition. Viola has been teaching in the Bay Area since 2009: a resident Italian instructor at 18Reasons and The Civic Kitchen in San Francisco, she was at schools around the country including the Culinary Institute of America in Napa Valley, and Eataly in Chicago and New York.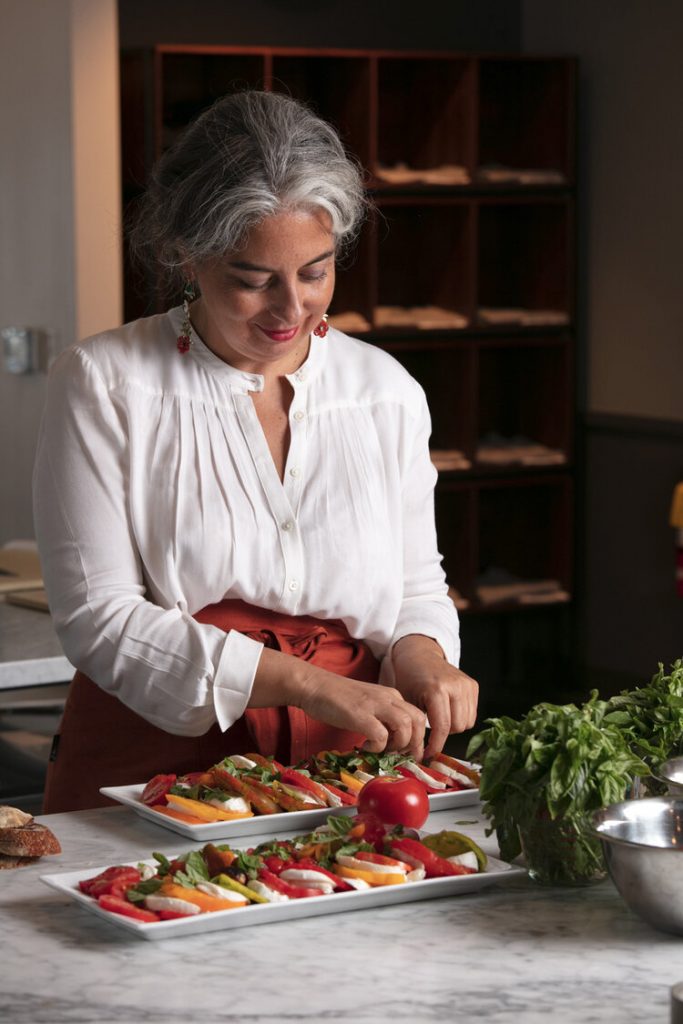 Viola, can you tell us a bit of your idea of the series "Lunchtime with Viola Buitoni"?
My mission in the last 10 years has been to turn people into passionate and engaged cooks. When Shelter-in-Place started in March, my first thought was "Now, more than even, people are going to need to know how to cook." I decided to live-stream on Instagram almost daily, I started with simple dishes that you can put together in 15 minutes or less. When Director Annamaria Di Giorgio shared the idea of a more in-depth experience, to encourage some active cooking, we launched Lunchtime with Viola Buitoni.
How did you come up with those recipe ideas?
All recipes were crafted around ingredients that are either part of most standard pantries or are easy to find in local markets. My final intent was to have everyone cook healthy and delicious Italian food, while minimizing shopping trips.
It's very powerful to have a chef in your kitchen who teaches how to cook a certain meal and can follow each single step. How did you address this issue, knowing followers would have to do it all themselves?
I took time and got helped by my husband John, who's a software engineer at Netflix and knows his way around tech. Together, we figured out the best way to show what I was doing, when to focus on me, on the prepping, or on the cooking. We included close-ups of prepping techniques and transformation of the food on heat and detailed explanation of how each step should engage the senses. In other words, where your body should be and how it should feel in relation to food and its changes. This is what sets my teaching apart: it is never merely descriptive of the action, but it is a constant analysis of the sensorial experience of cooking.
Did attendees interact with you after the classes?
Many attendees reached out and kept in touch. Some attended my online classes, one viewer even sent me a Thank You gift. Everyone can sign up for a virtual cooking class on my website violabuitoni.com and follow me on Instagram @violabuitoni
Are you planning to do more of this, also considering that the SIP will probably stay longer than expected?
I'd love to do more Lunchtime with Viola Buitoni episodes. I am lucky to be in Italy at this time and I'd like to continue the series from here because I strongly believe it'd be a great opportunity to keep engaging viewers with recipes, as well as with a direct experience of Italian food culture.
CIBA, aka Cucina Italiana nella Bay Area, is a Facebook group with a clear goal: create a local network of fans of authentic Italian cuisine, while sharing tips on places to find quality raw materials in the Bay Area or also meeting for dinner in restaurants or private homes.
We talked to Giuliano Manno, an Italian engineer working in the Bay Area with a special passion for food, wine, and design. In addition to his full time job, Giuliano is a sommelier, a music producer, and a photographer. He graduated at the AIS sommelier school in 2007 and has more than 10 years of experience as a wine educator.
Giuliano, can you talk about this group and why it was launched?
When an Italian TV show decided to film in San Francisco, they picked Italian residents to join a chef exploring Italian restaurants and nominating the best one. I am a sommelier and, after many years in the food industry, I decided to attend the audition. When I talked to the show producers, I could not stress enough how important it is to save the Italian food culture, without necessarily falling for "nostalgia" and stereotypes. I did not get to join the show, yet a few weeks later I launched CIBA, a place where we talk, celebrate, and share all about Italian food.
What's the ultimate goal of this group?
Our mission is to answer a simple question "What does it mean to be an Italian, living outside of Italy, in 2020?" History shows how previous waves of emigration, in the early 1900s, in the '40s and '50s, had created a sort of cultural separation between Italy and the Italians abroad, which ultimately turned into cultural distance. We want to leverage the new technologies to be in contact with our motherland, while we move our culture forward. These advancements can happen on a global scale and Italy is at the core of it.
How did you get people to join the group?
We started talking about our group within other Italian Facebook communities. Hundreds of members joined in less than 24 hours and, in the last months, because of the Shelter-in-Place, numbers went off the roof. We get requests to join the group on a daily basis and we try to get users on board only after they answer a set of questions.
Which questions are you able to address as a group?
Our motto is dal basso e dal posto: our food culture is born in kitchens around the world and our contributors are people who love to cook. We address topics like how to source ingredients, how to use the great Californian produce in the best way possible. We organize GAS (Gruppi di Acquisto Solidale) and we source ingredients collectively; we get together for virtual events around recipes, like for example Carbonara Day, Risotto Week, or Sagra della Lasagna.
Can you tell us a bit about the app you developed?
One of our rules does now allow businesses because we aren't a place for advertisement, at the same time we know it is crucial to support Italians who run restaurants around the Bay. During the early months of Covid-19, some restaurants asked to run ads in our group. We were concerned that not all businesses would get the same exposure. Our idea was and is, especially in difficult times, to create networks, not blind competition. I then built a platform that enables business owners to enter their information (type of service, delivery platforms, phone, website, Social Media). The app collects the data and features businesses on a map. We currently have more than 50 map points and we also used the same system to map Black-owned restaurants to support the Black community in the Bay, reaching 250+ businesses.
Why should people on FB join the group?
We encourage all Facebook users who want to challenge themselves cooking Italian recipes but are open and ready to discuss and improve. That's why we don't have celebrity chefs in our group, on the other hand we welcome all those with authentic love for food.