Imagine a theatrical play and the art of living origami. Imagine them coming together through a performance able to bring multiple characters to life through extravagant costumes and paper masks. Ennio Marchetto: the Living Paper Cartoon is this and much more. At Club Fugazi in San Francisco until February 5th, Ennio Marchetto will entertain the local audience with 70-minute daily shows in both the afternoon and the evening.
Ennio Marchetto is an Italian actor as well as a comedian and cabaret artist, who started working with his collaborative partner Sosthen Hennekam, a Dutch fashion and costume designer, back in the '90s. He became an instant cult hit, booking multiple sell-out tours throughout the UK, a run in London's West End, and at some of the greatest festivals around the world. His appearance at the 1990 Edinburgh Fringe Festival was a big success and opened many doors. The comic cabaret performer traveled around the five continents; got nominated for the Laurence Olivier Award for Best Entertainment with Granada Television; appeared at the first European MTV Music Awards in Berlin; and ultimately performed with The Spice Girls, Brian Adams, and other artists for HRH Prince Charles at the Royal Variety Show, broadcast for the BBC.
Marchetto morphs into parodies of popular characters from music, movies, works of art, and world leaders. The Mona Lisa, Marilyn Monroe, Adele, Freddie Mercury, Beyoncé, Lizzo, Harry Styles, Lady Gaga, Diana Ross, Maria Callas, Frank Sinatra, Elvis, Celine Dion, Whitney Houston, Justin Bieber, Dolly Parton, Eminem, Bono, James Bond are just some of the people Marchetto brings on stage.
His production came to San Francisco's Theatre on the Square in 2000, produced by Jonathan Reinis, for a four-month engagement. Then, he returned to play the Napa Valley Opera House in 2003 and was presented on three separate occasions at Berkeley Repertory Theatre, most recently in 2008.
We talked to Ennio a few days before his trip to California, learning all about the San Francisco tour in his own words.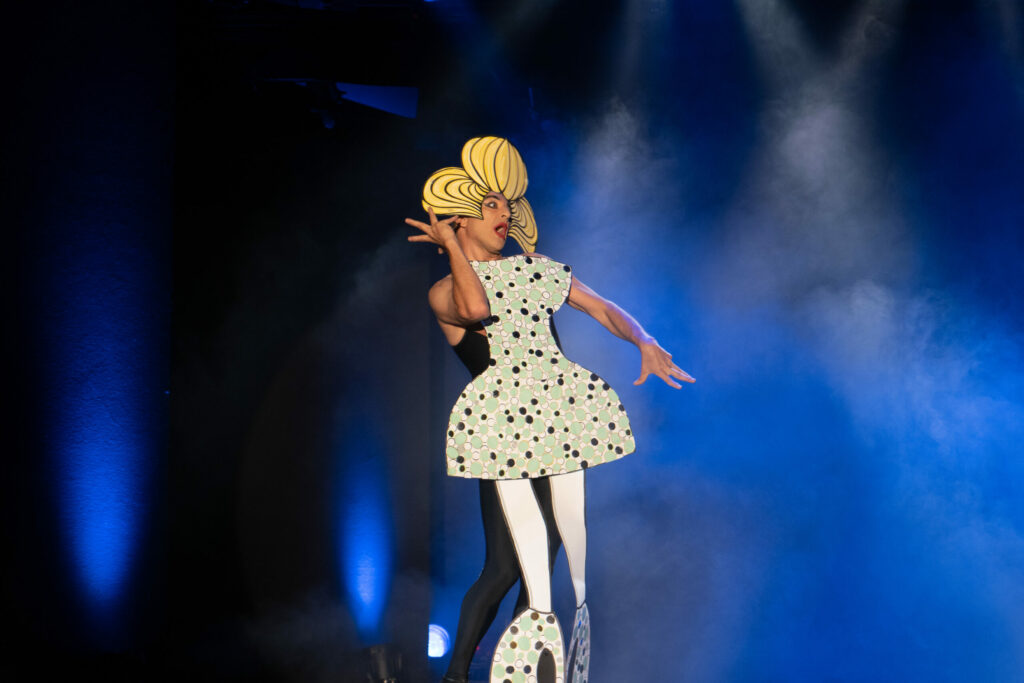 First of all, how would you describe Ennio Marchetto?
I am a simple person. I was raised by a family expecting I'd follow in my dad's footsteps. He was an espresso machine repair engineer, however, I loved performing and I decided that would become my job. I was only twenty-eight when I first realized that. Thirty-four years in, I can say I was right. I take my shows around the world and I am very happy with what I have done so far.
Tell us a bit more about the beginning of your career. What was your strategy at that time?
I worked by creating my own masks. I am from Venice, where the Carnevale is a big deal for everyone. I used to perform outdoors with costumes I had made myself, not necessarily related to the Commedia dell'Arte, actually using characters I had invented. The audience's reaction took me to a turning point in my career. People liked my performances and, by keeping on working, I improved and learned a lot. I never attended a workshop, I am a self-learner who was able to create more than 500 characters in a 30-year career and managed to evolve over time.
How did this journey as a self-made artist influence you as an actor?
When you learn through self-study things are a bit different. I brought my characters straight to the street to interact with the audience. This allowed me to better understand what it takes to be successful and why the audience liked me. I did some auditions for Italian TV shows, the Maurizio Costanzo Show just to name one. Throughout the '80s, I worked on lavish costumes and masks, I performed in my first professional cabaret and won the Golden Lion and Mosquito Awards for comedy.
Who mostly influenced you over the years?
Pina Bausch, the German dancer, had a big influence on my work because I love contemporary dance. I kept watching what she did and it gave me the right energy to get out there and perform. I also love British mimes, especially the ones from the '70s and the '80s.
Tell us a bit more about your characters during the performance.
I bring sixty different characters in one hour's performance, almost a different character each minute. I'd define my show as exhilarating and sparkling. Each character comes on stage through a costume: it can be a woman, a man, an animal; some of them are two-dimensional, some others three-dimensional. Behind each transition that brings a new character in front of the audience, there's lots of preparation. You need to think of a joke and understand how it might fit within the performance. Each gag must be coherent with the following one, to keep that momentum for both the performance and the audience. It may be easy to transition from a queen to another queen, less so when you want a skirt to become a motorbike.
You have been to San Francisco before. What should we expect from this new tour?
It's gonna be a one-month tour with twelve new characters. It is going to be a bit different from the last time. I love the people in San Francisco and I got many friends here. I haven't been back in ten years, that's why we thought of a new performance, which can bring something more contemporary, including music and characters. This will be a show for those who love opera as well as pop music. What usually happens is that, in the first five, or ten minutes, people aren't sure what they got into. As time goes by, they warm up, they like surprises and to see how each costume and each mask are different from one another. After leaving the theater, many tell me that, thanks to my show, they temporarily forget life problems, embrace the power of music, and enjoy the costumes, which are beautiful in shape and colors, just like the wigs I wear to create each character.
Ennio: the Living Paper Cartoon is on until February 5, 2023 at Club Fugazi, 678 Green St, San Francisco. For more information or to purchase tickets, go to clubfugazisf.com or call (415) 273-0600.