Eggplant parmigiana: when I used to live abroad, it was one of my culinary cavalli di battaglia. Simple to make enough to be thrown together on a weeknight, yet full of Italian va-va-voom. Eggplant, a staple of our national cuisine and, more in general, a key ingredient across the Mediterranean, isn't as popular everywhere in the world, but this doesn't mean that its estimators aren't many. In the US, parmigiana is one of the dishes Italian-American families happily serve when they want to get some "taste of home" on their table. It is a well-loved dish on both sides of the Atlantic, and rightly so, because you can't quite beat the perfect balance between decadent fried eggplant, fresh tomato sauce and basil, and creamy mozzarella cheese, all topped perfectly with the tanginess of parmigiano. You can have it cold or hot, and it's equally delicious, reason for which it is a perfect, all-year-round meal.
Melanzane alla parmigiana – this is how we call the dish in Italian – is pretty ubiquitous in the Belpaese: from North to South, we all cook it and love it. But have you ever wondered where it originates from? You may think its name gives it away, but perhaps it isn't really so. "Parmigiana" means from Parma, in Emilia, but there are other regions in Italy that claim to be the motherland of this traditional dish: Sicily and Campania.
An article penned by Roberto Roveda for the newest issue of Focus Storia sheds some light on the apparent mystery of the dish's origins. Fundamentally, Roveda writes, there are three versions of how melanzane alla parmigiana came to be, each associated with a different region.
The first written attestation of a parmigiana-style recipe comes from Neapolitan chef Vincenzo Corrado and his Il Cuoco Galante, a cookbook published in 1733 where he proposed a parmigiana made with fried zucchini. A century later, another famous Neapolitan chef, Ippolito Cavalcanti, presented parmigiana again in his books, this time made with melanzane. In 1837, Cavalcanti published a famous culinary book, Cucina Teorico-Pratica, to which followed a second edition two years later, enriched with an appendix, Cusina Casarinola co la Lengua Napoletana ("home cooking in Neapolitan dialect"). Here, he offered a recipe for a dish of layered eggplant with cheese and either meat or tomato sauce. And a few leaves of basil, of course.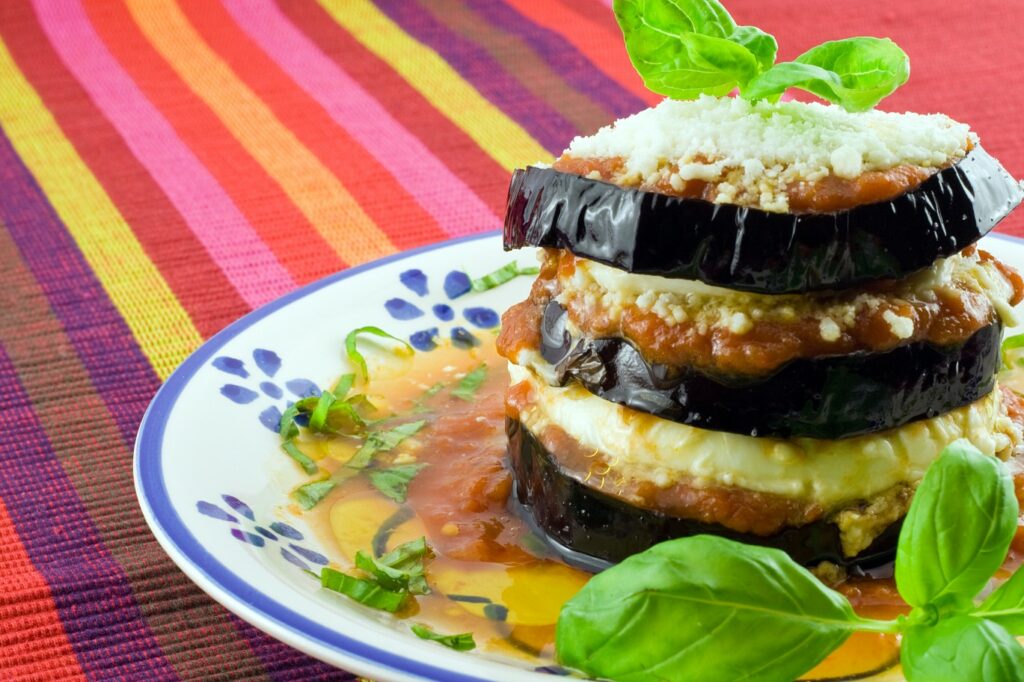 According to some food historians, however, the recipe's inception should be sought further back in time and… some miles south of Naples. Sicilians have long claimed melanzane alla parmigiana is their own invention and, looking at things closely, they may well be right. The eggplant came to Italy thanks to the Arabs, who brought it to Sicily in the early Middle Ages. By the 15th century, this vegetable was common on Sicilian tables. Its name would come from the word petronciana, which was how the Arabs called it or, perhaps, from the Sicilian word parmiciana, a term used to indicate the wooden laths that form a shutter, the look of which could be compared, with some imagination, to the layers of parmigiana.
But the clearest etymology for the name of our dish remains that linking it to Parma. The use of parmigiano reggiano in the recipe of eggplant parmigiana is ubiquitous across the country, which could be a sign of its geographical origin. However, some point out that pecorino was also used in early variations of the recipe, which would weaken the soundness of this particular explanation. In fact, detractors of the Parma origin of parmigiana also point out that the adjective "parmigiana" was used, especially in the 14th and 15 centuries to indicate a specific way of cooking vegetables in layers, which had nothing to do with the Emilian city. It would be only in the 17th and 18th centuries that "parmigiana" became the adjective to add to all dishes where parmigiano reggiano was an important ingredient.
As often happens when it comes to our cuisine, pinpointing the origin of a dish isn't simple, especially when it is common across the country. Perhaps, however, Roberto Roveda is right when he says that the truth may be right there in the mix: not of ingredients, but places. The eggplant was likely introduced to Italy by Arabs through Sicily, and the recipe for eggplant parmigiana was developed in Naples, but it reached its modern balance, where parmigiano reggiano is key, in Parma, with the addition of the famous cheese. This a perfect example of regional culinary fusion, which is also explained by the intense trading and cultural connection among all areas of Italy well before unification took place in 1861.
When it comes to the perfect recipe for melanzane alla parmigiana, simplicity and quality remain key: fresh ingredients, Made in Italy mozzarella and parmigiano reggiano, some coarse salt to drain moisture from the vegetable before frying, and that's it. Simple, wholesome, good and … historically accurate!