Today, Eataly is a household name, especially if you love high quality, genuine Made in Italy: with stores in Italy, Germany, France, the US, Sweden, Canada, Brazil, China, Japan, and Saudi Arabia -just to name a few locations – the famous brand has, we can say, conquered the world. The US is home to eight stores, including one in Los Angeles, and will open a ninth one by the end of this year in New York City, on Lafayette St. — it'll be the third in the Big Apple.
Historically connected to the name and figure of Oscar Farinetti, Eataly's founder, Andrea Bonomi's Investindustrial has recently acquired 52% of the company, but customers don't need to fret, because its philosophy remains unchanged: finding and offering to the wider public food companies and brands that focus on quality, environmental and economic sustainability, responsibility and sharing. The result, still today, is a portfolio of products and producers that propose the best when it comes to quality, taste, and authenticity. 
Farinetti came out with the idea of Eataly in 2002 and, with the help of another important Italian reality, Slow Food, he began his quest for the right producers. The first Eataly store opened in Turin five years later, in 2007, in the old Carpano liqueur factory. In that first store, you could already find all the ingredients that were to make Eataly famous around the world: good products, of course, but also the opportunity to get to know food better through tastings, cooking classes, seminars and, of course, shopping.
In 2008, Eataly opened in Bologna, where the first "gastro-libreria," a bookshop where you can enjoy good food, along with good literature, was created. In 2009, the first international store was inaugurated in Tokyo, and another one in Piemonte, in Pinerolo, not far from Turin. In 2010, Eataly landed in the home of the Slow Food Movement, the Piedmontese province of Cuneo, with the opening of a store in Monticello d'Alba, and finally came to the USA, on New York's 5th Avenue. The largest store opened, of course, in Rome in 2012, while 2013 saw new ventures rising in Turkey, Dubai, and Chicago. In 2014 the Milanese store located in the former Teatro Smeraldo brought together food and music, with the presence of a stage dedicated to live music. From 2015 to 2020, the world truly became, as the people of Eataly puts it, "eataliano" with more locations opening in Monaco (Germany), Seoul (South Korea), Sao Paulo (Brazil), New York again, Boston, Riyadh, Trieste, Bologna FICO, Tokyo Gransta Marunouchi, Moscow, Parigi, Toronto, Kuwait and Los Angeles (2017). The 41st Eataly store opened in 2020 in Dallas and 2021 saw the birth of the first UK branch.
A truly international vocation, for a company that wants to bring around the world the most authentic and genuine Made in Italy, but also show how our culinary tradition can easily go hand in hand with key contemporary concepts like sustainability. It is all about, as we find on Italy's official website, "Attention to quality, to the culture of good food and simple communication. Because food for us is passion before being a job. We are committed to bringing our simple philosophy to the world and to telling everyone quality and responsibility can benefit us all."
Farinetti explains it all even better: "Eataly's success is linked to our philosophy because people can eat, shop and learn all about high-quality food, three activities that don't coexist anywhere else. Moreover, our informal communication style shows how direct and approachable we are, just the way people like."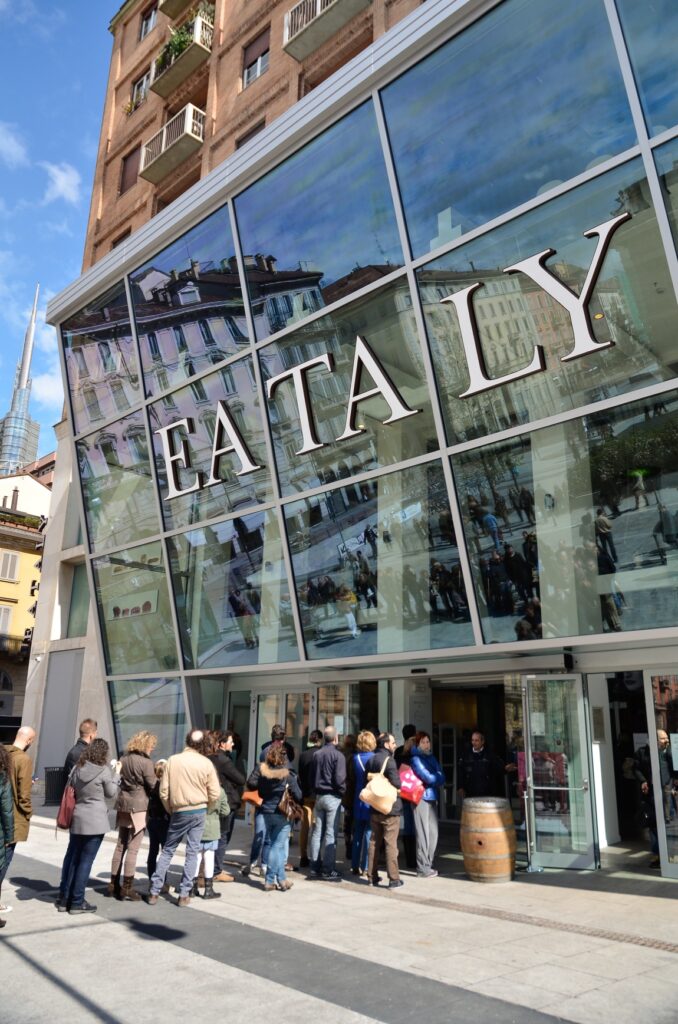 It's easy to see why Eataly is successful, but we must admit its name has played a role, too: how clever is it, when you think of it? Easy to see, it comes from the union of the English verb "eat" and "Italy," and it is perhaps the most perfect brand name ever invented. Not many know, however, the interesting story behind it. Contrary to what most of us may believe, the happy neologism wasn't created by Eataly's father Farinetti, but by a relatively unknown business consultant called Celestino Ciocca. Ciocca, who is originally from Molise, has had a long career in the "total brand experience" business, that branch of marketing aimed at associating a brand with a whole philosophy rather than a simple product. Ciocca made a name for himself especially in the food and wine sector, also thanks to collaborations with big names such as wine producer Antinori and coffee mogul Illy. In 2000, he came out with the idea of declining the name of our country in a slightly more colorful way, joining it with one of its people's most beloved activities, eating. Ciocca had been working on a personal project, one where the brand to support was… Italian food culture. When he met Farinetti, the two joined, so to speak, forces and, eventually Ciocca sold the rights to use the name "Eataly" to Farinetti for his own, today incredibly successful, visionary venture.