Summer is here, so are events, exhibitions, and fun for and from the Italian community. The new season is bringing in-person events across the bay, with some options to attend virtually too.
The Museo Italo Americano reopened its doors a few months ago, hosting a number of cultural and social gatherings for its members. Among others, the curation of Rhapsody, an exhibition that opened in March and will be available until the end of August. Three female artists have come together with their artworks, focusing on different techniques and topics. Serena Bocchino, Kara Maria, and Nola Pardi Proll worked closely with Bianca Friundi, Curator of the exhibition, to ensure a unique experience for viewers. Serena's lively and lyrical abstract painting, exploring music's lyricism, melody, and rhythm, comes alongside Nora's love of stone and nature's found objects in her imaginative multi-faceted sculpture. Additionally, on Friday, June 17th, Aperitivo con l' Artista will allow everyone to meet with Italian American artist Kara Maria for a conversation about her paintings and how they reflect on Earth's biodiversity crisis and the place of endangered animals in our increasingly unstable environment.
Many during the pandemic have attended Cena & Telechat with other members of the Museo. This event is back on Monday, June 20th, with the perfect summer topic – what to do during free time. One of the few occasions to practice Italian and improve the knowledge of the language, the "cena" will host only 10 people, and chances to practice Italian are very high, even for the shyest people.
Reading and watching will be the main activities proposed by the Italian Cultural Institute (IIC) in San Francisco these coming months. June is Pride month and the IIC team, together with the Italian Consulate General, will host the screening of the documentary LET'S KISS: Franco Grillini, Storia di una Rivoluzione Gentile. Franco Grillini is known as one of Italy's most prominent and revered gay rights activists. A pedagogue and journalist, Grillini entered into politics in the 1970s and was first elected member of the Italian Parliament in 2001, and re-elected in 2006. He has been Honorary President of the gay Italian organization, Arcigay, since 1998; President since 1987 and Secretary since 1985, in which year he also helped to found the Association. Alongside Mr Grillini, film director Filippo Vendemmiati will offer an open and candid conversation on the history of the LGBTQ rights movement in Italy. The screening will happen on June 19th starting at 6 pm at the Italian Cultural Institute at Sansome Street.
Fare Cinema 2022 is taking place worldwide to promote the Italian movie industry with free online content on the portal called italiana and on the MyMovies platform. Fare Cinema is organized by the Ministry of Foreign Affairs through a collaboration with the Ministry of Culture, ANICA, Agenzia ICE, Cinecittà, Italy for Movies, Italian Film Commissions, the Academy of Italian Cinema – David di Donatello Awards, and La Biennale di Venezia.
Between June 13th and June 19th, Fare Cinema includes different initiatives: Italian Renaissance; a series of conversations with film-makers representing the renewed focus on contemporary Italian film by international festivals and film critics; Italian Screens, with the five finalists in the Best Short Film category for the 2022 David di Donatello Awards; a tribute to Vittorio Gassman, with a special interview with Alessandro Gassman and the viewing of the documentary Sono Gassman! Vittorio Re della Commedia; Pasolini 100, a series of original video-introductions to Pasolini's films.
The wait is over: Eataly opens to the public in San Jose on June 16th in a 45,000-square-foot space that includes a ground floor where to drink coffee and enjoy gelato; a floor full of Italian wine, and a top floor for grocery, cheese tasting, and restaurants with pasta dishes, pizza, and much more. Located inside the Westfield's Valley Fair mall in Santa Clara, the Bay Area store is the latest to open in North America and the 41st in the world. Eataly first opened in November 2002 thanks to Oscar Farinetti. The idea of gathering high-quality food at sustainable and reasonable prices is a celebration of Italian biodiversity, while bringing an opportunity to eat, shop, and learn.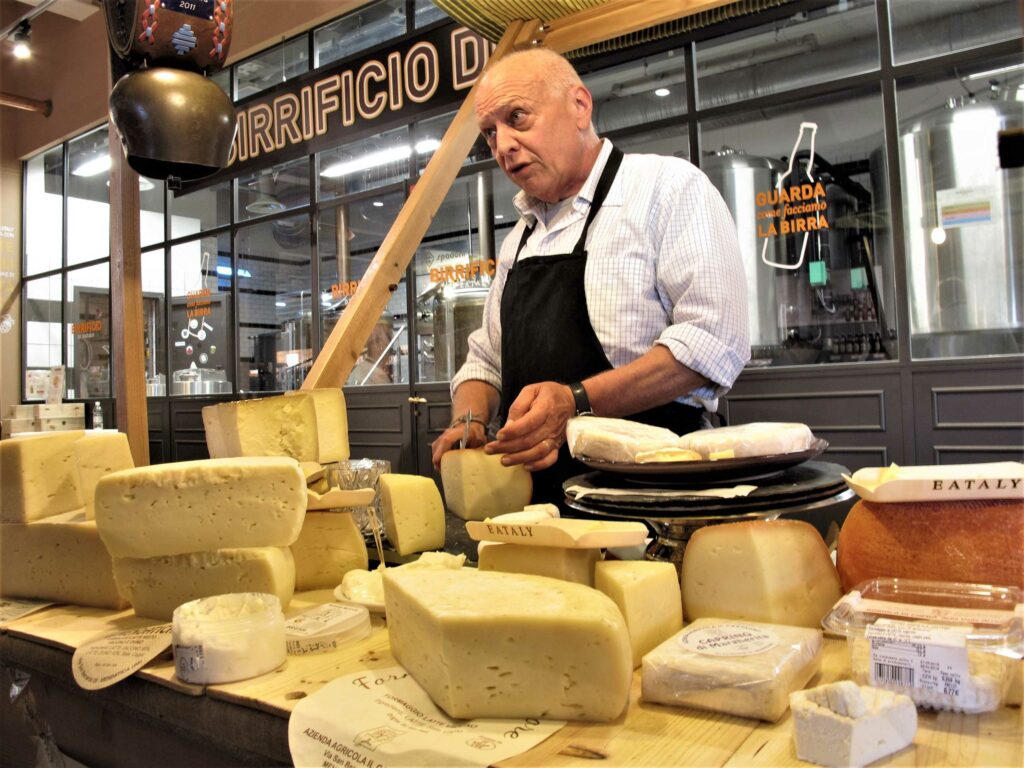 On June 17th and June 18th, pianist and composer Ludovico Einaudi got two shows as part of his Underwater Tour at the Fox Theater in Oakland. Einaudi trained at the Conservatorio Verdi in Milan, then started a career as a classical composer, later incorporating other styles and genres such as pop, rock, folk, and world music. He composed the scores for many movies and television productions. In 2021, Einaudi had a series of eleven concerts immersed in the breathtaking scenery of national parks, nature reserves, creeks, valleys, lakes and pristine mountain meadows, reachable only on foot, at dawn, at dusk, and under starry skies. The lockdown, "with the world outside quiet and silent," led to the new solo piano album, entitled Underwater, a fresh approach to music, in the flow of emotions, an intimate conversation, face to face, with the piano.
Writer and journalist Enrico Deaglio will present his latest work – Qualcuno Visse più a Lungo. La Favolosa Protezione dell'Ultimo Padrino. The presentation, happening at Libreria Pino's new location (1501 Union Street, San Francisco) on June 22nd, will be held in Italian.
For those who are looking forward to after-summer plans, save the date for PASOLINI 100 – Homage to Pier Paolo Pasolini on the 100th year anniversary of his birth. The Castro Theater will welcome Italian movie lovers with a special homage to Pasolini, who pushed the boundaries of politics, art, and sexuality. Cinecitta', the Italian Cultural Institute, Cinema Italia San Francisco, in collaboration with Artistic Soul Association, will join forces for a full day of movies, on Saturday, September 10 starting at 10.30am until the last show at 10pm. More information will come in the next few weeks.