Every person who likes to cook will tell you that it's not uncommon, in the kitchen, to make a lucky mistake: picking up oregano instead of basil, or hazelnuts instead of almonds can lead to interesting variations on well-known classics sometimes. Even more common is using one ingredient instead of another because that's all we have in the pantry, something we all did at least once, maybe even with successful outcomes. Mind, I am not trying to say that every time we pick the wrong ingredient something good comes out: more often than not, we're lucky if it's edible at all but successful examples are numerous enough to convince me the old phrase Italians use for artists and footballers, genio e sregolatezza, "ingenuity and recklessness," can bear delicious results in the kitchen. Here are five simple but effective examples of what I mean.
Risotto alla Milanese
One of the simplest but most delicious of all risotti, risotto alla Milanese, is a creamy, comforting mix of rice, butter and saffron. To learn about how it was invented we have to go back to the 16th century when a group of glassmakers was working on the Duomo's stained glass windows. Among them, there was a man called Valerio di Fiandra, whose assistant had the habit to add saffron powder to all pigments used to stain the glass, as it made them more vibrant. Because of it, he was given the nickname of Zafferano, "saffron." In 1574, Valerio di Fiandra's daughter got married and Zafferano, to make a joke about his nickname and his quirky coloring habits, sneaked into the kitchens where the main dish for the banquet, risotto, was being prepared to add a dash of saffron to it. Back then, risotto was made simply with butter, so it was white, but saffron turned it into a golden yellow that all guests enjoyed. And the taste was even better, to the point adding saffron to butter risotto became customary in Milan and it is still so today.
Torta Caprese
Caprese cake is a traditional dessert from the charming island of Capri, in Campania, made with chocolate and almonds but no flour in sight, which is quite unusual for a cake. Well, some say that once upon a time, during the roaring '20s, three powerful gangsters entered Carmine di Fiore's bakery, and ordered a series of desserts, including an almond cake. While getting the order ready, though, Carmine forgot to add wheat flour to the almond flour he needed for it. He realized his mistake almost immediately, but he had no time to fix it and he didn't want to make his dangerous customers wait. So, he picked up his courage and sold them the flour-free cake. Well, it was a success, so much so that Caprese turned into a beloved traditional dessert. Now… the three gangsters are, very likely, only a colorful addition, but the rest of the story is all true, including the name of torta Caprese's "inventor," Carmine di Fiore.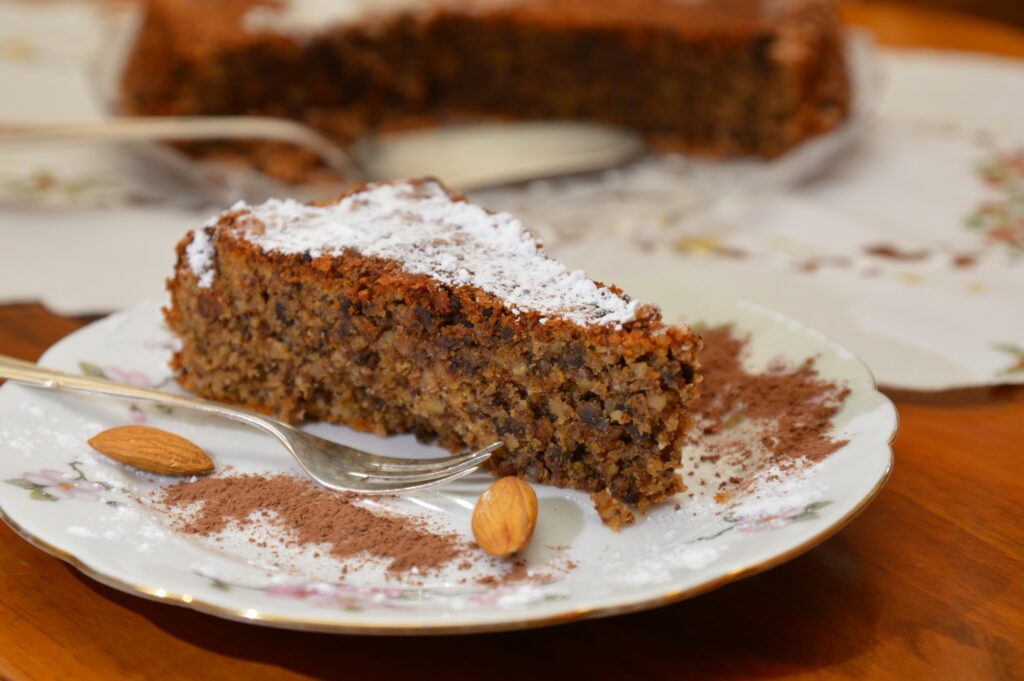 Gorgonzola
It may be too strong for some, but if you ask me, nothing beats some good creamy gorgonzola. Funny to think that this famous Italian blue cheese was born by mistake in the 9th century AD. It was, to be precise, 879 when a young dairy farmer from near Milan forgot fresh cheese curds on a counter because he was in a rush to meet his girlfriend. The following day, he realized his mistake but, as he didn't want to throw away all those curds, he decided to add more fresh ones and see what would happen. After a while, he noticed that the cheese he had created looked different, with all that blueish marbling, but that it tasted incredible. Here, just like in the story about torta Caprese, the presence of the careless dairy farmer is unlikely, especially when historical records say that gorgonzola was probably initially produced in monasteries, but the way its first batch came to be is just like you've read.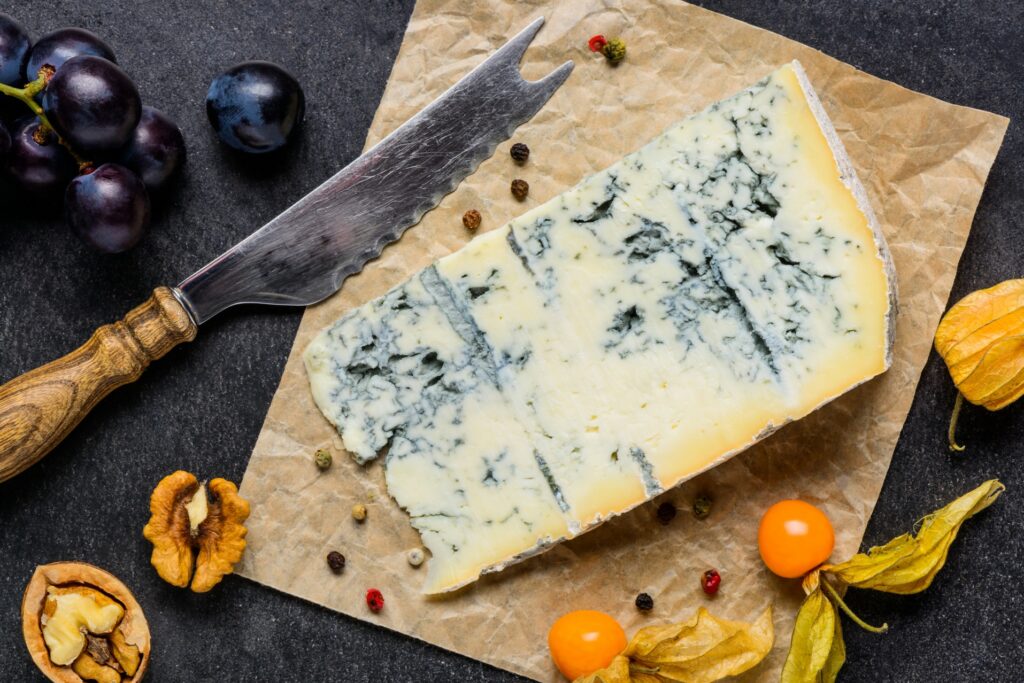 Bottura's crostata al limone
I've never had the chance to eat at any of Bottura's Michelin-starred restaurants, so I've never tried it, but his Oops! Mi è caduta la crostata al limone! (which translates just as… oops, I dropped the lemon tart) seems to be one of his most famous desserts. As we can easily imagine from its name, this is a somehow "deconstructed" version of a classic Italian dessert, the lemon tart. Bottura himself tells us the story of its inception in the first episode of Netflix's Chef's Table. It was the end of the evening in the kitchen, with only two slices of lemon tart left, ready to be plated when culinary tragedy struck: while transferring one of the slices to the serving plate, it fell on the counter. Sous chef Takahiko Kondo, responsible for the "terrible" mistake, said that he wanted "to do hara-kiri," anticipating the reaction of his boss. But no! Bottura took a look at the half-disintegrated slice and thought it looked kind of good. So, he decided to recreate the "accident" on the plate, making it one of his signature sweet treats.
La Nutella
No legends here and, to be fair, no mistakes, either. Glorious Italian export Nutella, the hazelnut and chocolate cream every single living creature on planet Earth loves, is not the result of an error but, rather, of post-war necessity.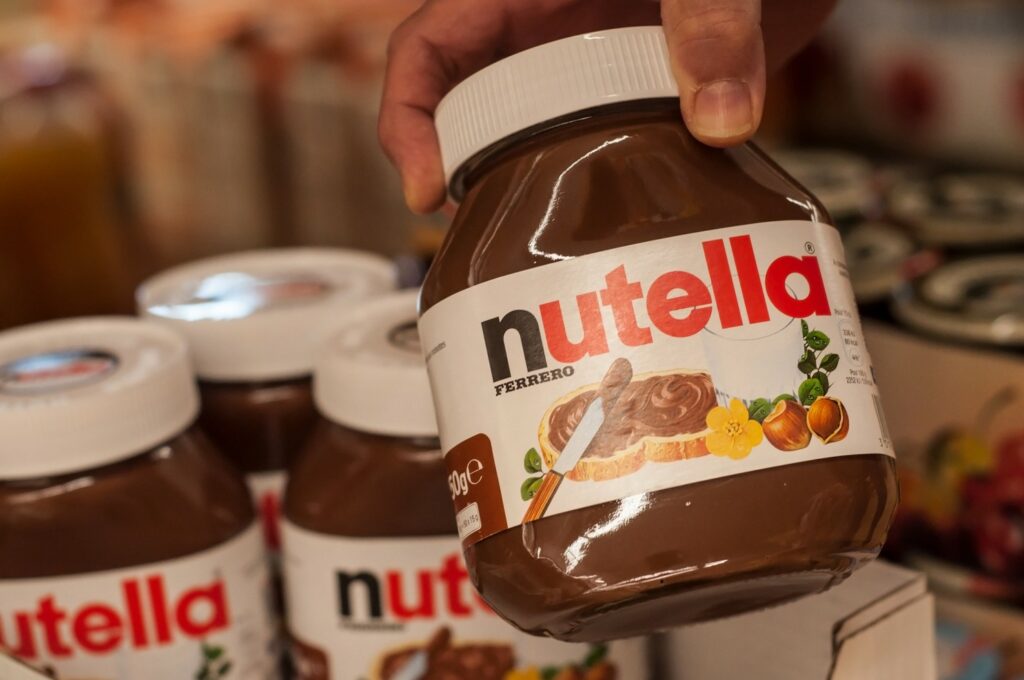 In 1946, just after the end of the Second World War, cocoa remained very difficult to find in the country, and very expensive. Confectionery makers at Ferrero, the famous Piedmontese chocolate manufacturer, wanted to create a nice, comforting and satisfying treat to make life a tad sweeter for Italians, in those difficult early months after the war. They decided to mix together something they had in large quantity, hazelnuts, with sugar and the little cocoa available. The result was a very thick paste, which was then shaped into a pat, wrapped in foil and sold to be sliced and spread on bread: it was called Giandujot, a variation on the name of Turin's traditional Carnevale mask, Gianduja. In 1951, it became a spread called Supercrema and then, finally, in 1964, the name "Nutella" appeared.