Every chocaholic knows that Italy has three capitals when it comes to cioccolato: Turin, Perugia, Modica. Trying to pick an absolute queen would be useless and even damaging, for there is no reason to have a favorite: three is such perfectly formed number anyway.
Each of them is known for something special and luxuriously delicious: Turin has her gianduiotti, Perugia her baci and Modica… Modica has the history of chocolate itself. Yes, because the textured and darkly decadent cioccolato di Modica (which holds a PGI — protected geographical indication — denomination), adored by Leonardo Sciascia and by several famous pasticceri around the world, has more in common with what the Aztec gods may have known centuries ago than it has with "our" European chocolate.
Its production is characterized by the manual grinding of ingredients, rather than their conching, which doesn't only promote a different texture but also a very unique flavor. Modica was introduced to cocoa and its mysteries by the Spaniards, who in turn learned all there was to know from the Aztecs. However, our Iberian cousins were the ones adding sugar to the game and to turn Aztec cocoa drinks into a first, ante-litteram chocolate bar. Modica chocolate is special also when it comes to its extra ingredients, as it is usually only flavored with vanilla, cinnamon, ginger and chili, as well as orange and lemon rinds.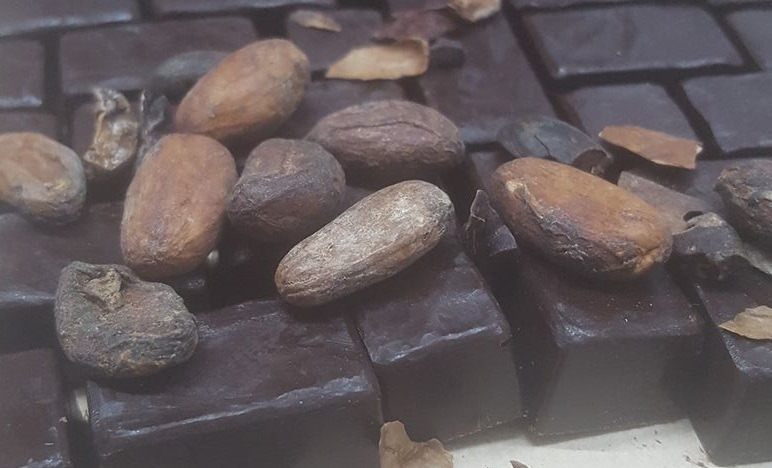 Fragrant, intense and crumbly, cioccolato di Modica is not only a nice thing to eat, it's a gem of our Made in Italy tradition, because the secrets of its production are known to only a few and passed on, in the most quintessential of craftsmanship's patterns, from a generation to the next. We at L'Italo-Americano are proud and happy to speak on a regular basis with those Italians who represent the country's traditions and heritage with their work and know-how and this is why we are delighted to have shared some virtual time with Carmelo Di Lorenzo, owner of Pasticceria Di Lorenzo in Modica, whose family has been producing chocolate — and many other sweet delicacies — for several decades. In his words, we find all the knowledge, pride and passion of a family for a business that is intertwined with their personal heritage, their memories, their values. A business that, for them, is also future and legacy, an example of how tradition is not only a tie to the past but also an open avenue to lead us strongly into the future.
With Carmelo we spoke about the history of his family business, about chocolate, candies and other delicacies, about Covid-19 and the surprise of some Americans in Modica when they found his pasticceria.
The love story of your family with the world of patisserie and chocolate making started in the 1950s and happily continues today. You do well represent, I believe, the true ideal of Made in Italy: you created your business from scratch and achieved great goals by remaining faithful to canons of tradition and quality. Moreover you were — and still remain today — a family-run business: how important is this connection with local tradition and family values for you?
In the 1950s, my father Salvatore moved his first steps in the world of baking. He began as an apprentice at Caffè Roma, in those years considered one of the most prestigious cafes in towns. Carmelo Ruta, depositary of many a recipe of Modica's baking tradition, was his teacher and, under his wing, he quickly learned the art of patisserie, improving his technical skills and assimilating the most import rule of all: that each product is the perfect representation of the quality of its ingredients. In 1975, my father started his own pasticceria, strong with the support of his family — the true beating heart of the business, yesterday as today — and of his precious recipe book, which he still jealously keeps close to him today. His first collaborator was my mother, who still works actively with us today and who's considered our bakery's historical memory. Then, in 1977, my brother Giovanni, who's recently passed away due to an incurable illness, joined them and, later, in 1984, it was my turn. Today, it's me and my wife Franca who keep the business going, bringing together tradition and innovation.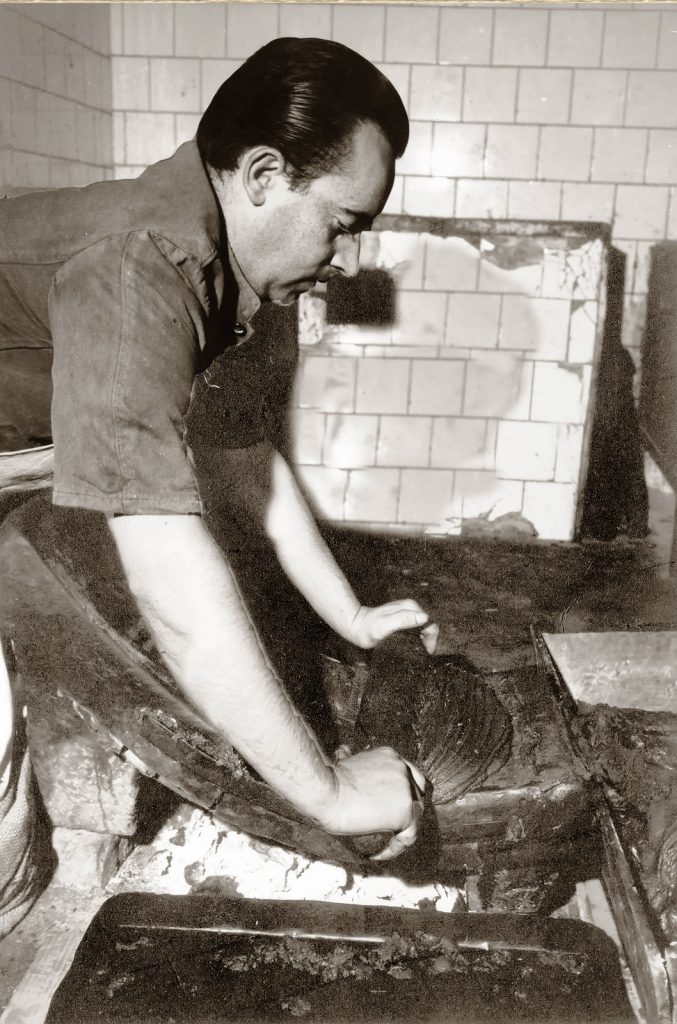 Modica truly means chocolate for so many of us. A chocolate so different, though, from what we find in the rest of Italy. What's the link between the town and her chocolate how did this match happen?
This is so true, when you speak of Modica, thoughts immediately go to chocolate. And since Modica chocolate gained — the only chocolate variety in Europe — its PGI denomination, the opposite is also true: when you speak of chocolate, you think of Modica, and Modica only. Our town belonged to the Spanish for seven centuries and it's thanks to them that a chocolate making tradition developed here. Through her archival research, Professor Grazia Dormiente, cultural director of the Consorzio del Cioccolato di Modica, found out that chocolate making tradition in Modica is first attested in 1746. For those interested, the archival material consulted, which belongs to the Grimaldi family, is accessible at the Museo del Cioccolato (you can find more information at: https://museocioccolatomodica.business.site/).
Chocolate is an icon of Modica's patisserie, but there's more than that. What other traditional delicacies do you make and what's your favorite?
Our production is traditional but varied and in line with the already mentioned recipe book of papà Salvatore.We go from plain breakfast savoiardi-like cookies called fringozza, to deliciously crunchy "S" shaped butter cookies. From anicini, soft and aromatized with aniseed, to our well known almond cookies production, all the way to rare specialties, often made only in certain times of the year, like mustazzola, quaresimali, palmette and nucatoli. Of course, we also have a great selection of traditional cream patisserie: cream puffs like bigné and teste di turco, torta Savoia (a traditional Sicilian layered cake filled with gianduja cream, and completed with a dark chocolate ganache, created in honor of the King of Italy), apple cakes. We also make torrone, cobaita (made with sesame seeds, almond and honey), aranciata, a Christmas delicacy typical of Modica made with oranges, honey, almonds and walnuts), cedrata (similar to aranciata, but made with cedro) and, of course, frutta martorana, rigorously made and decorated by hand.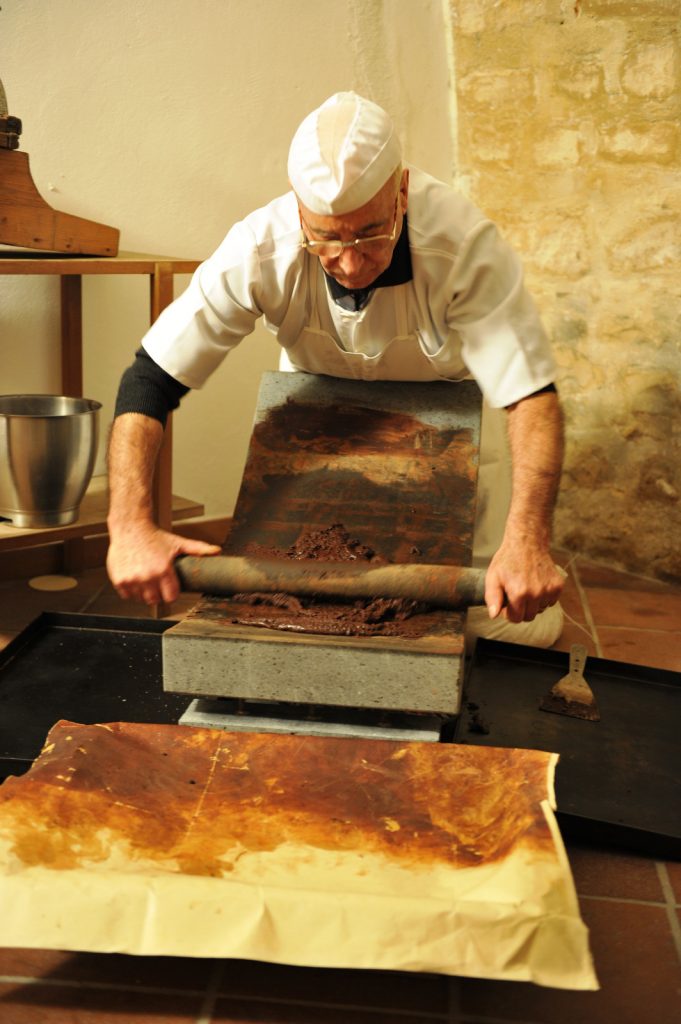 But the quintessential "Contea di Modica" dessert is the 'mpanatigghia, a rare and unique delicacy we also inherited from Spain. Among its ingredients we also find meat which, mixed with almonds and cioccolato di Modica, makes for a very special dessert indeed, ancient and energetic at once.
Our most iconic product, however, are the Cuticci, chocolate chunks produced with the same technique we use for all our Modica chocolate, shaped like the typical limestone tiles that pave our streets, which are known as cuticci in dialect. Our most popular variety is flavored with finocchietto selvatico.
How have you been dealing with the pandemic?
This has been — and still is — a very hard moment for all businesses, in all sectors. We, as everyone else in the country, were forced to remain close for 60 days. When we finally made it back to the bakery, we spent the days before reopening checking all our equipment and ingredients. Throughout the lockdown, we kept in touch with our customer base via internet. Today, we hope it will soon be all over and that desserts in generals, and our production in particular, may become a way to alleviate the worries caused by this pandemic.
Last but not least: what can you tell us about Americans costumers?
American costumers? Yes, many! Coming from all states, who visit us when they are in Modica, a popular destination among tourists from all over the world. I have an unforgettable story, connected to the time we took part to the New York's Fancy Food in 2010, where we brought out Cuticci, which at that stage had been on the market for a couple of years already. Four years later, in 2014, an elderly American couple came to our pasticceria to try our traditional cookies and our chocolate when, all of a sudden, the lady stops while staring at the window and starts, in an increasingly higher pitch, to repeat: "Cuticci! Cuticci! Cuticci!" Then she turns to me and begins speaking in English, a language I didn't— and still don't! — know. Luckily, a friend was there to translate and get rid of the rising embarrassment: "Cuticci! They're so good! I got to know them at the New York Fancy Food some years ago. They were delicious and finding them today makes me so incredibly happy. I am so going to bring some boxes back home with me!"