Does your next dinner party require a Pecorino Romano or a Moliterno al Tartufo? Maybe you're low on charcuterie, perhaps salami or prosciutto? How about a full-bodied Barolo, Barbaresco or Brunello to accompany your homemade pasta?
Any of these items, along with thousands of other products, are available by perusing the jam-packed shelves and deli counters at DeLaurenti Food & Wine, located in Seattle's historic Pike Place Market.
DeLaurenti opened in 1946 but its place in Seattle history goes further back. The original building at Pike Place Market dates to around 1900 when it housed several commercial businesses and the Knights of Pythias hall. In 1916, the structure was remodeled to become part of the public market, known as Economy Market.
In the 1920s, a small grocery store run by the Mustello family opened on the market's lower level. Maria Domenica Mustello, known as Mamie or just Mae, a teenager at the time, would help her parents in the shop after school and on weekends, selling eggs, butter, cheese and pasta. One day in 1928, there was a new bread deliveryman on the route. Before long, Pete DeLaurenti was coming around the Italian grocery shop more and more often.
DeLaurenti had been born in Washington state but moved with his family to Torino, Italy, while still a boy. He returned to Seattle at the age of 19 and got a job delivering bread door-to-door. Pete and Mae soon started seeing each other, often spending the weekends dancing, some days at the Trianon Ballroom in downtown Seattle, other times in the dance hall at the Renton junction.
In 1930, they married and had two sons. Mae's mother had lost the little grocery store during the Depression, but in 1946 the couple was able to purchase the same space at Pike Place Market, calling it Pete's Italian Grocery. Pete had his own ideas about how to reshape the business into a Mediterranean-focused food market where he could carry products such as olive oil, salami, feta or Asiago cheese. As his selection of specialty food items expanded, Pete decided the shop needed a new name and DeLaurenti was born.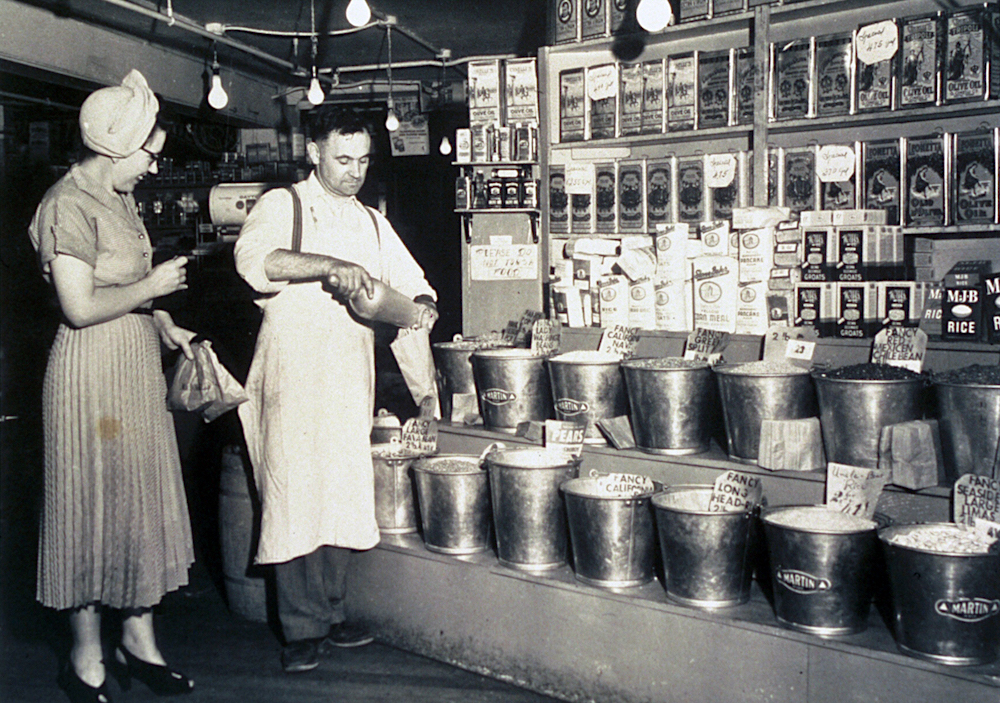 From the start, DeLaurenti was a regular gathering spot for local Italians and Italian-Americans. Women would stop in for a pound of this, a few slices of that. Men dropped by regularly to catch up on the news, whether from Garlic Gulch, the nickname given to the local Italian neighborhood, or from the old country.
Mae was a great cook, who liked to use fresh simple ingredients from her garden to create the southern Italian dishes her family loved. Customers often found her at the DeLaurenti deli counter, dispensing recipes along with the meats and cheeses. She loved sharing cooking tips and would often help her customers plan out an entire Italian meal, from antipasti to dessert. She and Pete worked side-by-side at the store, and sons Louie and Marty helped out after school. Throughout 66 years of marriage, the couple continued to enjoy an evening out dancing. Pete died in 1996 and Mae in 2004.
Their son Louie took a job selling shoes after high school and rose through the ranks. He often said that he went on a European vacation in 1971 as a shoe-store manager and came back a deli owner. During his time abroad, he saw how important family-owned markets and small shops were to the European consumer. The following year, he bought DeLaurenti from his parents. Even though he had left the shoe business behind, he acknowledged it provided him with solid training in customer relations and salesmanship.
In 1972, Louie moved DeLaurenti to a more prominent location within Pike Place Market. Now at the corner of First Avenue and Pike Street, it was the unofficial front door to the Market and Louie was right there, welcoming guests daily.
His plan to upgrade the shop location turned out to be good timing. Just a few months earlier, in November 1971, Seattle voters had rallied behind a Save the Market campaign, which aimed to keep the historic buildings of Pike Place Market intact. This mandate allowed the city to create a public entity responsible for renovating, managing and protecting the Market's core buildings.
As a shop, DeLaurenti introduced local cooks to an ever-increasing assortment of imported food products: olive oils and cheese, anchovies and capers, Balsamic vinegar and roasted peppers. It was one of the first places in Seattle that cut cheese to order, sold pizza by the slice, and offered take-out espresso – much to the concern of the older generation.
In 2001, as Louie was nearing retirement age, three of his customers made an interesting proposal: they wanted to buy the store. The trio of investors was committed to offering the same high level of customer service and quality products that had earmarked DeLaurenti for the better part of a century. The new owners — Pat McCarthy, his brother-in-law Pat McDonald, and friend Matt Galvin — had a history of investing in Italian food enterprises. The group had a stake in Torrefazione Italia, a specialty coffee company started by McDonald's father, and had also purchased Seattle's beloved pizza chain, Pagliacci Pizza.
Louie sold the business and DeLaurenti Food & Wine opened under new ownership. The store underwent a major remodel in 2003. Aisles were widened and floors replaced. New deli and display cases were stocked with all sorts of delectable items. Today, more than 75 years later, DeLaurenti has the same dedication to providing delicious food, high-quality products, and impeccable service amid the bustle and historic halls of Pike Place Market.