What is Italy known for?  Among its many charming attributes, Italy is known for its cuisine. Who doesn't think of Italian food and fondly reminisce about some delicious, lovingly created dishes? Most Italians can truthfully say their mother's and grandmother's cooking was the best and time-honored recipes passed down from generation to generation.
Exploring this delicious topic, the San Francisco Bay Area's Italian Cultural Institute welcomed authors Stefano Andrini and Mary Tolaro-Noyes for an evening of culinary delights delving into "Culinary Secrets of Emilia Romagna and Tuscany."
During the presentation, Stefano was interviewed by Mary who is a scholar of the history and traditions of the region and in particular of the city of Bologna. Mary is the author of Bologna Reflections: An Uncommon Guide.
Stefano has curated and edited two books, The Secrets of Tuscan Cuisine (Segreti della Cucina Toscana), and The Secrets of the Cuisine of Emilia Romagna (Segreti della Cucina Emilia Romagna), co-edited by Andrea Fagiuoli.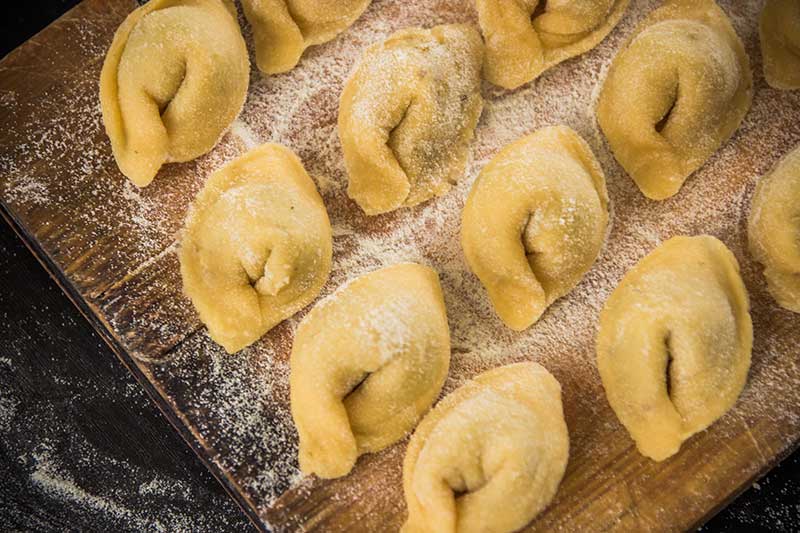 The Secrets of Tuscan Cuisine shares insight into one of the oldest Italian regional cuisines. Even today, it is made of simple dishes of peasant origin, a kitchen in which nothing is thrown away and where there is great respect for food. In the end, the secret of Tuscan cooking is perhaps that of not having secrets. It is a kitchen without frills which tells the epic tale of sitting at a table where dining is not just a necessity, but also a pleasure.
Mary asked Stefano, "Why publish a book about the cuisine of Emilia Romagna?" He replied, "The idea evolved from an experience with a little one-year-old girl. In kindergarten one day she swallowed a metal object and could not eat. Fortunately, the injury healed. However, from that moment she was always hungry. One evening we met with a group of friends at her house to discuss new books. We forgot about the little child as the discussion progressed. She, Martina, was not discouraged. She took a plate and fork and banged them firmly on the table saying the first word she had learned, 'pappa,' meaning 'food,' or in other words, 'feed me'!  We understood two things: we had to feed Martina immediately—and that the book would be about 'pappa,' food."
When Mary asked why the Emilia Romagna book talks so much about grandmothers, Stefano responded, "Because the grandmother is the true owner of the kitchen! She knows the traditional dishes by heart. At the same time, hunger, poverty, and war forced her to experiment with new solutions and to replace ingredients that could not be found, for example with field herbs. As we stress in the book, all of the great chefs are indebted to their grandmothers' cooking. In the past,  grandmothers secretly wrote down the recipes and the results of experiments in small notebooks hidden in drawers. We were able to consult them and, in the book, we divulge their content for the first time. Grandmothers were once assigned the task of providing snacks for the grandchildren."
There's a big mystery regarding Emilia Romagna. Spaghetti alla Bolognese—does it exist or not? "One is looked down upon if, in a restaurant in Bologna,  tries to order spaghetti alla Bolognese, because spaghetti alla Bolognese does not exist. On the other hand, ragù alla Bolognese does. The great film director Pupi Avati describes it in his book in this way: 'A ritual that no longer exists today, but which then distinguished one family from another, depending on the wine, the vegetables, or the herbs and spices used. My grandmother lived with us. The preparation of ragù was long, but in the evening, around nine o'clock, there were wonderful smells in the city.' "
There are many legends regarding the birth of the tortellino, the signature pasta of Bologna.
Can you provide some insight? "One of these legends gives birth to this dish in an inn. The owner, peering through the keyhole of a noblewoman's room, was so impressed by the beauty of her navel that he wanted to reproduce it in a culinary preparation: the tortellino. How is the tortellino served? The recommendation is that it is eaten cooked in a delicious meat broth. Unlike spaghetti Bolognese, if you enter a restaurant and ask for tortellini in cream, they will certainly bring it to you. But the waiter will look at you badly, very badly."
We asked Stefano to share some of the features of Tuscan cuisine. "Tuscany knows art well, including that of eating well. It's beyond discussion: the local cuisine is one of the oldest among the Italian regions. Even today it consists of simple dishes of peasant origin. It is a kitchen in which nothing is thrown away because there is great respect for food."
Yes, the culinary secrets of Emilia Romagna and Tuscany confirm – there is nothing quite like Italian cuisine!