Master of aviation and motorization,  D'Ascanio died 40 years ago
In 1981, Corradino D'Ascanio switched his "life engine" off. The end of a lengthy life, but certainly not the end of a name that made history in technical design and marked the success of Italy's mechanical engineering in the world. His name may have been forgotten by many, but his iconic creations – Vespa and the helicopter – are synonyms of Made in Italy: the Vespas and Apes D'Ascanio designed motorized millions of people, and still do so to this day. They transported goods to the Andes' plateaux and, just as easily they became, along with important actors, a symbol of more than a movie!
D'Ascanio was born in Popoli (Pescara) in 1891, from Giacomo and Anna De Michele. His interest in aviation developed when he was a teenager, at a time when this science was moving its first steps. Fascinated by such a pioneering world, he built his own glider in 1906, using his studies on birds' flight as an inspiration. We were a mere three years after the Wrights' first flight and, in Europe, the first plane had just flown a length of 25 meters, at a height of 3. Young D'Ascanio graduated with a degree in industrial engineering at the Politecnico di Torino in 1914 and experienced World War One on his own skin. He joined the air force and was immediately sent to the front, where he showed his creativity and skills by installing the first transmitting and receiving radio on an Italian plane. While in the army, he also tested L.B. Sperry's autopilot on a fully Italian aircraft, an SP Pomilio, for the first time.
At the end of the war, D'Ascanio worked full time to the creation of his first aircraft, commissioned by the Pomilio Brothers of Turin. D'Ascanio didn't disappoint: he demonstrated all his ingenuity creating for the company an incredibly fast fighter plane in only a handful of weeks, and obtaining considerable personal success. A few months later, he became technical assistant director and head of the research office for the Pomilio Brothers, helping the company to make the big jump into the American industrial market. In 1918, Pomilio closed down its Italian factories, and moved to the US, becoming Pomilio Bros. D'Ascanio, too, moved to States, attracted by the dream of having success in a country open to innovation and to the most curious and peculiar of ideas. His studies raised the interests of Indianapolis-based Allison Experimental Works. For them, D'Ascanio designed three different aircraft: a light bomber, a reconnaissance aircraft, and a military fighter. They were built and tested successfully at the experimental field of Dayton, Ohio, becoming D'Ascanio's springboard into the American market. Despite the early conclusion of Pomilio Bros' adventure in the New World, the Abruzzo-born engineer managed to create a small aeronautical company with friend Veniero D'Annunzio, son of the poet Gabriele. The two designed, in a very short time, the prototype for an ultra-light aircraft equipped with two small motorbike engines that reached a total power of 28 HP. However, their success was ephemeral: D'Ascanio and D'Annunzio had to eventually abandon their dream and return to Italy.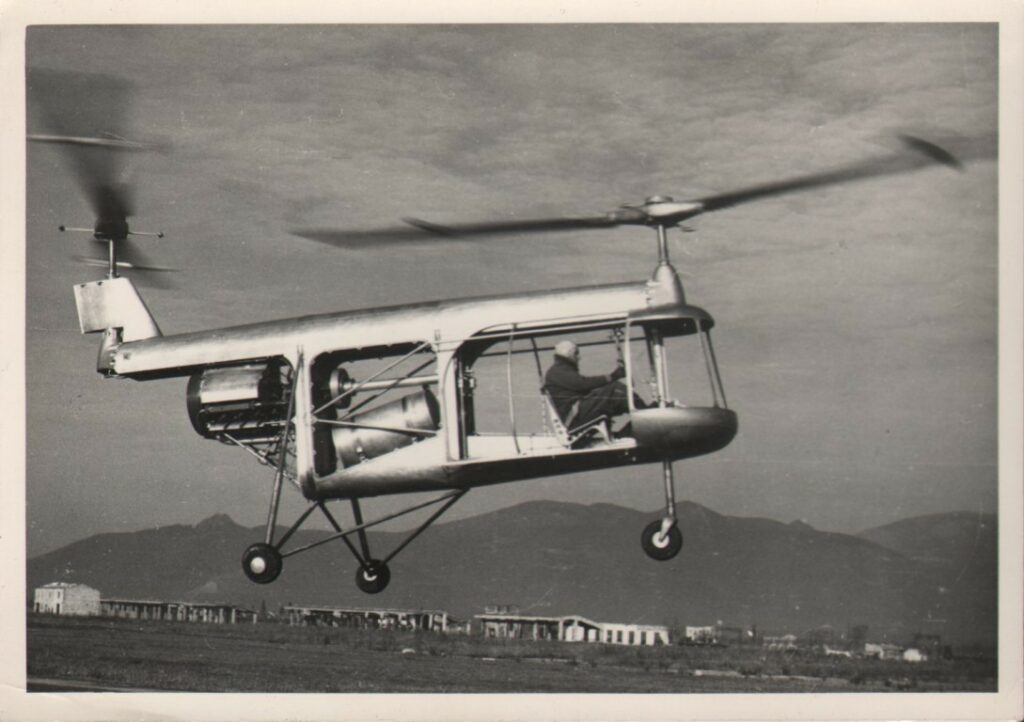 In 1920, D'Ascanio focused on the design of helicopters, an adventure to which he committed body and soul. After a first, disastrous flight attempt in 1907, this innovative type kept on disappointing throughout the early years of the 20th century. Significant technical issues and poor results soon led most engineers to abandon their work, but D'Ascanio didn't. The engineer from Popoli didn't give up and, after an initial failed attempt in 1926, he got his payback two years later, with the DAT 3 model, the first Italian helicopter ever and the first aircraft to beat, in 1930, all records of flight's height, length and time. Senator Giovanni Agnelli understood the potential of the new aircraft, but couldn't find other entrepreneurs interested in developing it. However, the lack of support from Italy's most powerful businessmen didn't hinder D'Ascanio's career. Between 1932 and 1939, he patented many important discoveries in the electronic and aviation fields. In 1943, D'Ascanio completed a new prototype, the P.D.2, for Piaggio, but an allied bombing on Pontedera destroyed the factory almost completely, forcing the company to move to Biella, leaving D'Ascanio isolated in Tuscany, because of the Armistice.
Sadly, the war marked the end of Italian-made helicopters. However, D'Ascanio joined forces again with Piaggio, developing for it his last projects, in an entirely new field, that of motorcycles. Piaggio's executives assessed the new product created by their most genial inventor with care and, finally, decided to take a chance, starting production of a new vehicle, called Vespa, a scooter that was to become legendary around the world. A few years later, D'Ascanio designed Ape, Vespa's younger but just as successful sister. Such success finally gave notoriety to this tireless inventor,  without diminishing his creative vein. When, in 1937, he became a professor at the Università di Pisa, a position he maintained until 1961, he returned to his old love, helicopters, creating the PD3 and PD4 for Piaggio, models that gained plenty of success in their own fields. In 1955, D'Ascanio designed the Vespa 400 car,  which was mass-produced in France. In the meantime, he had also become a consultant for Agusta, with which he collaborated, creating helicopter prototypes, until the death of Domenico Agusta, when he resigned after the company opted to focus on military production.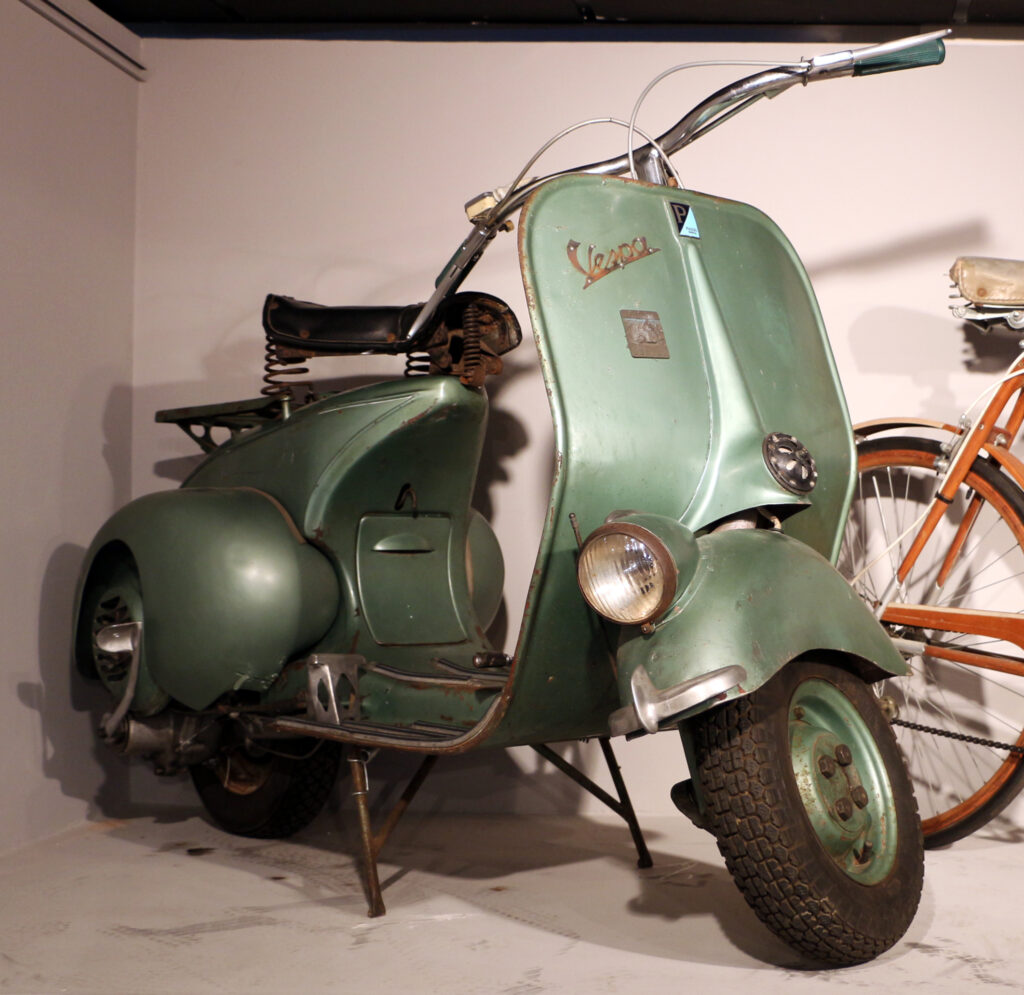 In 1948, D'Ascanio crossed the Atlantic again, to participate in the international congress for the helicopter in Philadelphia, where he enjoyed great success: there, he became "the king of helicopters and the emperor of scooters." In that far-away moment, D'Ascanio's vibrant ingenuity was finally, and fully, recognized.
A genius with an extraordinarily long, yet reserved life, entirely focused on research, design, and on the improvement of motor technology.