"I strongly wanted this new chapter of my career and I thank LAFC for this opportunity. I will always be grateful for my years with Juventus and look forward to winning more trophies in Los Angeles."
With these words, Giorgio Chiellini, former Juventus defender and captain, announced to his fans via social media his new adventure in California and one of LA's city teams, Los Angeles FC. "This is a really exciting chapter in my career. I have always dreamed of the USA and Los Angeles and I have often thought of playing in Mls."
Chiellini, 37, joins LAFC after playing in the Italian Serie A for 17 years, leading Juventus in an unprecedented run that included nine consecutive titles from 2011 to 2020. Three times Serie A Defender of the Year, Chiellini was nominated for the Team of the Year of the Italian championship five consecutive times from 2012 to 2018, in addition to having won five Italian Cups and five Italian Super Cups.
"Giorgio is a player and a special person, one of a kind," said LAFC co-president and general manager John Thorrington. "Signing Giorgio was a unique opportunity to improve our club. He will complement what we believe is already a strong team because every day he will set the best example with his leadership, his competitiveness, and his experience. He's been a consistent winner at the highest levels and we are grateful he chose LAFC and joined our pursuit of trophies."
Chiellini played 117 times in the Italian national team helping to lead the Azzurri to the 2020 European Championship, where he was awarded as Defender of the tournament. The Pisan made his debut for Italy in the 2010 and 2014 FIFA World Cups, recording a total of eight goals and four assists in his time with the national team.
John Thorrington continued: "Giorgio Chiellini is one of us until the end of the 2023 season: for our club, it is a unique opportunity. Chiellini made his debut in his new team in the Los Angeles derby with the Galaxy on 8 July.
Last season Los Angeles FC missed access to the playoffs for the first time: this year they are aiming for the title. The club has illustrious shareholders, such as past NBA superstar Magic Johnson and actor Will Ferrell. According to Thorrington, the arrival of Chiellini in his club and that of Lorenzo Insigne in Toronto are important signs: "MLS is becoming a league that increasingly attracts all types of footballers, from superstars to veterans to young talents."
We from L'Italo-Americano attended the press conference held at the downtown stadium, Banc of California Stadium, to welcome the Pisan defender who landed in Los Angeles together with his agent Davide Lippi, and manager Alessandro Veroli.
Giorgio, how did you react to LAFC offer to play for them?
To be honest, when I saw their team I noticed some fantastic defenders and I thought: why did they call me?
What prompted you to accept the offer?
I felt that my time at Juventus was over but I also felt I still had years of play ahead and I wanted to end my career at a high level. Now I can finally be a Juventus fan.
What are the differences with the Italian championship?
Obviously, there are differences with Serie A and I will have to adapt quickly, even when it comes to when we get to the stadium. Speaking with the managers, they told me that we have to arrive at the stadium an hour before the match, but I am used to going to the hotel the night before.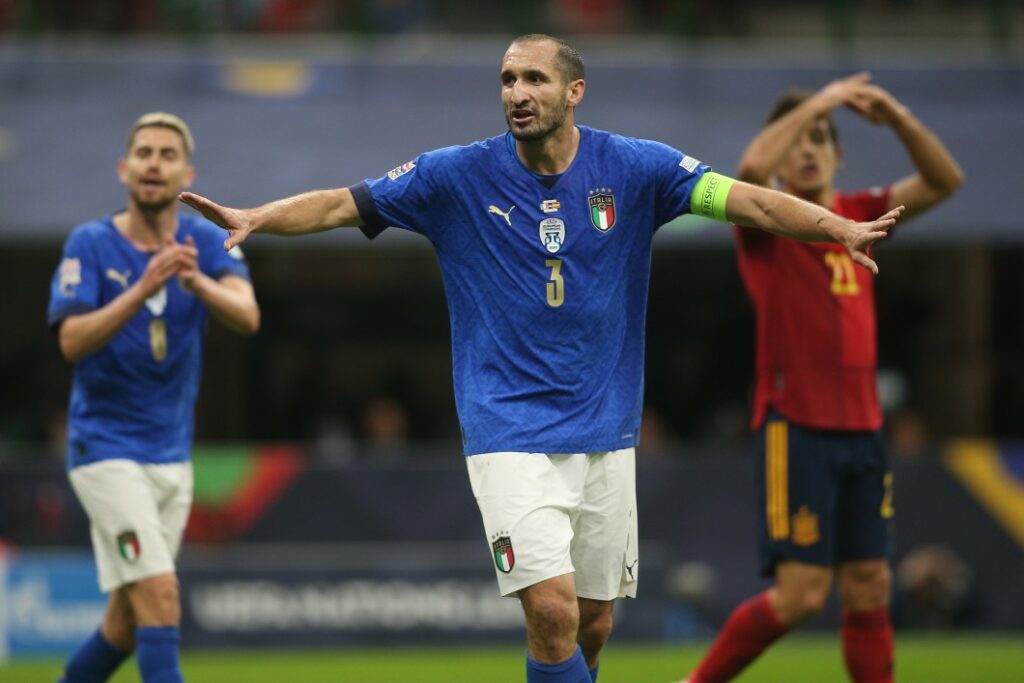 What contribution do you feel you can make, considering your experience?
The team is fantastic, I don't have to bring anything special, I just have to add who I am. I hope we will continue like this. We are at the top now and we have to finish at the top. But it will be a long journey. I'm here to win and can't wait to get started. Physically, I can't be the same as I was ten years ago. But I am sure I can give something and we have to create a good mix of experience and enthusiasm with the younger players to become successful.
Have you talked to other Italian footballers who play in the USA?
I talked to Alessandro Nesta and Andrea Pirlo: they talked to me very well about this championship. Alessandro Del Piero also advised me to come, plus he loves the city and living here. Obviously, there are differences and I will have to adapt as soon as possible not only to the way I play but also to how I live. But my mind is open and I want to get the most out of this club and experience. I don't want to change the team, I just want to bring some of my experience.
What do you expect from this experience?
I needed an experience outside of Italy, also to gradually end my football career. I decided to join a growing league to grow in turn. I am also ready to take on other roles, mentally I think I am ready to be a manager. I would like to know and practice everything that happens outside the field, in the offices, but it will take work, patience, and some sacrifice. The American adventure is also preparatory to the aftermath.
What relationship do you have with the United States?
I know the United States well, I used to vacation in this country during the summers when I was a teenager. The last time I went on vacation to Los Angeles was ten years ago: a very different experience, I was with the girlfriend of the time and I had rented a convertible. I am now settling here with my wife and my two daughters.