Italy is a country where cheese is king. So much so, we kind of fight with our cousins, the French, to decide who loves cheese more. Truth is, both countries do.
Cheese is more than something you use to add flavor to a main dish, it can be the protagonist of your dinner in itself. It is more than food, too, as it often stands for centuries of cheese-making tradition and it comes, in many areas of the country, to symbolize its very economy: think about mozzarella and the South, for instance, or Parmigiano Reggiano and Emilia.
In the past 20 or 30 years, the whole world embraced our – and the French's, of course! – love for cheese, so much so it's not so strange to find cheese connoisseurs in countries where you wouldn't really expect it. Refined cheese platters entered the menus of restaurants across the globe, but do we really know how to eat and, especially, pair cheese with the right things?
Just over a week ago, I was invited to a wedding. We are in Piemonte, a region known for the quality and variety of its cheeses. No Piedmontese dinner, never mind how fancy or simple, ends without some cheese, so it wasn't surprising to get a platter of cheeses after the main course, and before dessert: five slices of different cheeses, set around a spoonful of chestnut honey and marmellata di mele cotogne (crabapple jam). The first thing our waiter said was: "Start with this one and continue clockwise," referring to the creamy slivers on the plate. Why? Because that first cheese was the mildest and it was key to savor each slice in a crescendo of intensity. The addition of the rich, but tart sweetness of both honey and mele cotogne was just perfect to make all flavors come through.
Indeed, pairing cheeses – especially very strong, mature ones – with sweet ingredients is a classic in Italy: raschera or castelmagno (they are both Piedmontese mature Alpine cheeses) with red fruits jams or dark honey are a classic, but jams are good also with milder flavors.
Another traditional combo is cheese and fruit. The most iconic and ubiquitous of them all is certainly that between Parmigiano Reggiano and pears: iconic and ubiquitous because that's truly a match made in heaven especially, in my opinion, if the pear is a tad of the unripe side. The gritty saltiness of Parmigiano and the crunchy juiciness of pears, with their sweet burst of freshness at the end, it's just so satisfying, and incredibly healthy, too. In fact, pears are good with other cheeses, too, including Taleggio, Asiago, pepato Siciliano, and robiola di Roccaverano. If you like pizza, try gorgonzola and pears… I mean, we even have a proverbio in the end that pays homage to the deliciousness of the combination: al contadino non far sapere quant'è buono il cacio con le pere. Translated: if farmers find out how good cheese is with pears, they'll keep both for themselves!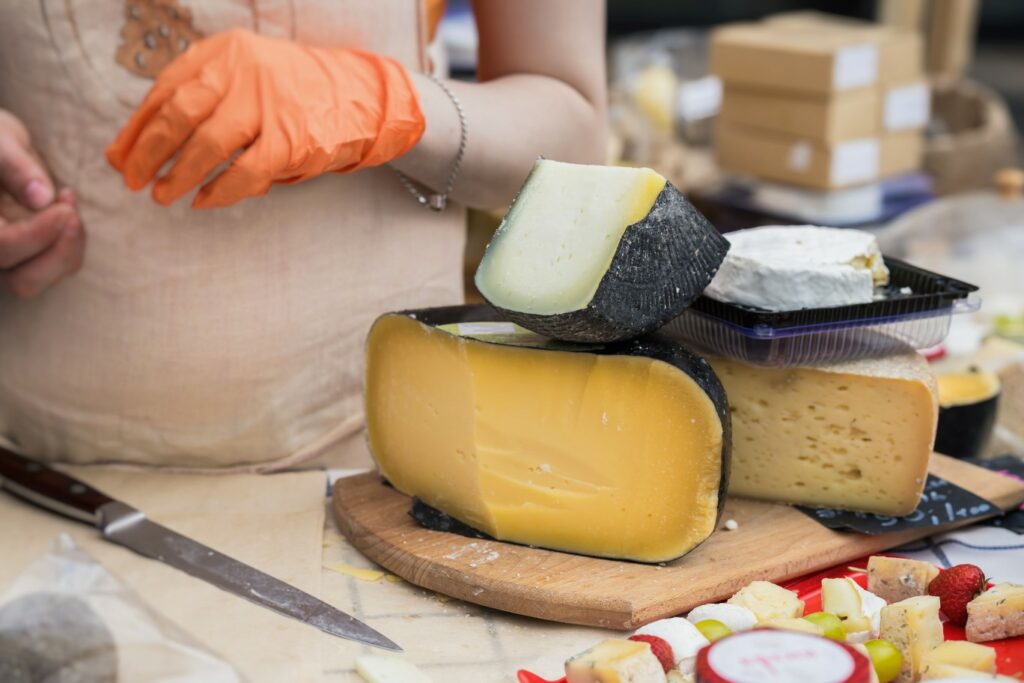 It's not only a matter of fruit and preserves, though. One of our most famous cheeses, tasty gorgonzola, is absolutely glorious with walnuts and pecorino is also a winner with them. Sheep cheeses such as Murazzano tuma is known for how well it goes with white truffles, to the point that you can even find tume with tartufo inside.
And how not to mention the other pride and glory of Italian culinary tradition, i salumi? Because cheese and salumi are a match made in heaven and not only between two slices of bread or focaccia for a nice sandwich. Prosciutto di Parma and burrata with a side of bread is a decadent but quick meal, and bresaola with Grana Padano shavings, lemon juice, and extra virgin olive oil is truly fit for a king.
According to Kristine Jannuzzi of La Cucina Italiana, matching cheeses with other products typical of where they come from is an effective strategy: as we said, many Italian cheeses have been made for centuries in the same areas, so pairing them with what's local comes natural. As typical examples, Jannuzzi mentions Parmigiano Reggiano drizzled in aceto balsamico di Modena, or with a good slice of prosciutto di Parma, all accompanied with – you guessed it! – a glass of Lambrusco. If you are in Sardinia, you could go for Fiore Sardo and carasau bread; if you are in Piemonte, try again the robiola di Roccaveranowith hazelnuts and a good dolcetto.
Last but not least, you could match your cheeses with things that taste like them or contrast their aroma, but this may be a bit more difficult for non-experts: for instance, pecorino Toscano – or the already-mentioned robiola di Roccaverano – have distinct hazelnut notes, so pairing them with hazelnuts or hazelnut bread is a winner. Contrasting strong cheeses with sweet toppings is perhaps easier to do: as we saw, a slice of strong cheese with a nice preserve or honey is always a good idea.
But the real secret, if you want to appreciate and enjoy cheese the right way, is to choose it wisely: always go for quality and tradition and steer clear from fakes!