After the second, deadly earthquake of 2016, the one that hit Umbria at the end of October, speaking of Castelluccio di Norcia does bring a lump to one's throat. This small, quaint hamlet high up in the Apennines, some 28 km from Norcia, once counted about 150 residents and was known for the amazing views it gifted on the valley and mountains around. Winding little streets and stone houses, Castelluccio was a little corner of old-fashioned, central-Italian beauty. But since that day, since the 30th of October 2016, almost nothing of Castelluccio remains, as the earthquake almost wiped the village off the face of the Earth. There are plans for reconstruction, but so far it's been a hard and long path.
Yet, there is still a community that proudly wants its hometown to raise from its ashes and we can help, somehow. We can help by visiting the area and by investing in good food. Yes, it's that simple! Gourmet and Italophiles around the world know why. Castelluccio is a well-known name for them: the first swear by its IGP lentils; the second dream of witnessing in first person the famous fioritura of the Pian Grande (Perugia province), the Pian Piccolo (Perugia province), and the Pian Perduto (Macerata province). The three piani, known as the Piani di Castelluccio, are an alluvial-karstic plateau, located on the Appennino Umbro-Marchigiano, at 4,500 ft of altitude (Castelluccio is perched some 700 ft above them).

The fioritura, which is, literally, the blossoming of plants and flowers, made this part of Italy renowned and, especially after the earthquake, it has become a beloved destination, because visiting also means bringing support to an area that still needs our help.
Between the end of May and the month of July, nature turns the Pian Grande and the Pian Piccolo into a breathtaking painter's palette. And if someone thinks that Man is the best artist, then they should look around better: here, for example, the orangey-red of poppies and the deep violet-blue of cornflowers mix with the white and yellow of daisies and, of course, with the delicate white and lilac of lentil flowers. First, the plateau gets the colors of all its spontaneous flora, then, a tad later, it's time for man-sowed fields to bloom, during the so-called fioritura del colle.
If we move from Castelluccio to Visso, we'll enjoy the fioritura of the Pian Perduto, which is perhaps the one we can appreciate better, thanks to the many country paths running through the fields.
If you want to visit the plateau, it's definitely better to do so during the week to avoid the usual weekend crowds; you should also consider taking public transport, instead of using your own car: there are shuttle buses every day of the week and on Saturdays from Norcia, with four daily runs. You can get more info at www.fsbusitalia.it.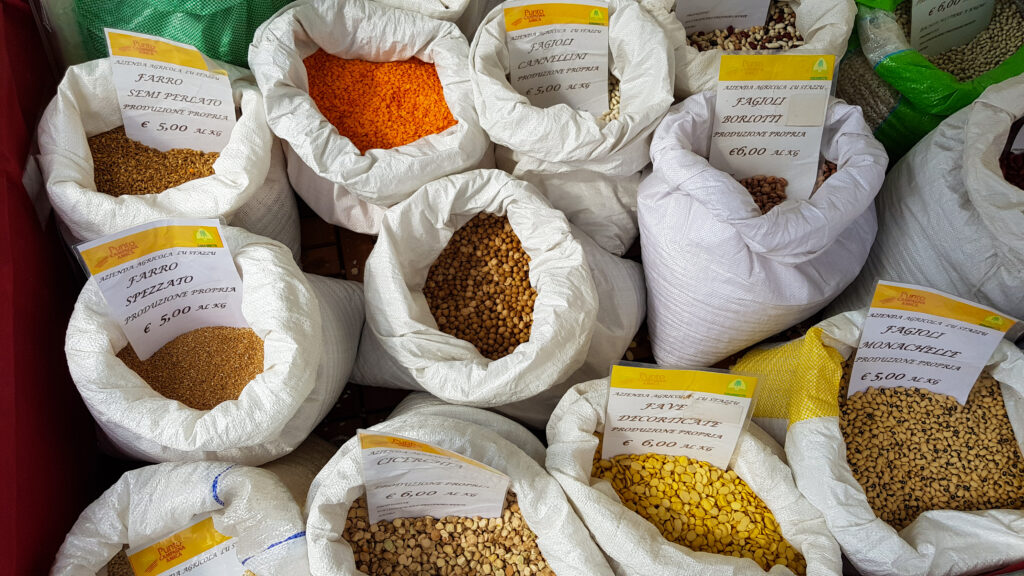 After a day spent trekking and taking in so much natural beauty, what'd be better than a hearty lentils stew? Well, in and around Castelluccio, lentils are gold, so you'll find plenty of delicious options to try. You see, the lenticchie di Castelluccio, are not your traditional lentils: they are smaller and their outer skin is much thinner, so you don't need to soak them or cook them for hours. Their plants are smaller than those of regular lentils and have a yearly life cycle. Their flowers, which bloom between May and August, are small and white, with gentle hints of blue and lilac. Each little pod contains between one and three seeds. Their shape is different from that of common lentils, too: they are not only smaller, but also rounder. They are grown following old-fashioned traditional agricultural methods, reason for which Castelluccio lentils are not as common as our mainstream varieties; they have been cultivated in Umbria since antiquity and very little has changed in the way they are grown. Because they grow at high altitudes and, therefore, in a colder climate, these lentils don't get weevil infestations, which means they do not need to undergo any chemical treatment. Just like other lentils, lenticchie di Castelluccio are not only delicious but also good for you, packed as they are with proteins, fibers, iron, vitamins, and potassium. They are protected by an IGP denomination (indicazione geografica protetta), a scheme of geographical indication promoted by the European Union that wants the produce and products marked with it to be grown or processed in the indicated area. In other words, your Castelluccio lentils are not Castelluccio lentils, unless they grow there!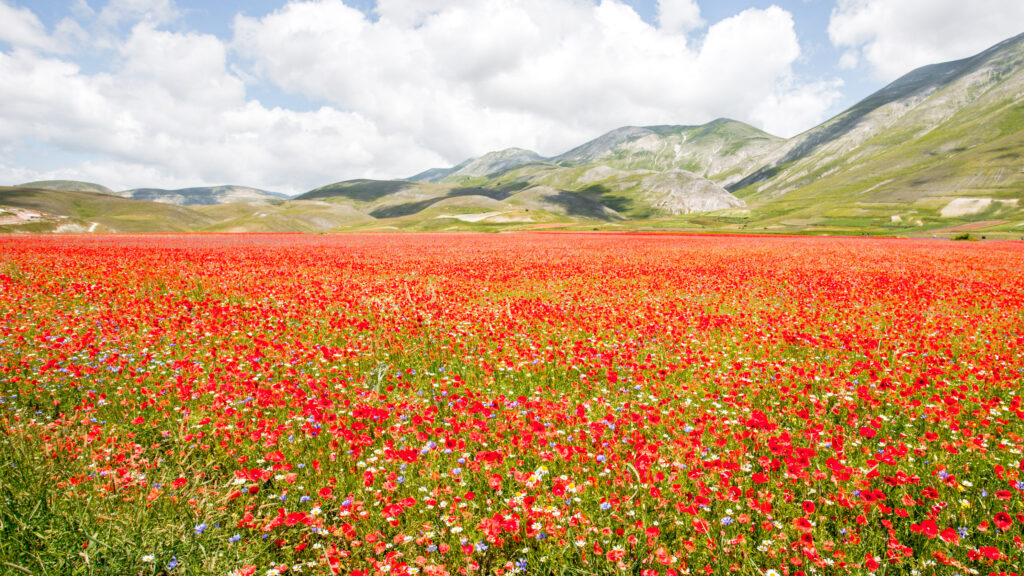 Between fioritura and good food, a trip to Castelluccio and beautiful Umbria seems necessary this year. And let's not forget the region has plenty to offer and all at a slower pace. What a blessing, in times like these, taking things one day at a time and just finding joy in the beauty of the simplest things… just like flowers, or good lentils with a glass of red.