After premiering at the 79th Venice Film Festival and internationally at the 47th Toronto Film Festival last year, the movie Amanda finally had its USA release. Written and directed by Italian Carolina Cavalli, the film was a critical success and it was one of the few Italian debut features ever distributed at international level. Born in Milan and raised between Italy and Paris, France, Cavalli was the recipient of the San Francisco Film Society Kenneth Rainin Foundation Filmmaking Grants in 2017 and, the following year, she won the Italian screenwriting award Premio Solinas.
After its premiere in New York City, Amanda hit Los Angeles where we met Carolina on occasion of the Laemmle Royal Theater screening.
Carolina, when you were writing this movie, what came first, was it the character or the story?
The character came first. I was writing alone so I didn't have to plan the plot in advance, which for me was very nice. At a certain point, the character just came out and started to move and do things. But she needed a friend. And when she was ready to find a friend, she wanted a horse: and that's how the plot came about.
The tone of the movie is so specific: I was wondering if that was your plan all along while directing…
I wondered that as well while on set: "How come everybody is acting in the same way?" I think it really starts from the dialogue because when you understand the dialogue, you then understand the humor in it. I think that's the way the actors probably felt like acting – and some of them were not even actors. So, it was very awkward sometimes but I was very happy with the results. Also, all the actors and actresses in the film are a bit like their characters, they brought a lot of who they are into the film. They worked together very well. I mean, I don't know how it is on sets usually because it's my first set, but for me, it was like it worked very well. The group had chemistry.
It's pretty amazing how well you have directed your first movie. How was it?
It's a pity you cannot have a second first experience because it was so interesting: you learn everything in the process. Now I feel I expect so much from myself already: I know things I want to avoid, others I don't want to try, and others I'm too lazy to try. And it's very bad. So, I really enjoyed making the first movie because I didn't know what was going to happen next.
How was it to have Giovanna Mezzogiorno on board?
She's the only actress I didn't have to audition with because it felt so strange, she is so famous in Italy, it wasn't necessary. I really, really wanted to work with her.
What about the lead actor, Benedetta Porcaroli?
She's already a well-known actress in Italy, even if she's very young. When she came for the audition it was such a relief, because the character of Amanda is in every frame, in every scene. So if we didn't find the perfect Amanda, it would have been a bit of a problem. I felt that we understood the character in the same way. And this was amazing because sometimes there are nuances in the personality of a character that you cannot really explain as a first-time director. But because we had the same vision of the character, it was simpler, and such a big relief She has this melancholy in her eyes…
Can you tell us something about the editing process?
My editor was Iranian-born and London-based director Babak Jalali, who is also my best friend. We wrote another film together, Fremont, that he directed. It was very nice to edit with him because when you edit you're basically in a dark room for hours and hours every day. So I think you have to choose someone you get along with and you can be yourself with, Now he's like a superstar, he is doing a lot of cool things: his movie Fremont was at the Sundance Film Festival and will be released in the US on August 28th.
You co-wrote Fremont and you wrote most of Amanda. What are your writing habits like?
Very simple. I open my computer in the morning, I prefer to write by myself and to write at home. I drink a lot of coffee and since I stopped smoking, I eat a lot.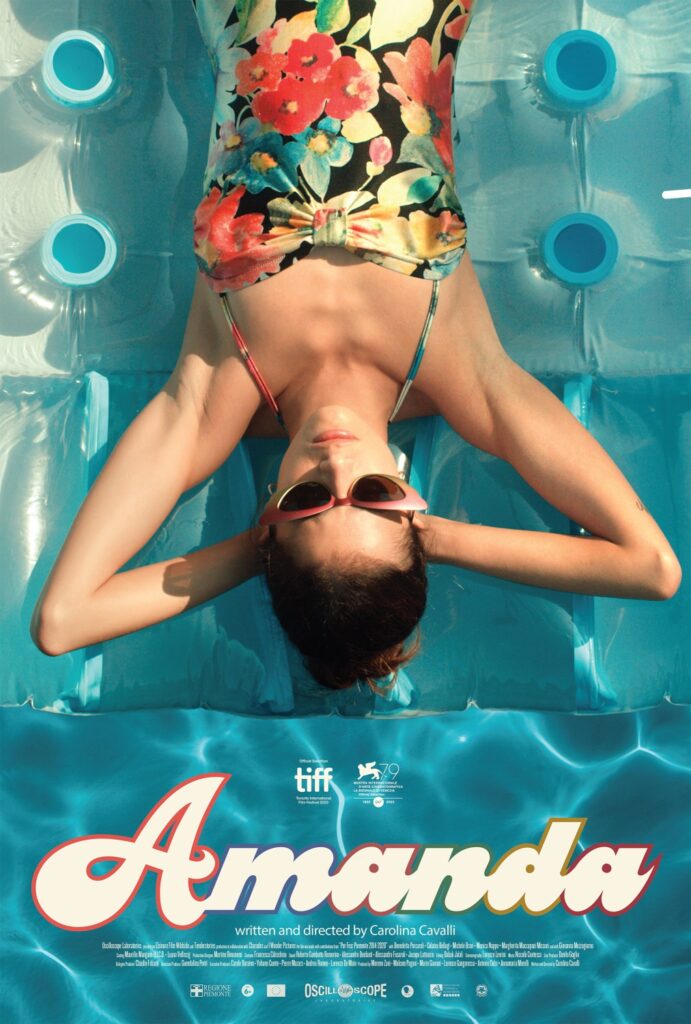 I heard someone define your film as the Italian version of a Wes Anderson film. Maybe you don't like when someone compares your stuff to someone else's, but was there any film or director that motivated you or inspired you?
Actually, it doesn't bother me because when they compare your film to other directors, usually it's great directors. So it's always directors that are better than me and I'm fine with that. But I didn't go to film school, nor have I ever thought about directing our screenwriting before. So I try not to have too many references in mind. Some people said to me: "Oh, your film reminded me a lot of this movie" and maybe it's a film I didn't think about but I really loved it. So yes, of course, what you watch or read has some sort of influence on you, even unconsciously… Writing is what I find the most exciting… Maybe that's where I am more influenced by others.
What surprised you in the process of making a movie?
I never thought the actors and actresses were mere agents but I didn't expect so much creative involvement on their part. When you create a character you don't think about how they walk, or how they bite their nails. And then you realize it's really a creation process for every person on set, from the head of department to the actors and actresses.
Is Amanda inspired in any way by your life?
When you write a character you obviously take some inspiration from your life, so it started a bit this way. My producer in fact told me: "Why don't you direct it? I feel it's a very personal story." Maybe it is more personal than what I feel it is. I am sure I took from the reality that I experienced in one way or another, but I didn't mean to. Sometimes I wish I was like her because I find her more fun than me. I would rather go on holiday with her than with myself!