Bulgari's high jewelry collections are magnificent pieces of cultural significance. For 137 years, the Rome-based luxury house as the master of colored gemstones, diamonds, and details has created an instantly recognizable aesthetic that brought sparkle to la dolce vita, Hollywood celebrities, and US First Ladies. The iconic brand opened its first shop on Via Sistina in Rome in 1884 and today continues to transcend the ephemeral with stunning, audacious designs for women with strong personalities. It crafts bold, timeless, yet masterfully modern pieces, meaning that style is eternal.
I meet Lucia Silvestri, Bulgari's longtime creative director, in Rome. She was 18 when the Bulgari brothers perceived her talent. They immediately allowed her to travel the world searching for splendid, rare gemstones. She thus started a journey that led her in 2013 to be the head of creation for the House.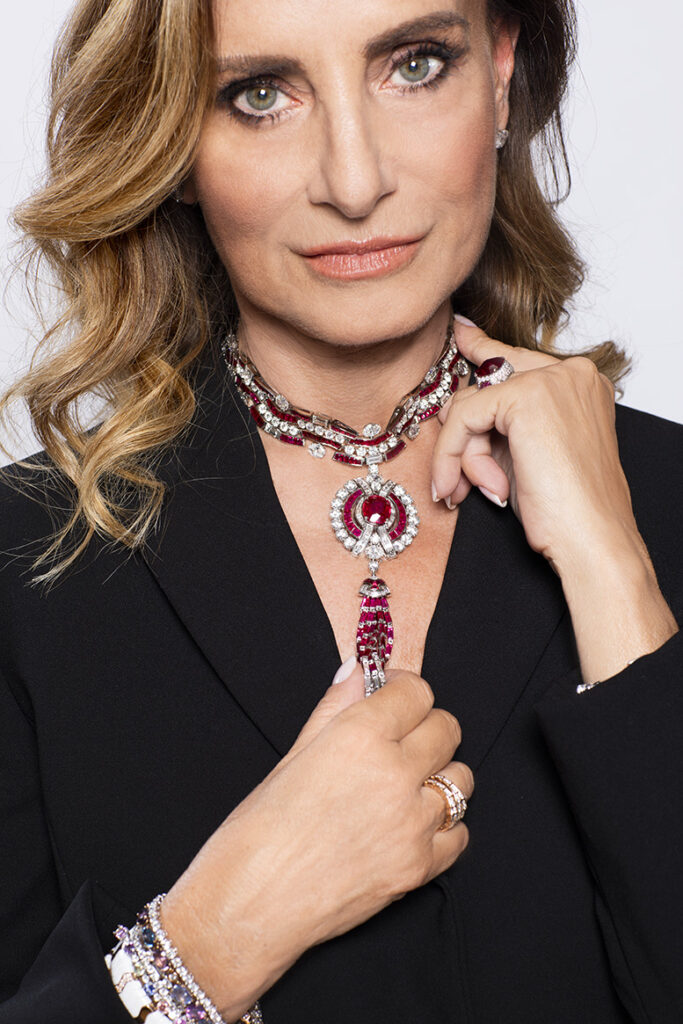 "Bulgari maintains a high level of creative innovation without ever losing its roots and DNA, especially in today's world where competition is fierce," says Ms. Silvestri inside Bulgari's headquarters on the Lungotevere Marzio. The wide-open vista extends across and up the Tiber River, past the Castel Sant'Angelo and the St. Peter's dome in the Vatican.
Ms. Silvestri, how did your love affair with jewelry begin?
I have been fascinated by jewels since childhood, but I never thought I would end up working in this field. I only knew this would be my path the first time I saw gemstones in Mr. Bulgari's office. I felt their energy right away. It was a lucky coincidence, or maybe it was written in the stars!
What kind of child were you? Is that little girl still alive in you?
Part of that girl is still within me- I never let her die. She relives in the pure instinct of joy and emotion that I feel every time I am in front of gemstones, true gifts of nature.
You started working at Bulgari in the gemological department at 18. You were so mesmerized by the gemstones' colors, variety, and energy that you decided to leave your university studies in biology. Do you still feel their vibrations?
Absolutely! In the years at Bulgari, I have seen the most exquisite gemstones in the world. Each of them is a gift of nature emanating unique energy. For me, they are authentic sources of joy, inspiration, and beauty.
Each precious stone expresses a fascinating and mysterious story. Every type speaks with symbolism – it has mythological and even metaphysical meanings. Should we choose a piece of gemstone jewelry according to ancient symbols?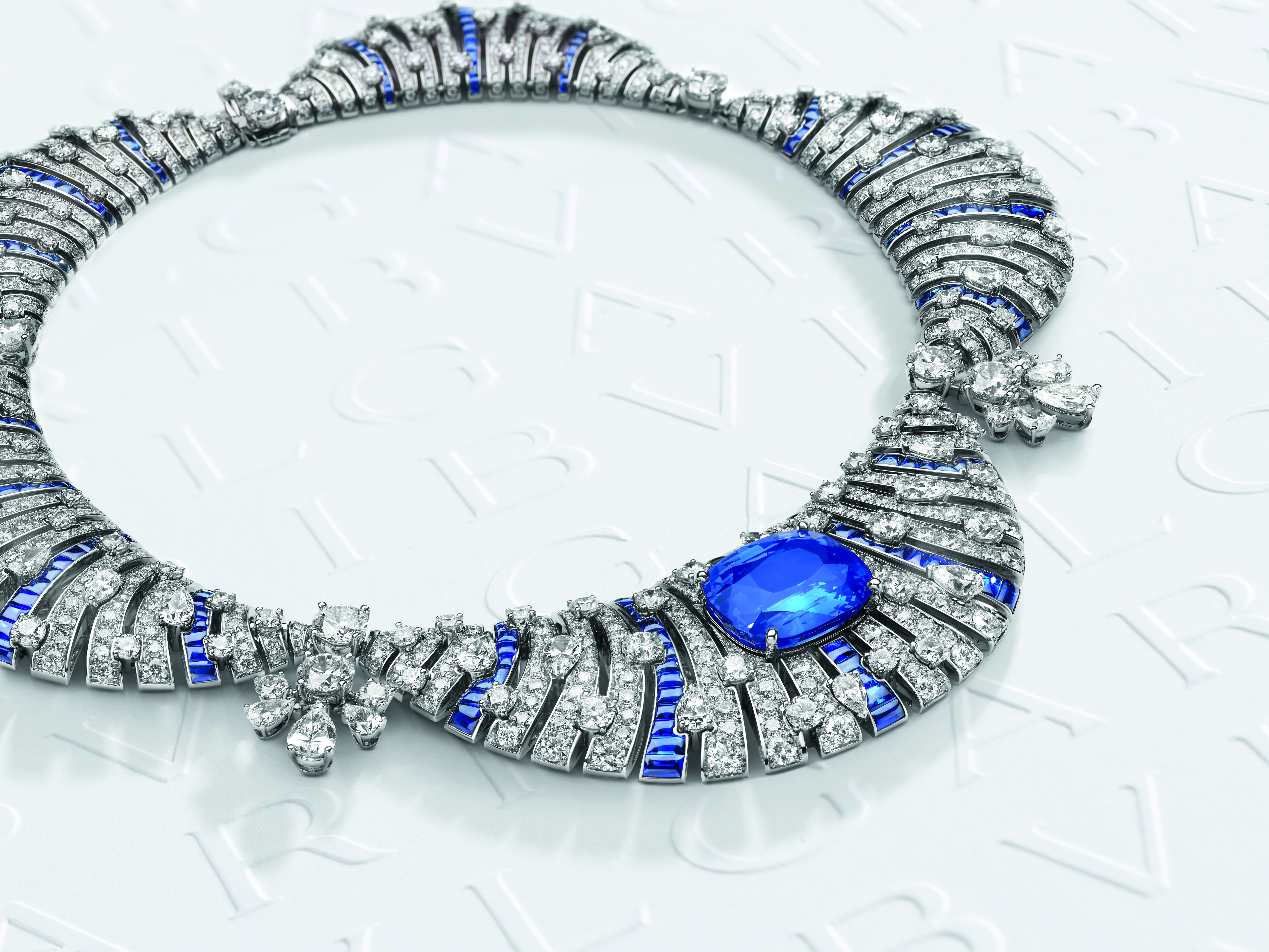 Although we tend to attribute specific meanings to certain precious stones, in my opinion, we should select a gemstone jewel depending on the emotions it arouses in those who see or wear it. For me, jewels are not talismans. They have the power to make me feel good.
Let's take as an example a ruby ring. Originally from India, rubies symbolize burning passion, love, and courage. They were sacred to the ancient Indian culture. Ruby's inner glow hints that perhaps it contains an inner magical fire. Is a ruby jewel still a perfect gift to express ardent love?
No doubt, rubies still embody those meanings but considering their current scarcity and rarity, other gemstones -not only the red ones- have taken their place to symbolize love, passion, courage, power, and determination.
Where do you find your design inspiration?
When I create fine jewelry, my primary source of inspiration are gems, and the city of Rome, which is Bulgari's first muse.
Why does the Eternal City remain so inspirational for Bulgari?
Without Rome, you cannot explain Bulgari, which comes out of Roman art and architecture. Rome is an incredible city full of wonders; it exudes beauty and offers a lot, given its millennial history. It has lived through many different periods and has undergone many artistic influences. There is always something to discover. I keep finding inspiration in every corner of this magical city that still leaves me speechless. After years, I can't get enough.
Beauty is timeless, and our jewels inspired by the beauty of Rome are unique works of art centered on exceptional precious stones, experienced craftsmanship, and creativity.
Women from Ancient Rome wore snake-motif jewelry. Snakes were positive symbols associated with rebirth, healing, and ancestors in the classical world. Bulgari has been similarly using the Serpenti (snake) motif in bracelets and numerous other ways in its creations since the 1940s when Constantino and Mario Bulgari created the first spiraling Serpenti watch and bracelet. The Serpenti is an instantly recognizable Bulgari signature, one that's continually refreshed with new design twists, ensuring it appeals to modern jewelry lovers and classic collectors alike. What does it represent for you?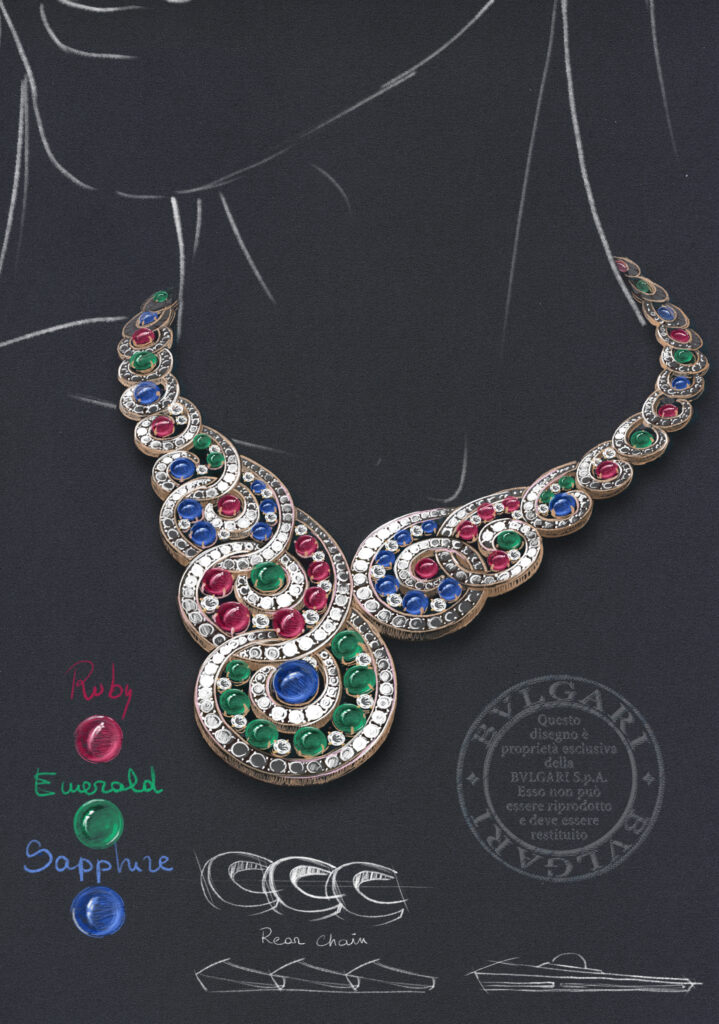 Serpenti is Bulgari's most legendary icon, a symbol of power, charm, and seduction but also – and above all – it represents endless reinvention. From the 1940s onwards, our Serpenti jewelry has continually changed its skin, updating and adapting to the surrounding environment and the continuous evolution of society without ever losing its essence! Serpenti is a transformative symbol that embodies the concept of metamorphosis.
You craft the classics of tomorrow. At what point do you realize you are creating a timeless piece?
When I find the perfect harmony between gems, design, and craftsmanship. In other words, when my team and I recognize something iconic in the design. Any Bulgari jewel represents the brand in all respects, ranging from creativity to recognizability.
How do you work on colors and shapes? What comes first? And at what point does the choice of precious metals fit into the creative process?
A: It depends on what I'm creating. When it comes to fine jewelry, the inspiration always starts from the gems' shape and color. The design follows. On the other hand, if I work with diamonds, the starting point is the design, and the cut comes later.
Elisabeth Taylor loved Bulgari. Richard Burton once said that during the nine months she spent in Rome filming Cleopatra, Elisabeth learned a single word of Italian: "Bulgari." Also, Sophia Loren and Gina Lollobrigida had a penchant for the iconic Roman House, as did Sharon Stone and Catherine Zeta-Jones and today actresses and supermodels such as Bella Hadid. How does it feel when a celebrity steps out on the red carpet wearing a Bulgari piece?
It is a point of pride for us to see actresses and celebrities wearing our jewelry, and it represents a common thread with history as Bulgari has always been the jeweler of the Divas! And this fil rouge that continues thrills and makes both me and the Maison proud.
Who is, in general, the Bulgari woman of today? What kind of woman do you have in mind when you create?
A woman who is not afraid to dare. I would say a woman with a strong personality and at the same time elegant, sensual, and feminine!
What are your tips to style high-jewelry? How to pair a Bulgari glamor necklace or earrings with a dress?
It's a very personal choice. The primary thing is to feel at ease. However, when I want to accentuate the beauty of a jewel, I wear solid color outfits, never clothes with any pattern. Contrary to popular belief, the neckline does emphasize a piece of jewelry better than a solid color.
Hollywood stars, US first ladies, princesses, and even rebellious countesses were huge devotees of Bulgari. I am thinking about Dorothy di Frasso, an American heiress in Rome in the 1920s and 1930s, the lady who taught her partner Gary Cooper how to dress, making him the most elegant man in Hollywood. Cooper and she were habitues of the Bulgari boutique. In 1939 they bought the most expensive diamond necklace in the entire collection. The Bulgari historical piece that enchants you most of all?
Elizabeth Taylor's famous sautoir with, in my opinion, the most beautiful sapphire in the world. Fortunately, that long necklace is now part of our private collection!
How important are sustainable practices to Bulgari?
They are fundamental. Consumers' purchasing choice is now more than ever guided by ethical, social, and environmental criteria. From mining to the production process, Bulgari ensures that the entire supply chain uses precious materials of responsible origin, with the utmost consideration for ethics and the environment. We proudly state 100% of our artisanal production is made with gold from fully traceable and certified sources. We reached the milestone at the end of 2021 thanks to a continuous improvement process across the House's entire value chain and the renewal of the prestigious Chain-of-Custody certification issued by the Responsible Jewelry Council (RJC) that counts Bulgari among its members.
Bulgari has created unforgettable brooches that marked the history of jewelry, especially those with floral motifs. Are brooches objects to be reevaluated in contemporary jewelry making?
Yes! In our high jewelry collections, we always include some. In recent years, the attention towards that accessory has constantly been growing. Also, some brooches today are marketed specifically to men, and they're different from the dainty, ladylike pins of the past.
The history of Bulgari is a treasure trove of anecdotes. They say that in the '50s, the Shah of Persia Reza Pahlavi would give the young Soraya Esfandiary a Bulgari jewel every day, especially when she spent two months in bed seriously ill with typhoid just before their wedding. He would place a precious ornament on her pillow every morning. Furthermore, a decade earlier, during WWII, the SS kidnapped an Italian count, Vittorio Cini de Monselice, then released for Bulgari jewelry. But what is the secret formula of Bulgari's artistic longevity and your longtime tenure as creative director?
The secret stands in innovating the brand without ever distorting it. We keep alive the link to our history and origins, and above all, we work with passion. Every time is exciting!