If you read us regularly, you know we wrote about buchette del vinobefore, but we must talk about them again, because these little quirky masonry wonders went  from being a rediscovered trend, as we reported a couple of years ago, to representing the ultimate solution to keep us safe during the  pandemic. 
Let's not jump ahead, though, let's begin from a little refresher about what buchette are and what they were used for all those centuries ago. These one foot high wall openings are typical of Tuscany, where about 150 still exist, with Florence grabbing the top spot with around 100 of them: don't be  surprised to see them around Pisa or Siena, though, they're there, too. In the 16th century, when wine making began being very profitable for many Tuscan noble families, it was common to see buchette  appear on the façade of their city dwellings to facilitate  direct sales from their cellars to the street. In truth, there was also another reason beside efficiency: by selling directly from their  homes, wine producers could save a lot in taxes.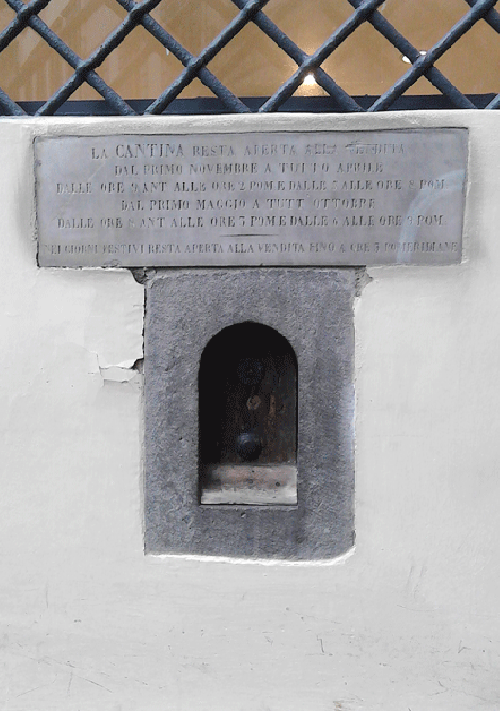 Buchette were so popular and ubiquitous, that there were people, i cantinieri, who attended them all day long: this way, no knock on the small buchetta's wooden door was missed  and sales could soar. In the end, they became such a status symbol that all wine making families would have one. For three hundred years, buchette were integrant part of Florence's daily life,  but with the rise in popularity of taverns and restaurants, they fell into disuse and  walled up. 
In 2015, the Associazione Culturale Buchette del Vino was born and our wine holes got back on people's map: the aim of the association? Protecting and valorizing this unique piece of Tuscan heritage.
Fast forward five years and buchette become protagonist, especially in Tuscany's capital, Florence, where several businesses like cafés and restaurants have been using them again. But while, until a few months ago, getting served through a hole in the wall was a mere quirk, something you'd talk about at work after the weekend, in today's Covid-19 world it turned into an excellent health and safety measure. According to Lonely Planet, plenty of wineries, bars and gelaterias across Tuscany have been using their buchette as a way to keep social distancing and limit contact between workers and customers.
Famous Florentine restaurants Osteria delle Brache and Babae have embraced their buchette to serve aperitivi to their socially distancing patrons. Always in Florence, the Vivoli gelateria shares its ice creams and coffees with people in total respect of distancing, thanks to their buchetta.
News of trend appeared on the Associazione Culturale Buchette del Vino's webpage, in a very interesting post by Diletta Corsini. To  begin with, Corsini mentions that the first written attestation of the existence of buchette dates to 1634 and refers to that time in the  17th century when deadly Peste Nera had spread around Italy and Europe, causing hundreds of thousands of dead: in those days, buchette  turned out to be precious instruments to limit contact with other people and thus reduce contagion. In truth, Corsini explains, they were not called buchette, but sportelli, which means opening. 
Francesco Rondinelli, a Florentine historian and scholar of those decades, wrote that wine sellers using buchette understood the way contagion worked, and that's why they never accepted money directly from their customers, not even through the buchette; they would use a metal pallet to collect it and would disinfect it with vinegar before touching it.  Similarly, wine sellers were very careful not to touch the flasks  customers would bring to be refilled: a small tubeconnected a wine demijohn in the cellar to the  outside of the buchetta, so that the customer only needed to place his or her flaks underneath it to get a refill. 

As we said, this year — the year of Covid-19— the protective role of buchette has been rediscovered: by serving drinks, coffees or ice creams through a wall opening, waiting staff does not get into contact with customers directly, avoiding the dangers associated with spending times in close proximity with other people. There is more, because with a thick wall separating the inside from the outside of the building, social distancing is maintained at all time: no virus can pierce stone! Modern cantinieri, of course, wear disposable gloves and masks, so protection is ensured 100%.
And so, we needed a pandemic to make of buchette an even more interesting piece of our heritage and to, once more, come across the ingenuity of our ancestors. If it's true they weren't created to cater to people specifically in times of pestilence, they nevertheless found an essential use when plague hit Florence, potentially saving many lives: consider buchette were immensely popular in those years and a large number of people would use them, placing themselves and others at an incredibly high risk of infection.
Today, as it often happens in the life of modern Man, we follow again the example of those who came before us and who, with less technology but more street smart and, perhaps, common sense, understood how to protect the community through simple steps that cost nothing. Buchette are just like that, a simple instrument created to make life easier and more efficient, that eventually became important for the safety of the community. Forgotten for the good part of a century, then they were rediscovered culturally and, now, even from the point of view of our health.
I have never received my aperitivo through a buchetta: I wonder how it feels like…