All it takes is nine balls, a flat surface, and two or more people to play. It's second only to soccer in popularity in Italy…and around the world. Anyone of any age can play it. 
We're talking about bocce, that lawn bowling game that's as Italian as pasta and tomato sauce, a seemingly simple game played in every small village, medium-sized town, and sprawling urban center for as long as anyone can remember.
Historians differ on the exact origin of bocce as we know it today but suffice to say that people have been throwing an object with the goal of striking another object since opposable thumbs became a thing. Perhaps the earliest evidence is a set of stone balls discovered in Turkey. Archeologists date them to 9000 BC and have no plausible theories for their use other than recreational. An Egyptian mural dating to 5,200 BC paints further evidence of a bocce-type game being played by two boys shown rolling balls towards an object. Although we don't know the rules of the game played by the ancients, we do know that the concept of bocce had spread eastward by 600 B.C. to the Greeks, who then brought it to Italian soil. As the Roman empire became established, so did the culture's love for the game.
Thankfully, the Romans were adept at recording their activities, which in turn means we know for certain that the current version of bocce became a mainstream pastime amongst Roman soldiers. Highly popular, the game was easy to play and required no special equipment or training. In between battles and expanding the territory, soldiers could grab a handful of rocks, find a smooth surface, and commence with a rousing competition to relieve boredom and stress. Other throwable objects came into play, literally, such as coconuts obtained in Africa during the First Punic War (264 BC), and later editions of balls crafted from olive and other wood.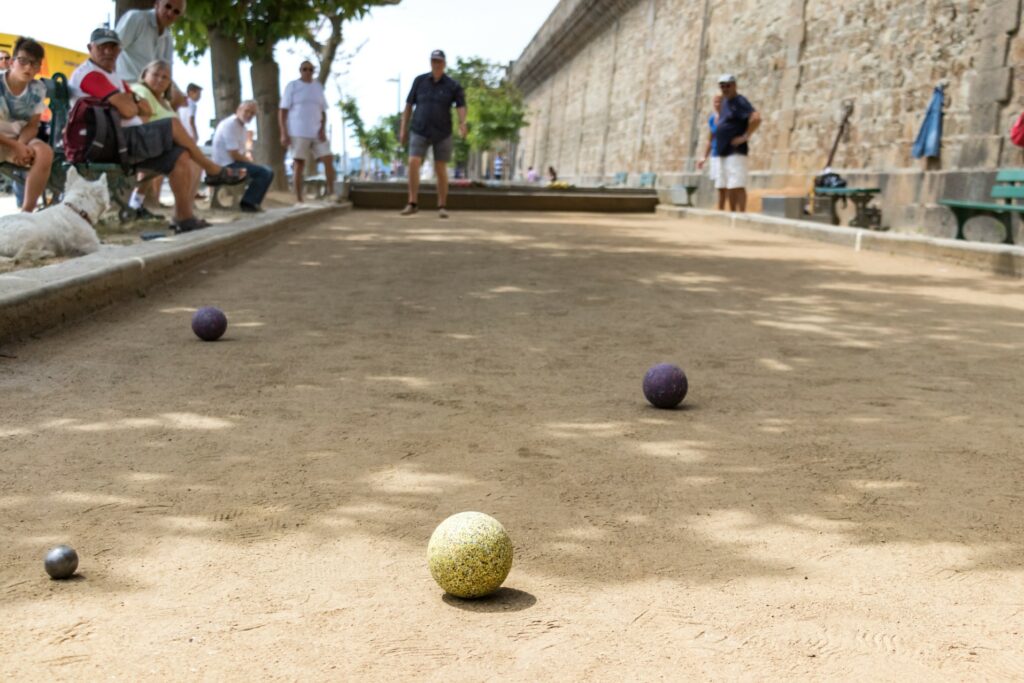 As the empire spread, so too did bocce, disseminating throughout the European territory and taking hold quickly. Initially, the game knew no social boundaries and was enjoyed by peasants and nobility alike. By the early 1300s, rulers of European nations were fretting over losing their military edge; too much time was being spent rolling wooden balls about rather than on performing drills and arms practice! For reasons of practically – so they said – participating in bocce became forbidden for commoners in countries such as France and England. A little late to the restriction party, what was then the Republic of Venice initiated an all-out ban in an effort to up productivity of its citizens. Although documentation can't be found, it's a very plausible guess that bocce matches continued in many a back alley despite the prohibition!
Playing bocce found its way back as an approved social activity by the 1500s, but its trendiness ebbed and flowed over the decades. That is, however, until Giuseppe Garibaldi, Italy's great uniter, made clear his admiration for the game. A resurgence overtook the newly united country and its beloved place in society remains strong today.
Bocce courts are no longer unique to Italy or other European nations. Brought to America's shores by Italian immigrants, bocce play became well-established in many American towns and cities. The first bocce ball tournament was held in 1939 in Springfield, Illinois, and today tournaments and clubs can be found throughout the country. In fact, one of the major international tournaments is held in Lake Orion, Michigan – an event hosted by the Palazzo di Bocce organization in their state-of-the-art facility devoted to bocce play, training, and promotion. The 2022 International Bocce Invitational was recently held here, and to no one's surprise, Italy came in first, followed by Italy's tiny nation within a nation – San Marino. And believe it or not, the United States placed third. Complimenti a tutti!
You may've never played, even if you might've watched the old gents gather around a court, strategizing and tossing balls and arguing between sips of wine. While the game has a handful of styles such as Raffa, Volo, Petanque, and even Beach Bocce, the general rules and format are similar. First, a flat surface is needed. Official courts measure 13 x 91 feet, but for the casual player, a backyard court can be any size that fits…or no court at all, just agreed-upon boundaries. Two to eight players are required, along with nine balls. Of these, eight measure anywhere from 3.5 to 5 inches (about the size of a small coconut). The remaining ball is the pallino –  or boccino depending on where you're from – and it is about the size of a golf ball. Players stand in a designated area at the end of the court; a coin is tossed, and the winner throws the pallino – the target for the remaining bocce balls. If two are playing, each gets four balls; if there are four participants, each gets two balls, and so on. The goal: get your bocce balls as close to the pallino as possible, and maybe even knock your opponent's away from the target in the process. If a ball settles touching the pallino, it's called a bacio – a "kiss" worth two points! After all balls are tossed, the team with a ball closest to the pallino gets one point for that ball, as well as for each of their balls that are closer to the pallino than their opponent's. When the calculating is over, a new "frame" begins. After 12 (or 13 or 15…) points are earned, a winner is declared. While this is a greatly simplified review of play, rules vary (unless it's tournament play) and can even be made up on the spot: just have fun. 
What rules about bocce, though, is its ease of play for anyone of any age or ability. The game was adopted as a formal competition by the Special Olympics and ranks as the most participated-in-event only behind golf and soccer. Italian federations have incorporated Paralympic and Paralympic Mouth Bocce as official tournament events, allowing disabled and paralyzed athletes to compete. Bocce was even up for vote recently for inclusion in the 2024 Summer Olympics but lost, coming in a close second to Breakdancing.
While I gave up on breakdancing a long time ago, bocce is something that can be enjoyed into old age. I'm ordering my first set…how about you?