Baccalà and stoccafisso: who hasn't had them at least once in their lifetime? Maybe, if you come from a pretty traditional Italian family, you may have had them not so long ago, on Christmas Eve, as part of the traditional fish feast many prepare for the occasion.
Flavorsome and, in my opinion, delicious, both baccalà and stoccafisso are, for someone, a bit of an acquired taste. They are salty and "fishy," so they aren't the best choice for those who are not into fish to begin with, or are into milder dishes. Some say children don't like them but I loved them both as a kid. My grandmother would make baccalà or stoccafisso at least a couple of times a month, rigorously on Fridays, to honor the giorno di magro she, a devout Catholic born in 1917, always respected. With potatoes and olives, or with tomatoes and capers, they both were among my favorite fish meals.
Recipes with baccalà and stoccafisso are a staple across the country, from North to South, but this is quite funny when you think that cod, the fish used to make both, is nowhere to be found in our seas, too warm for it. Cod loves the cold waters of the Atlantic or of the Northern and Arctic seas, and that's why it's so common in Scandinavia or even Great Britain and Ireland: it is to them what anchovies and sardines are for us. But so, why are Italians so obsessed with baccalà and stoccafisso, and why are these two preparations common everywhere?
To understand it, we need to take a step back in time and also to explain what baccalà and stoccafisso are. Let us begin with stoccafisso. From Italy, we must travel to beautiful Norway, more specifically to the Lofoten islands, and turn the time back some centuries. Fishermen knew well that cod would come close to their land to lay eggs between February and April every year: fishing was abundant in those months, perhaps too abundant, so they skillfully created a way to keep some of their catch for later in the year. They understood that cod could be preserved by letting it dry for three months in the open air, hanging from special open structures built exclusively for it. In 1432, Venetian merchant Pietro Querini and his crew encountered a violent storm while crossing the English Channel and found respite on the small Norwegian island of Røst, where dried cod was made and consumed regularly. Querini fell in love with the fish and he was very likely the first to import air-dried cod – our stoccafisso – to Italy. Here, it was to become all the rage in the kitchen some 100 years later when the Council of Trento (1545-1563) called for fasting days – that is, days when meat and fats shouldn't be consumed – to be respected with more regularity. Stoccafisso was often cheaper than fresh fish, so it became a widespread fasting day dish in many a family. Five hundred years later, we remain one of the main importers from Norway of this product.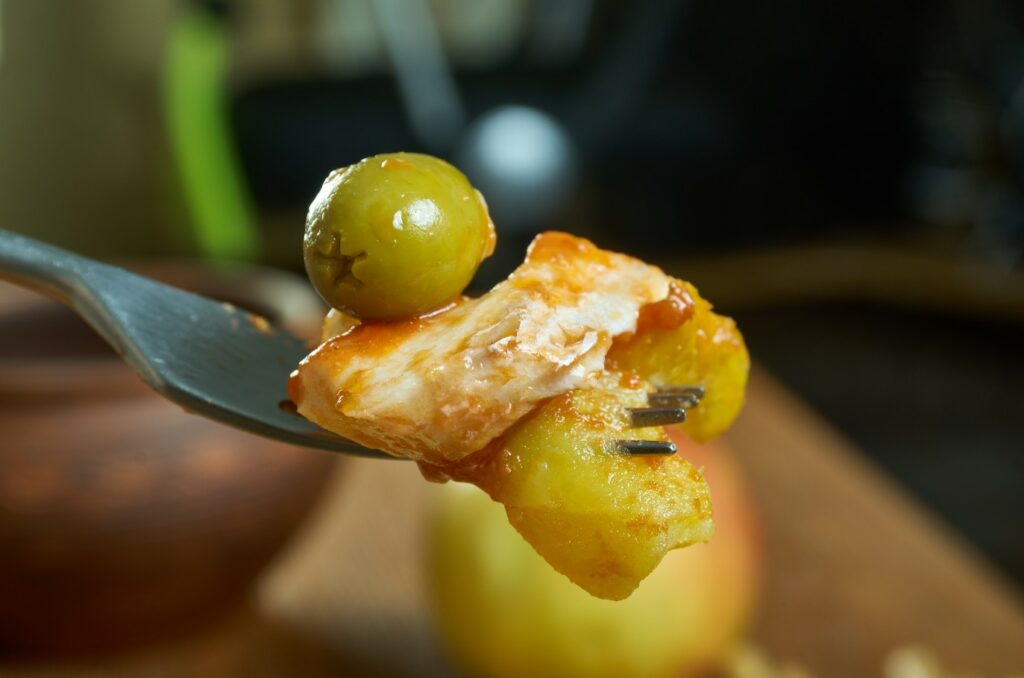 The origin of baccalà is more difficult to trace. While stoccafisso can be produced only in Norway and only during a specific time of the year, baccalà can be made everywhere and anytime: you only need salt and cod. Indeed, baccalà is nothing more than salt-preserved cod. It likely came to Italy from the Bay of Biscay, between France and Spain; local fishermen who were involved in whale fishing often encountered so much cod they needed to find a way to preserve it quickly and bring it back to land. They, quite simply, began preserving cod the same way they would preserve whale, by keeping it under salt, so salted cod, or baccalà, became a nutritious ingredient for the fishermen at sea. They also used it to find out whether a storm was on the way or not: they would hang salted cod to their ship's mast and, if the salt melted, it meant there was high humidity in the air and that bad weather was coming. Soon, the salting technique invented by French and Spanish fishermen was exported to Norway, where it became just another way to preserve cod, along with air-drying. In the early years of the history of the United States, the regions of New England used salted cod as an important exchange good, especially with the Caribbean and Portugal.
Today, both stoccafisso and baccalà are vital ingredients of Italian cuisine. Perhaps one of the most well-known recipes is baccalà alla Vicentina which, despite the name, should be made with stoccafisso, milk, olive oil, flour, sardines and parsley. Always in Veneto, you will find the stoccafisso mantecato, a typical Venetian dish, where the fish is transformed into a creamy concoction often served as a starter. In fact, the same type of preparation can be used to make baccalà mantecato. Traditionally, Neapolitans love their fried baccalà on Christmas Eve, a true delicacy. In Liguria, you'll find them both cooked with potatoes and you shouldn't forget they can also be baked, or become a tasty addition to fish soups.