In the early 1990s, a group of residents began lobbying Seattle city government to add another sister city to its roster – this time, one from Italy. It would be a first, since at the time Washington State did not have a sister city from the Bel Paese.
After some discussion, the group settled on the city of Perugia, the capital of Umbria. Perugia and Seattle had a lot in common. Both cities are situated on hillsides surrounded by beautiful landscapes. Both are home to great universities and have a thriving local music scene. It seemed like a perfect fit.
Among the group recommending Perugia was Seattle physician Hans Lehman. Lehman had been a medical student at the University of Perugia decades ago and got to know the city well during that time.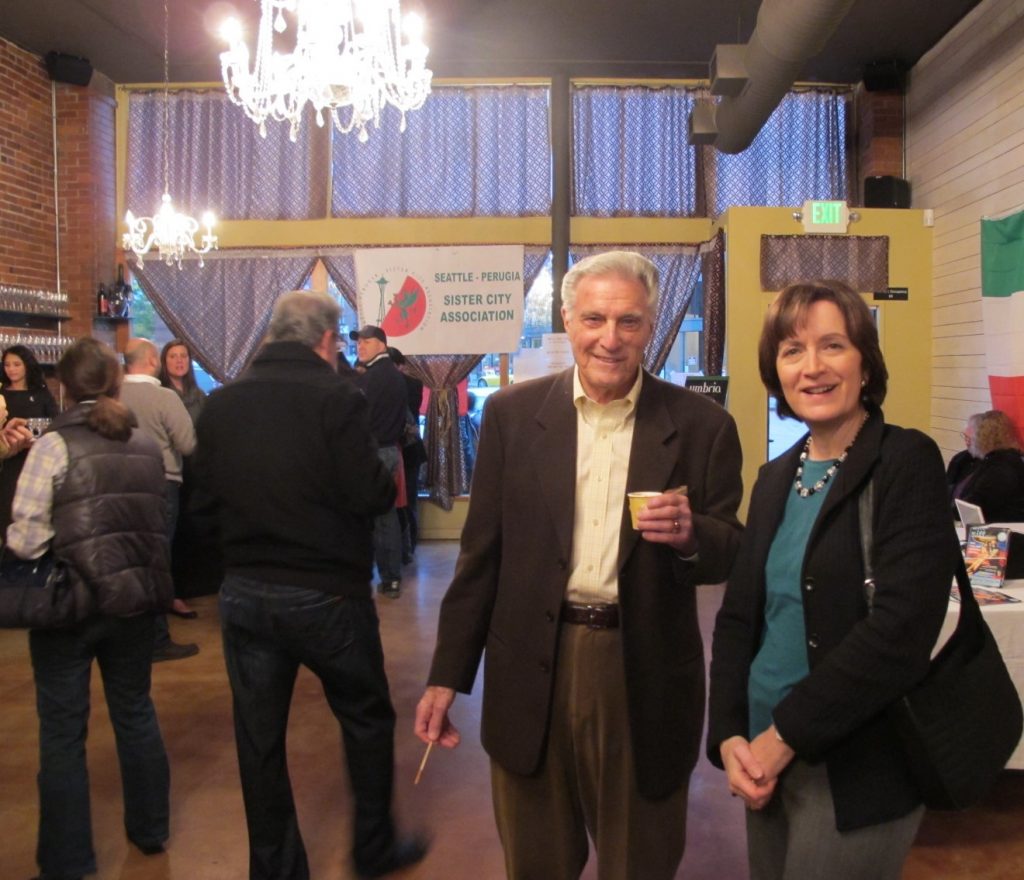 Saleh Joudeh was proprietor of a popular Italian restaurant called Saleh al Lago, which he opened in 1982. Located at Seattle's Green Lake, the restaurant, now closed, was a city favorite. Born in Palestine, the son of a hotel owner, Joudeh fled with his family to Syria in 1948 when the state of Israel was created. Later, while studying medicine in Italy, his landlady taught him how to cook.
Lastly, there was Art Mazzola, a retired businessman who was passionate about his Italian roots and Seattle's cultural landscape. As luck would have it, he was also on friendly terms with Seattle's current mayor Norman Rice. In fact, they were tennis partners.
The dream became a reality in 1993 when Mayor Rice and Perugia Mayor Mario Valentini signed a pact of friendship. Mazzola's many connections were instrumental in getting the idea approved. "Back in the early '90s, when at least one other Italian city was in the running," said Mike James, former Seattle-Perugia Sister City Association president, "Art's leadership and contacts with so many in Seattle government — he was a particular friend and tennis partner of then Mayor Norm Rice — made the selection of Perugia possible."
A charming raconteur, voracious reader and devoted father — he had five children: Joan, Dianne, Cheri, Christopher and a son Paul who predeceased him in 2017 — Mazzola was active in many cultural and nonprofit organizations. He volunteered his time and talents to Pacific Northwest Ballet, Seattle Rotary Service Foundation, Seattle ARC and Seattle Arts Commission. And from 1993 until his death in 2020 at the age of 97, Mazzola took an active role in the Seattle-Perugia Sister City Association.
Mazzola was born in Dorchester, Mass., in 1922 and grew up in Quincy, a suburb of Boston. His father, who had immigrated to the US in 1912, was a pattern maker in a factory and later worked as a mason.  After serving in World War II, Mazzola made his way west, stopping in Idaho and then Tacoma before settling in Seattle.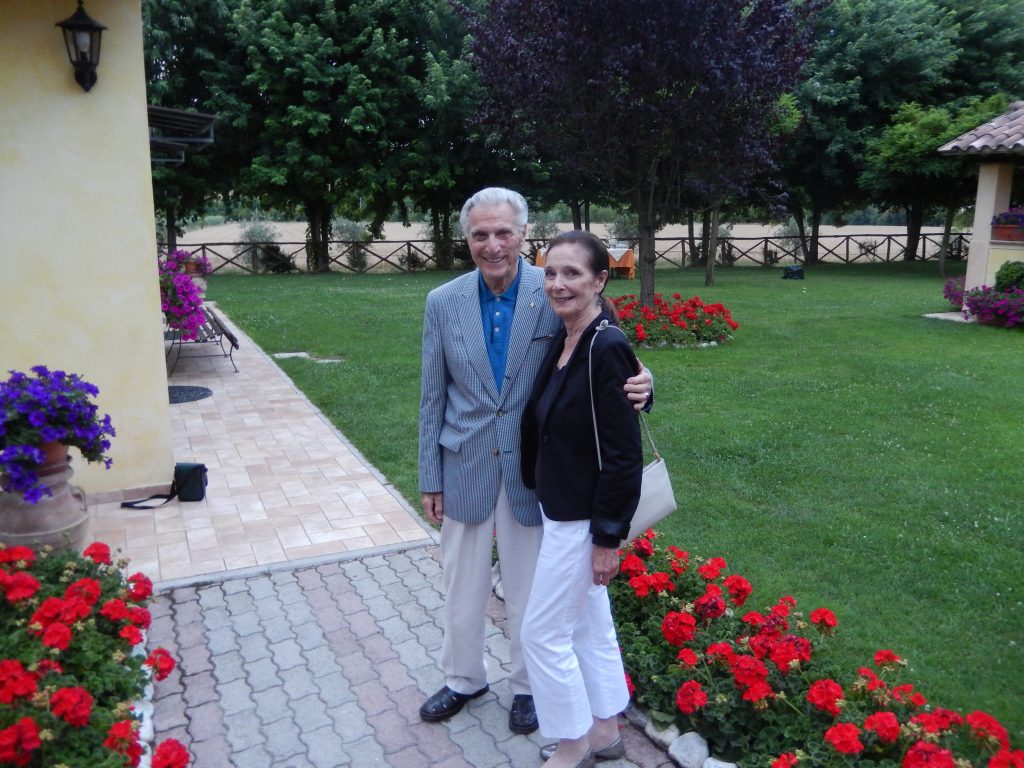 Mazzola was an enthusiastic tennis player and a skilled sailor. He named his sailboat Ciao, and called the smaller onboard dinghy, Ciao Baby. Although he often sailed alone, Mazzola would extend a helping hand to others. Jane McConnell, who served with Mazzola on the Pacific Northwest Ballet board of directors, recalled the time when "we had just gotten our sailboat and Art said he would give us a sailing tutorial. My husband was already a good sailor but, of course, we went. Art spent a lot of time sailing, mostly by himself. He had a great singing voice and loved to sing Italian songs, especially when he was out on the water."
Mazzola never lost his love for aviation which had been sparked during his years in the military. Alan Veigel, another former president of the Seattle-Perugia Sister City Association, recalled how Mazzola enjoyed taking his Italian friends to the Museum of Flight, where he knew just about every aspect of the exhibits. "Arturo was a great guy," said Veigel, "always up and cheerful, a gentleman and a scholar, always reading a new book and always impeccably dressed. He was just a very likeable guy willing to contribute to his community."
Mazzola made his living in sales and financing. He started off as a broker-dealer with Trans-Pacific Leaseco, Inc., a company which leased trucks, equipment and personal property. He quickly moved up the corporate ladder, appointed vice president and then president.
From there, he went on to co-found Medical Acceptance Corp., which provided financing for doctors, clinics and hospitals, and in 1977, was appointed president of the Federal Capital Corp. With his extensive business experience and outgoing personality, Mazzola was a popular speaker at business conferences and workshops. In 1980, he was appointed a regional delegate to the White House Conference on Small Businesses.
Mazzola's enthusiasm was legendary. Friends often referred to him as a cheerleader; Carole Beers, former Seattle Times dance critic, called him "an evangelist tout." He served for four decades on the board of the Pacific Northwest Ballet, elected as board vice-president in 1980 and president in 1984. The board recognized his devotion by naming him a trustee emeritus after he stepped down.
As friend and fellow trustee emeritus Jane McConnell put it, "He had a great attitude and his enthusiasm was contagious, whether he was talking to other ballet board members or to members of the community."
That outgoing nature, generous spirit and determination to give back to his community made Mazzola a rare treasure, and his many contributions to Seattle's cultural scene will live on for many years.