When we talk about archaeology, we don't necessarily think about food. Anyone who is passionate about history, however, knows that there are plenty of sources that, across the centuries, detailed the evolution and recipes of the culinary world of our ancestors.
Archaeologists themselves often come across impressive discoveries related to food, not last the many bread loaves unearthed in Pompeii, where even a thermopilium, a place we could compare to a modern street food place, have been identified very recently.
The interest in how our forefathers used to eat – and how their food tasted like – increased in the past years, bringing together archaeologists, historians, and chefs with the aim of giving new life to some of the most traditional and common recipes of the past. Museums, archaeological sites, and restaurants become a site to explore in an entirely new way history and heritage, with the potential of attracting people to disciplines that usually remain locked inside the ivory tower of academia. This new subject, called archeo-gastronomy, wants to use academic research to produce a very factual and very enjoyable result – dishes that were consumed centuries ago – in an attempt not only to satisfy our culinary curiosity, but also to bring us all closer to our roots, to the people who lived in our streets, cities, and countryside before us.
If we want to embark on this adventure, the first step is a good analysis of our primary sources, which can be written, but also physical, in the shape of archaeological findings. Let us take the ancient Roman world as an example: the works of Apicius, famous for his De Re Coquinaria,  and Columella, known for De Re Rustica,  and impressive archaeological discoveries made us understand how the Romans cooked and which ingredients they preferred. All this is central to the recreation of the foods they used to eat daily. But there is more because a lot can be learned from the way their plates and cutlery were shaped, as well as the type of cultivations they would select and the animals they would breed.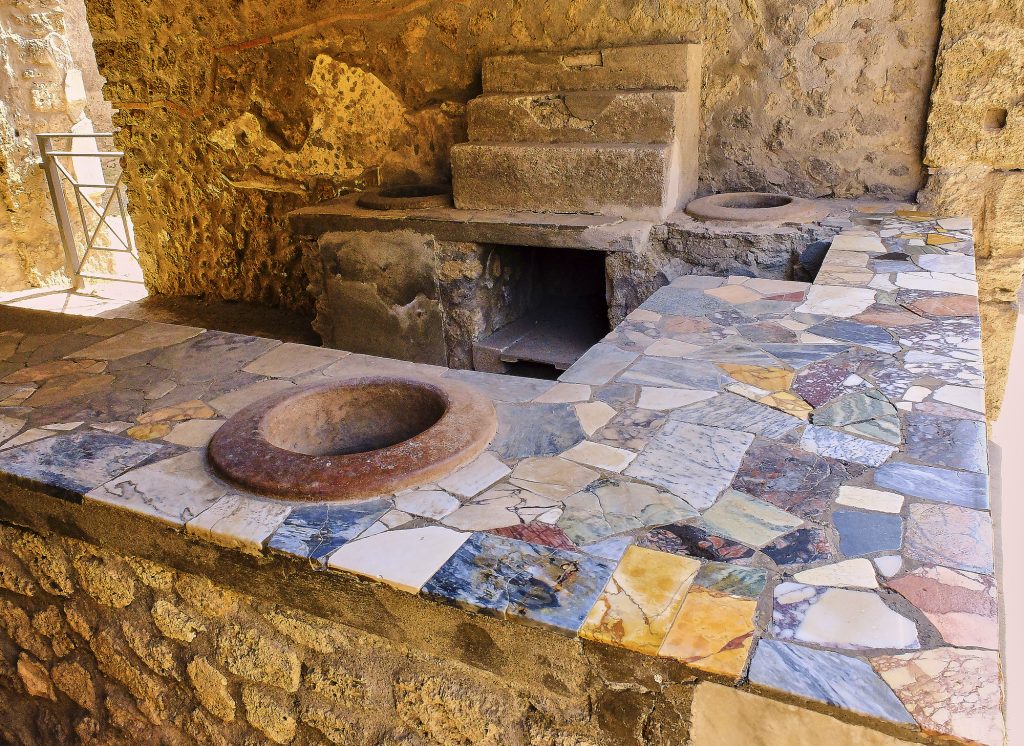 With an attentive work that puts together hundreds of tiny clues, coming from different disciplines, academics and chefs can recreate accurately, that is, using the right type of ingredients and the right cooking instruments, Rome's favorite delicacies. Some examples? The epytium, a spread made with olives flavored with vinegar and herbs; the rosatum, a famous aromatic wine made by infusing rose petals into Aglianico wine; the libum, a focaccia-like dish with sheep ricotta, spelt flour, egg, and bay leaves; the Oplontis cassata, a dessert entirely created on the basis of its pictorial representation, but which is not found in any written source, prepared with dry fruit, ricotta, walnuts, and honey. This latter dish is an incredible example of the variety and wealth of historical sources: we often make the mistake of thinking about them as quintessentially written in nature, but information about the past can come in a plethora of shapes and forms, from words to images, from craftmanship to seeds and plants.
While Classical times are probably the most popular historical period when it comes to archeo-gastronomy, the discipline investigates also other moments of our history: Medieval cuisine, in fact, has been just as popular as ancient Roman's, and we shouldn't forget about the incredible, over-the-top banquets of the Renaissance, although it may be difficult to recreate their flamboyancy today! Even historical eras closer to our own, such as the 19th century or the two world wars, are interesting periods to study and discover from a culinary point of view, especially because they often show the ingenuity people had in times when food was scarce.
Archeo-gastronomy is certainly a fascinating topic, but could it actually become a source of income and a tourist attraction for a country like Italy, known for its good food and for the wealth and beauty of its archaeological, historical, and artistic patrimony? The answer is: we hope so. Archeo-gastronomy could become a new way to introduce people of all ages to history and to archaeology, to interest the younger generations in what came before them. By bringing together research, academia, and everyday life, it finally offers a more personal, more down-to-earth way to learn about the past, without missing out on accuracy, details, and academic rigor.
As demonstrated by the ubiquitous success of scientific and historical communicators such as Alberto Angela, whose books about ancient Rome never fail to become best-sellers in Italy (and have also been translated into English), and whose prime time TV shows regularly beat trendy reality TV such as Love Island or Big Brother, there is a thirst for knowledge in the country, people want to learn and is eager to do it. Italians love culture, but we need to make it accessible to everyone, we need to show that culture is not only for "those who went to college:" it belongs to all, especially in countries like ours.