Milan, the beating heart of Italian economy and fashion, the trendsetting city, the birthplace of Manzoni and panettone, the home of the most famous gothic church in the country, the Duomo, and of one of Leonardo's most precious works, the Last Supper.
Milan, the capital of Italian opera, which is a bit to say the capital of world opera, because, in the end, that was our invention. Milan and its beautiful Navigli, the quintessential aperitivo location, the place where every work day ends and every weekend starts.
But the Lombard capital is also the city of Saint Ambrose, or Ambrogio, as we know him in Italy, Doctor of the Church – it means he contributed significantly to Christian thought and to the development of theology – bishop and the city's holy protector. In Italy, as in other Catholic countries, the cult of Saints is very common and is part of the history of spirituality and of heritage, so much so that every place and person have a santo patrono, a patron saint: Ambrogio is that of Milan and Milan has been honoring her connection with the holy bishop for centuries, on the 7th of December.
If the entire country, or at least the faithful, do have a special prayer for Ambrogio on that day, old Mediolanum puts on quite a show with a beautiful fair and the season premiere of La Scala's opera calendar. And then, Sant'Ambrogio day in Milan marks the beginning of the Christmas season, a day earlier than in the rest of Italy, where it usually begins on the 8th, the day of the Immaculate Conception.
Ambrogio is a figure of great interest. Born in Trier (Germany) in 339 AD, when the Roman Empire still existed and in a time known to historians as Late Antiquity, his full name was Aurelius Ambrosius and he came from a well-to-do Roman senatorial family that had been Christian for generations. Ambrogio, therefore, was raised within the faith and was sent to study in Milan so that he could follow in his ancestors' steps and become an imperial administrator. His first, important post was as governor for the Roman province of Liguria and Aemilia, that is, the area roughly corresponding to the eponymous modern regions.
As an administrator, he was known for his oratory and mediating abilities, which he would put to good use to settle the many diatribes of those days between Catholics and Aryans. It was also in name of his strong character and pondered, assertive personality, as well as his evident skills as a leader, that, in 374, he was nominated bishop of Milan by acclamation. Now if you think that's weird, well, it is to modern standards but not to late antique ones: back then, it was usual for men who had a knack for leadership, were Christians, and had distinguished themselves for their morals and good heart, to be elected bishops by people. The event, which is a trope of hagiographical literature, usually took place after some outstanding episode where the bishop-to-be gave proof of his otherwordly spirituality and goodness.
Once he became bishop, Ambrose embraced an ascetic lifestyle and gave all of his earthly belonging to the needy – again, as many saints of that time would do, including Saint Martin of Tours, one of France's patron saints, and Saint Augustine, who was, in fact, converted to Christianity by Ambrose himself.
As the spiritual leader of Milan, Ambrogio made sure the city had adequately large and meaningful places of worship and had San Nazaro Church, San Simpliciano Church and San Dionigi Church built; but the most important place of worship commissioned by the saint is, without a doubt Saint Ambrose basilica. He had it built, between 379 and 386 on the place where martyrs who perished during Christians' persecutions had been buried. It was to become his own resting place, too, in 397, when he passed away. Today, the basilica is the second largest church in Milan after the Duomo and, while it is a fine example of Romanesque architecture, its layout still mirrors that of the original paleochristian building wanted by Ambrose.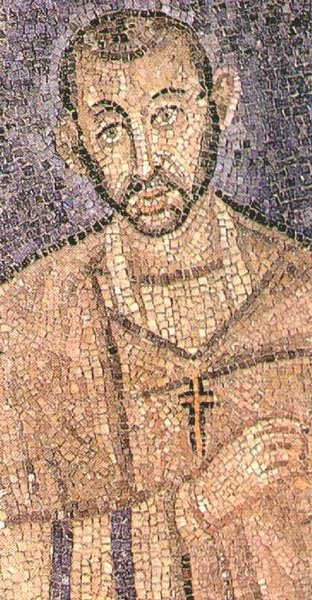 A man of incredible faith, Ambrose, of strength and moral rectitude, who became a symbol of Milan and its history. It is not surprising that, as we said earlier in this article, the city still today honors and celebrates him in grandeur and has been doing so since the 13th century! On the 7th of December, along with religious celebrations, there are many events taking place across the city.
The inauguration of La Scala's opera season, of course, but also the beginning of Milan's O Bej O Bej, the traditional Christmas fair held at the Castello Sforzesco from Saint Ambrose day until the following Sunday. The fair was likely established in 1510, when Giannetto Castiglione, a delegate of Pope Pius IV, had visited Milan on Saint Ambrose day. Legends say that Giannetto, who wanted to be well-liked by locals, had come with boxes full of candies and toys for children, which were then distributed to the crowd gathered around Saint Ambrose basilica. The fair's name, O Bej, O Bej, which in Milanese dialect means "how nice, how nice," is said to come from the words children would say when receiving their presents from Giannetto.