Agnolotti are Piemonte's best comfort food: warm, filling, tasty, they are so quintessentially Piedmontese they are part of the region's official list of traditional products (P.A.T.).
Reassuring in their ubiquitous presence on Piemonte's festive table, they are today declined in a variety of flavors, but purists know the real agnolotto must follow precise rules when it comes to ingredients and condiments, although it can be a tad more creative when it comes to shape.
But let's proceed with order and shed some light on the first conundrum associated with this rural delicacy that made it into the plate of queens and kings.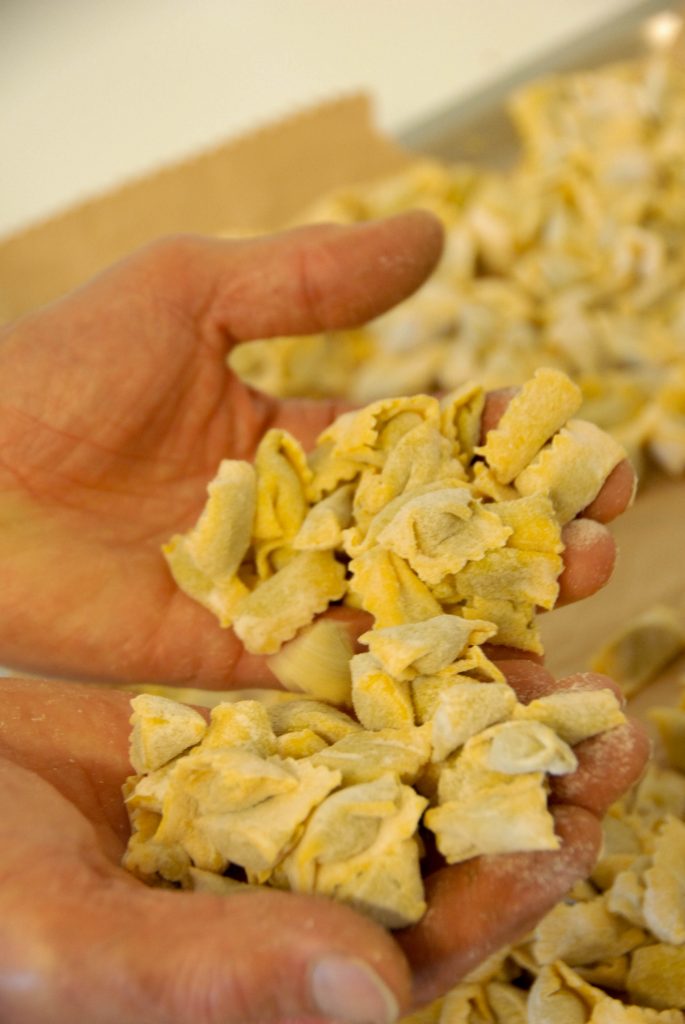 Agnolotti or ravioli?
For such an incredibly popular dish, agnolotti can be quite mysterious, starting from their name: anyone who is not from Piemonte would unlikely know "agnolotti," but is definitely familiar with ravioli or tortellini. Well, truth is the difference is only semantic, because they all stand for the same delicious filled dough pockets we all love and enjoy. Indeed, while the term "agnolotti" is unknown outside the borders of Piemonte, "ravioli" are common in the region, especially in the southern province of Cuneo and in the areas near to Liguria. There's even a feminine variant, "raviole" in the Asti and Alessandria provinces.
To sum it up: in Piemonte, we call ravioli "ravioli," but also "agnolotti." In the rest of Italy, ravioli keep on being "ravioli" (or "tortellini" if you are from Emilia Romagna), but "agnolotti" is an almost unknown term. All in all, though, they all represent the same dough pocket filled with a variety of fillings.
Or do they?
In Piemonte, agnolotti are special
Semantically, we could say that, in Piemonte, agnolotti and ravioli are synonyms, but gastronomical purists — and grandmas all over the region — dare to rightly disagree, because the true, original "agnolotto," the one considered culinary patrimony of Piemonte, has a filling exclusively made with meat and should be accompanied only by four types of sauce: sugo di carne d'arrosto (roast beaf sauce), burro e salvia (melted butter and sage) topped with parmigiano or grana, Piedmontese meat ragù and brodo di carne (meat broth). According to Carlo Nasi, author of the Enchiridio del Buongustaio in Piemonte, agnolotti should never have a vegetarian filling, because they are not a dish to have on giorni di magro, the days when consuming meat is not allowed for religious reasons: "real Piedmontese agnolotti do not have a so-called versione di magro. They are a festive dish, Christmasy, Dionysian, Faustian," he wrote.
According to La Cucina Italiana, agnolotti were conceived as a way not to waste roast beef leftovers, a bit like cottage or shepherd's pie in England. And it makes great sense, when you think of it, because — once upon a time — meat used to be expensive and the occasions to have it on the table were limited. Apparently, the first agnolotti were cooked, drained, placed in a cloth to keep them soft and then consumed on their own, so that the flavors of their filling could be enjoyed to the full; this dish was called agnolotti al tovagliolo (tovagliolo means "napkin"). Every now and then, they were served with a cup of meat broth, or with red wine, the latter being still a relatively popular way of having them in the Cuneo and Alessandria provinces, where the concoction is called agnolotti or ravioli al fumo (with "smoke").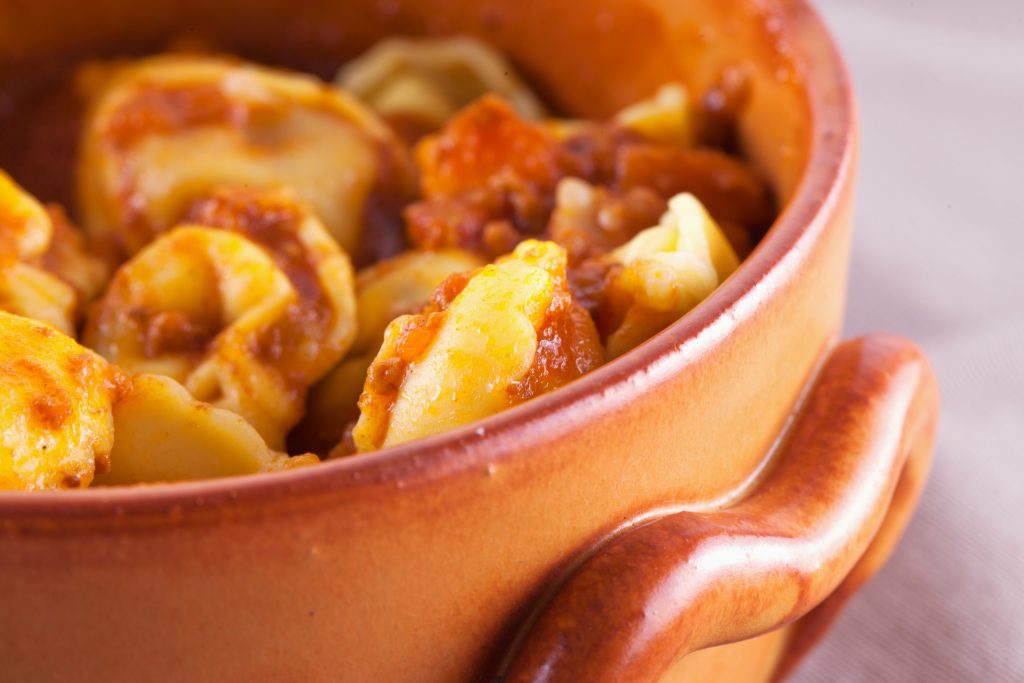 Their shape is squared, although in Piemonte the version al plin is particularly famous: "plin" means "pinch" in Piedmontese and they get the name from the way they are expertly closed, with a quick pinch motion between two fingers.
Agnolotti: where does the name come from?
But what's the origin of the name agnolotto and why do the Piedmontese call ravioli this way? Well, According to the Dizionario Etimologico del Dialetto Piemontese compiled by Attilio Levi in 1927, the term is the diminutive of agnèl (lamb in Piedmontese dialect), with the "e" turning into an "o" for the assimilation of the non-accented vowel with the accented vowel. In 2001, Sergio Nebbia, author of the Dizionario Monferrino (a variety of the Piedmontese dialect), the name "could come from anulus (Latin for ring), more precisely from the aneolus variant, to indicate the ring-like shape agnolotti used to have, instead of the common square shape of today." Another theory wants the name to originate from the anùlot, and old instrument used to cut them in the shape of a ring.
In a fashion that doesn't surprise us one bit, it is also said agnolotti got their name from the chef who made them popular: some believe it was chef Angiolino, known as Angelòt, others chef Vincenzo Agnoletti, who traveled across Europe cooking for royals and VIPs and who, in 1814, published a book, La Nuovissima Cucina Economica, where a recipe for agnolotti alla Piemontese (there called "agnellotti") appeared.
Down to work: the recipe for agnolotti al plin (taken from La Cucina Italiana)
Ingredients for 4 people:
For the filling:
1 lbs (400 gr) of "noce di manzo" (beef tri-tip)
1/2 cup of white onion
2 tbsp of All Purpose flour
200 ml of red wine
2 1/2 oz of veal brain (we commonly eat it in Piemonte, but feel free to leave it out in case you're not a fan).
1/2 cup of grated parmigiano
20 ml of extra-virgin olive oil
Salt and pepper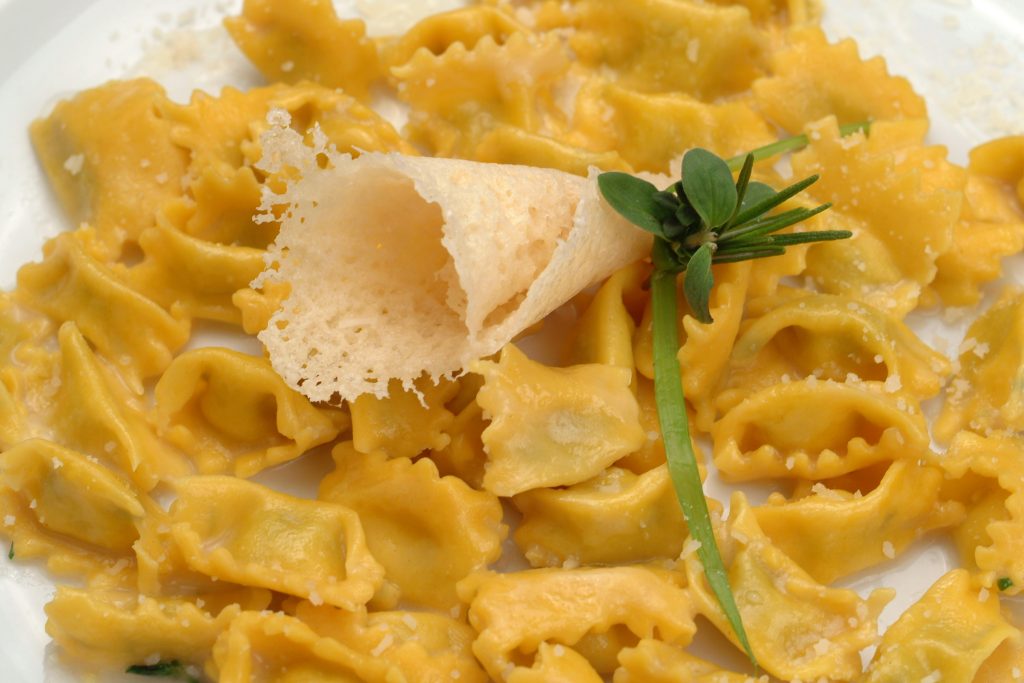 For the pasta fresca (dough)
1 1/4 cup of All Purpose flour (farina 00)
3 1/2 oz of egg yolks
For the sauce*
4 1/2 oz of butter
6 leaves of sage
grated parmigiano
*La Cucina Italiana suggested a sauce made with fresh butter and beurre noisette (butter melted until it reaches a classical hazelnut color), but I find, as a Piedmontese, that the classical burro e salvia is the best way to have agnolotti!
Procedure:
Mix together the egg yolks and flour until well combined, then knead until you obtain a smooth ball. Place in the fridge to rest for 30 minutes.
While the dough rests, dice the meat and slice the onion julienne style.
Roll the meat into some flour, making sure to shake off, using a sieve if you like, any excess.
In a saucepan, heat up some extra virgin olive oil and sauté the meat. When it's colored on all sides, add the onion and the red wine. Once the wine has evaporated, keep on cooking the meat adding some broth (ideally, you should make your own, but you can use good quality stock cubes or any other good quality variety you are accustomed to) little by little whenever you see it gets too dry. Once the meat is ready, add the veal brain (in case you decided to go for it), finish cooking and turn the heat off. The meat should be well cooked, the resulting sauce thick and not watery at all.
With a mixer, a kitchen robot or a meat grinder, mince the cooked meat, adding the grated parmesan and salt and pepper, if necessary. Set aside.
Time to get the dough out of the fridge!
Roll the dough very thin (it should be not thicker than 1/2 mm!), then divide it in 5 cm (2 in) wide strips. Place small dollops of filling, about the size of an hazelnut, in the center of the strip, leaving about 1.5 cm (0.6 in) between each of them.
Now, fold the dough on itself to cover the filling, sealing accurately the two sides of the strip by pressing down with your fingers.
Now it's time for the "plin"! With your fingers, pinch together tightly the dough between the filling. It's simple, just press very tight the part of dough between each dollop of filling and its next-door neighbor!
With a ravioli cutter (those hand-held, "wavy" wheels), first cut the dough length-wise a few millimeters from the filling, then between each dollop to make your ravioli, which should be around 2 cm (0.8 in) in length, giving them a rectangular shape.
Cover a tray with a clean kitchen towel and place your ravioli on top, making sure they do not touch one another. To avoid sticking, add a sprinkle of flour, too.
To cook the agnolotti, bring abundant water to the boil and add some salt, the way you would do when you cook pasta.
While you wait for the water to boil, you can take care of the butter and sage sauce: in a small pot, melt the butter. When it's melted, add the sage and, on a very low heat, wait for the butter to brown slightly. And that's it!
When the water boils, place your agnolotti in it: it won't take long for them to cook, because their pastry shell is so thin. Once they come to the surface, they are ready. You can remove them with a skimmer, little by little. If you have a lot of agnolotti to cook, it's better not to do so all at once, as they need space in the water to cook properly. Add one part to the water, cook them, drain them and place them either in the plate with their condiment, or in a large bowl, ensuring to add a bit of butter and sage dressing every time you drain more. Once they are all cooked, top with the rest of the dressing, gently fold it in and serve.
A note about parmigiano: some people add it directly to the dish, while others prefer to bring it separately to the table and let guests help themselves. It's up to you and your friends' personal tastes, really!