Taralli are a recent culinary obsession of mine. It all began one evening when I received an impromptu invitation for dinner from a friend, who set up a quick aperitivo, too: a glass of white, some parmesan cubes, and cold cuts accompanied by a bowl filled to the brim of taralli. While I had them before, I had never really thought much about them, but that evening changed my mind entirely. 
Crunchy, tasty, and somehow indulgent in their simplicity, taralli are small, round, and fragrant morsels of bread dough, enriched with olive oil and white wine. They can be also flavored with things like chili peppers or fennel seeds, as well as olives or onions. They are traditional of Puglia, the heel of the Italian boot, but today they are common across the country.
Considering my newly-born love for taralli, I was happy to find an article by La Cucina Italiana published in recent months fully dedicated to them. It turns out they are not only good, but also have a very interesting history and, as you may expect, their connection with the Apulian territory is deep. 
There are a variety of theories about the origin of the term "tarallo." Some linguists believe it may come from the Latin verb torreo, or "to toast," while others think it is the union of the old Italic tar and Frankish danal, both used in ancient times to define a typical round Alpine bread. However, according to La Cucina Italiana, the word comes more likely from the ancient Greek daratos, which we could translate as "type of bread."
And like bread, a staple of nutrition across the Mediterranean since the beginning of time, taralli have always been common on Apulian tables and, just like many of our most delicious delicacies, they were created from simple ingredients, in times of hardship. Apparently, they were made for the first time around the beginning of the 15th century, when Puglia was hit by a dreadful famine. According to lore, taralli were created by a crafty mother who, in order to give something to eat to her hungry children, mixed what she could find in her pantry – flour, salt, extra virgin olive oil, and white wine. She then flattened the dough, sliced it into stripes, rolled it, and shaped little rings with it, which she left raising for a few hours, and then baked. Today's recipe for taralli remains the same.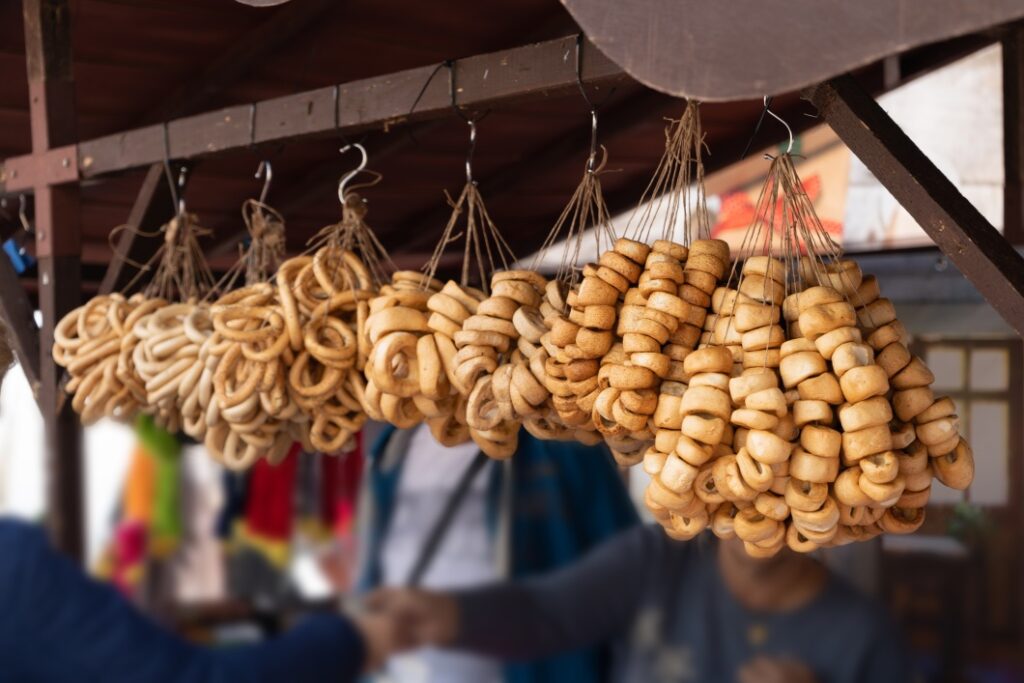 With time, special flavors were added to these basic ingredients, with each area of Puglia choosing its own and also changing the shape, which can be round or like the number "8." In her famous novel Il Ventre di Napoli, published in 1884 and dedicated to the difficulties and deprivation of certain areas of Naples, Matilde Serao wrote that, in Naples, taralli were made with leftovers from bread baking and were consumed especially by the poor. In the very same period, they began being associated with religion, because they were made in large quantities by nuns in their convents; as it was with other recipes of our culinary traditions they created or adapted, nuns were very jealous of the way their taralli were made, and would not disclose their ingredients to anyone. Historical sources state that they were a common food for pilgrims who walked through Basilicata, Campania, and Calabria to reach Bari and honor Saint Nicholas.
If, in the past, they were largely produced at home or in convents, today taralli are available in most bakeries in the South and supermarkets across the country. They have also become part of the Prodotti Agroalimentari Tradizionali Italiani (PAI). As we said, they come in different shapes and, especially, flavors: besides more traditional variants with fennel seeds and chili peppers, we also have taralli with capocollo (a traditional Italian cold cut), pizza-flavored taralli, and even sweet taralli, covered in icing or melted chocolate.
The most famous among sweet taralli are certainly taralli Pugliesi al vincotto, which are particularly popular in the Foggia province of Puglia. Once traditionally baked to celebrate engagements and weddings, they are 15 to 20 centimeters (6 to 8 inches approximately) in circumference and 3 centimeters (just above an inch) thick. Their key ingredient is vincotto, cooked must, along with spices like cinnamon and cloves.
Some curiosities: taralli, sometimes, are not simply baked in the oven, but also boiled beforehand, in a way similar to what we do when making bagels or pretzels. The recipe for this variety of taralli, known as scaldatelli,sometimes omits the white wine and adds eggs – but not always! In a fashion similar to another traditional southern delicacy, Sicily's arancini, scaldatelli can be both masculine and feminine in grammatical gender: the masculine "scaldatello" is common in Gargano and the areas around Manfredonia and Cerignola, while around Foggia and Lucera they are known in dialect as "scavedatille" or "scaldatelle" in Italian.