Since he moved to Los Angeles 17 years ago, his goal has always been to tell and explain Italian design to the American public. Now that he has been officially named the 2021 ambassador of Italian design, artist Mattia Biagi decided, as a first step, to set up the exhibition A Journey Through Italian Design, at the Italian Cultural Institute in Westwood.
From the Proust chair created in 1978, to the mini-kitchen designed by Joe Colombo in 1963, the exhibition, curated by the artist born and raised in Ravenna, collects iconic creations by Italian designers and companies from the 1940s to today.
"I strongly wanted this exhibition to showcase Italian design products that are on the American market," the artist — whose works are purchased by celebrities such as Tom Ford and Elton John, and exhibited in various international museums, from the Castello di Rivara in Turin, to the Louvre in Abu Dhabi, to the Mint Museum in North Carolina — says. "I wanted pieces present on the LA market, that can be purchased here. I literally wanted to extrapolate them from the store, put them on a pedestal, and set a spotlight on them."
Mattia, as the exhibition curator and as the 2021 ambassador of Italian design, what other aspects were important to you?
For me, it is always essential to educate the American public, to get them to understand the history behind each piece. Does this look like just a chair? No, it is a chair designed in the 40s, with a technique invented in Italy and with a recycling philosophy behind it. And tomorrow, if you walk on Beverly Blvd, you can see it in a store window and buy it.
When did your adventure in the world of design begin?
At the age of 18, I began to collaborate with architect Giulio Cappellini who, at one point, decided to open a store in Los Angeles, designed by Piero Lissoni. My wife, who is a fashion designer, and I already wanted to have an experience abroad so I offered to follow the opening of the store. When this experience ended, I decided to stay in California and started working for Diva Group LA.
In addition to being a creative director, you are also an artist with a unique aesthetic. How has your creative path evolved since you have been here?
When I was managing the shop for Diva Group my creative work decreased a lot; at a certain point, I decided to continue creating and I came out with a collection inspired by La Brea Tart Pits; what emerged was an idea of art made to communicate something. For me, art and design go hand in hand and both contribute to creating my aesthetic.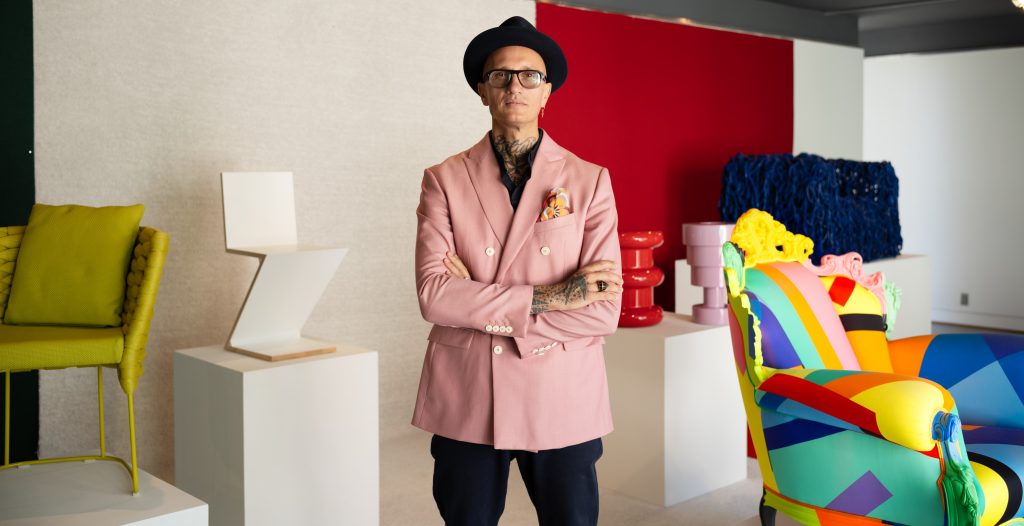 How did your artistic talent and your great knowledge of Italian design help you work in the Los Angeles real estate market?
Before the pandemic, I decided to open with my partner, who is a builder, Studio Dardo, a design, construction, and consulting studio. We take care of building and furnishing homes from scratch. I take care of interior design, from A to Z. While doing it, I always try to push Italian companies, because I believe they are the best but also because, since I have come here, I always had the desire to explain and present Italian products. We made a wonderful house that was published in Marie Claire and AD, where the whole project, apart from the kitchen, was Italian. I ordered the marble from Carrara and all the furniture was from Italy. Bringing the concept of Italian furniture to LA has become my mission.
How has the American public's vision of Italian design changed over the years?
There has been an incredible improvement. When I moved here, 17 years ago, the idea of ​​design was simply associated with luxury. If a piece was expensive or looked expensive, then it was considered a design piece. Wrong assumption, in my opinion. In the last 6-7 years, many people moved here from London, New York, Russia, Europe. The real estate market has consequently grown a lot, especially the demand for 20, 30 million dollars homes. When these new people, with a decidedly more sophisticated taste, arrived in the city, Italian design became fundamental to promote the sale of large properties. In the projects I have dealt with in the last four years, I brought together companies that make furniture, tiles, rugs, bathrooms, chandeliers, with the aim of giving a soul to these houses, which were then sold already furnished. In fact, the buyer often does not have the ability to see how spaces can be filled.
What is your approach when you furnish a home?
I try to understand if the house has its own history, or what are the customer's needs. Homes, especially after the pandemic, are considered one of the most important places where we, as a family, as artists, as individuals, regenerate, where we have time for ourselves. The goal, in my opinion, is to create a way of life that is suited to the needs of the customer. Materials, which I have studied a lot, are fundamental. We Italians give particular attention to details, we love them, even when it comes to colors, which can drastically change the mood of a room.
How have your native country, Italy, and your host country, the United States, influenced your vision of art?
I am very happy to live here and to have grown up in Italy. The heritage and culture we Italians have are unbeatable even if, at the same time, I would have a hard time living in Italy now. The United States changed me a lot and gave me new perspectives. In terms of taste, they made me rediscover the "Made in Italy," because I realized that our heritage is incredible. The paradox is that I had to leave to rediscover and love our country even more. On a technical level, however, what influenced me a lot here is, undoubtedly, the American concept of size. You could buy the Colosseum with the money from some of the villas I work on!
As an ambassador of Italian design, what is your personal goal for the future?
My new goal as an ambassador of Italian design is to help Italian companies, even small ones that may not have the opportunity or budget to afford it, to open a store here. I now have an incredible space, a historic space, in fact, that once housed Spago Restaurant, before it closed 17 years ago. My partner and I completely renovated it. There, I would like to create a sort of "Italian house," where not only design pieces from Italian companies can be showcased, but where I can also help companies from a creative point of view, considering how, often, a product that is well received in Italy might not necessarily be suitable for the American market.